Only months after filing for bankruptcy, rapper 50 Cent has landed a day in court for doing what any other rational human being would do in those circumstances: posting selfies with hella cash on Instagram.
And what word did he spell out in one of the widely-circulated with that bankroll? "Broke." Of course.
The rapper (real name: Curtis Jackson III) has been in deep water since last year over a litany of legal issues after "halting a lawsuit by Lastonia Leviston, the ex-girlfriend of rapper Rick Ross, who sought $5 million in damages for posting a sex tape of her on the Internet," reported The Blaze.
Other photos included random piles in his fridge and a bed shot with the rapper just chilling and maybe watching Netflix, who knows, let's not talk about the fact that the stack sticking out of his fly is supposed to be his dick I guess? (Despite this, all of them include the hashtag #EFFENVODKA, so if anything, we can say that at least he's super on-brand.)
G/O Media may get a commission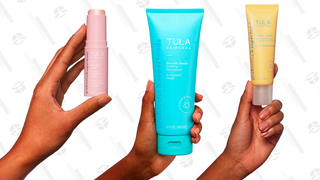 While the oldest of the grams was posted up to four months ago, it didn't help Fiddy endear himself to the higher judiciary powers-that-be, so to speak.
"I'm concerned about allegations of nondisclosure or a lack of transparency in the case," bankrupty judge Anne Nevins, who is overseeing the case, reportedly told 50 Cent's attorney.
"There's a purpose of having a bankruptcy process be transparent, and part of that purpose is to inspire confidence in the process," Nevins added.
Mo' money, mo' problems? Yus. [TheWrap]
---
Because the world definitely needed to know exactly what Mike Tyson's Oscar predictions are for February 28th's Academy Awards, we got them. Calling them "predictions," however, might be too generous—maybe "obvious default guesses" might be a better term, if the general category they should be filed into,"what point does this serve exactly," doesn't immediately act as a tip-off for relevancy. But at least the answers were amusing.

A reporter from TMZ caught up with the former boxer for his opinions on which movie directed by which white male director with a cast made up by all those white people should receive a golden statue which is probably secretly also white.
After initially stating that he hadn't had a chance to catch any of the Oscar contenders for Best Picture, his wife Lakiha Spicer chimed in to remind Tyson that they had seen Leonardo DiCaprio's expected kingmaker, The Revenant.
"I hope he does," said Tyson, replying to a follow-up question about Leo's performance, adding, "the bear stands a good chance, too."
On an unrelated note, the reporter then asked him to comment on Manny Pacquiao's recent drop from Nike over homophobic remarks the boxer made on February 15, in which he publicly likened members of the LGBT to being "worse than animals." After Nike cut ties with the athlete over his statement, Pacquiao, who is currently running as a senatorial candidate in his home country the Philippines this upcoming May, purportedly posted some choice Bible verses on his Instagram, among them the Westboro all-time fave about condemning queer people to death, which were then removed a few hours later.
In response to Nike's decision, Tyson stated, "Wow...that's very drastic."
So there you have it: either Leo or a bear will win an Academy award next week because they gave the best performances in the only nominated movie Tyson has seen, and Nike severing their deal with Pacquiano over calling queer people "worse than animals" is very "drastic." The first one is funny, the last not so much. [TMZ]
---
Image via Getty.
---
Contact the author at jamie.reich@jezebel.com.