Vogue magazine titled its Tim Tebow profile "Superman Returns." Really. Tebow tells the magazine that his perfect woman will have "a servant's heart" and must rival his mother in saintliness:
"I definitely, definitely want a family...I've been blessed to have an amazing mom and two amazing sisters — so they set a very high standard," he says. "Obviously looks play a big part. Being attracted to someone plays a big part, but there's also so much more than that for me. It's about finding someone sweet and kind — and that has a servant's heart. It's about finding a girl who likes me for me, and not because of what I do or who I am or the name."
In other Tebow news, if that whole quarterback thing doesn't work out, "There are a lot of goals and ambitions that I have in life, things I want to accomplish. Who knows? I mean — it could be politics one day. I want to have a life that can help people." [Vogue]
---
These dudes stole $810,000 worth of watches from Selfridges in Manchester. The robbery, which took place while the store was open, was over in 80 seconds. [WWD]
---
G/O Media may get a commission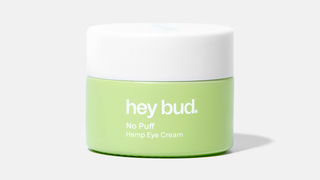 15% off
Hey Bud - No Puff Hemp Eye Cream
Claire Danes is on the latest cover of T. [T]
---
These leather toe-sock shoe-things Prada showed for spring: discuss.
---
Fashionista has an entertaining gallery of celebrities looking miserable as fuck in the front row. But we love Sad Paris and Incredulous Aaron Paul the most. [Fashionista]
---
The fire at the Karachi garment factory earlier this week — current death toll: 289 — is prompting the major certification agencies responsible for factory inspections and safety standards to reconsider their methods. Since 2006, more than 600 garment workers have been killed in Bangladesh alone in preventable industrial accidents. [WWD]

Salma Hayek has seen some of Hedi Slimane's first women's wear collection for Yves Saint Laurent and pronounces it "Extraordinary!" However, Hayek's privileges as the wife of François-Henri Pinault, the owner of YSL's parent company, apparently do not extend to getting free clothes: "He still pays for it, so I feel always like I can't just go and take anything I want, you know? I could, because he is really nice to me, but I always feel I cannot become that, some crazy woman that comes and takes half the store." [Telegraph]

Fergie is working on a collection for Wet 'N' Wild, the cosmetics brand of which she is a face. "My creative energy has to go somewhere," says Fergie. "I get up early and get so many things done during the day on my computer." [WWD]

Georgia May Jagger will be the face of a new Just Cavalli perfume. [Grazia]

The fur industry is "booming," reports Women's Wear Daily. The industry says sales rose by 70% during the decade 2000-2010, and raked in $15-16 billion in the winter of 2010-11 (the most recent season for which figures were available). Fur trade association spokesperson Mark Oaten says it's 'cause the youngs don't give a shit about animal welfare anymore:

"I think design has led the consumer attitude change," Oaten said. "And also a younger generation whose passion is not animal rights. They're very motivated on environmental issues, more than on animal rights issues, and that for us represents a new industry demand, because we have gone a long way to ensure welfare is of the highest standard.

"There is less focus on welfare. Maybe it's because we've got our act together, maybe it's because attitudes have changed, maybe it's because they're seeing fur more on the catwalk, in magazines and in products that they like," he explained. "The younger generation loves fur trim, and they are buying it."

[WWD]

Glenda Bailey will receive the Legion of Honor in Paris next month. Lanvin's Alber Elbaz will present the award. [Telegraph]

The latest iteration of the bill that would define design piracy and offer some limited intellectual property protection to fashion designers passed the Senate. It now awaits its fate in the House. [WWD]

This season, some reporting has been done about fashion brands and the rates of increase of their Twitter follower counts. Everyone likes a nice, straightforward story about Brand X doubling its follower count and Brand Y gaining 50,000 new followers and maybe a listicle with some neat graphs in it. Business Insider did such a piece. Mashable did such a piece. But blogger Chelsea Burcz points out that follower count is only part of the story: some brands may be buying fake followers — perhaps so they can end up atop soft-news listicles of the Best Brands Who Win At Doing The Twitter. Take Rebecca Minkoff, a brand which increased its follower count from 64,271 to 94,794, or by 47%, during New York fashion week: Burcz found that 61% of its followers are fake bot accounts (the kind you can buy by the thousand). Furthermore, the brand's follower count didn't grow organically during NYFW, as one might expect — it gained followers by the double or low triple digits every day, except for two days when it jumped by 27,707 and then by 31,807. Those two big jumps didn't actually coincide with the Rebecca Minkoff fashion show, which was livestreamed online and promoted heavily on Twitter by the brand. Other brands that gained a lot of followers during NYFW, like Carolina Herrera and Victoria Beckham, have dramatically fewer fake followers: 4% and 16%, respectively. Rebecca Minkoff denies buying followers. This is a worthwhile reminder to tech reporters to always use the publicly available apps that identify fake follower percentages and track Twitter follower growth over time to look for suspicious patterns of activity. [IFB]

The world's biggest shoe store — actually, a 96,000-square-foot department store devoted entirely to shoes — is opening in Dubai. Obviously. [WWD]

Richemont has acquired the niche American clothing brand Peter Millar. Terms of the deal — nor even an estimated dollar value — were not disclosed. [WWD]

Ivan Bart is overseeing the relaunch of IMG Models men's division. [WWD]

Gilt Groupe is shuttering Park & Bond, its full-price men's wear site. The online retailer is understood to be trimming some of its unprofitable businesses ahead of an expected I.P.O. next year. [AllThingsD]

Giorgio Armani was assigned the show time traditionally given to Roberto Cavalli at Milan Fashion Week, forcing Cavalli to delay his show by one day. In response, Cavalli sarcastically called Armani "Little King" on his blog and teased the Italian body that oversees fashion week scheduling for kow-towing to Armani unnecessarily. Armani responded at a press conference by saying, "Cavalli should be quiet because the 'Little King' could start to get angry." You'd think a fight between two old Italian garmentos would have a little more spice, actually. [WWD]

If you have $23,000 sitting around — like, each month — you can live in Marc Jacobs' old three-bedroom apartment. The designer moved into a townhouse he owns a few days before NYFW. [Racked]

Michael Kors is expecting strong quarterly results and raised its guidance — year-on-year same-store sales during the last 11 weeks are up 45.1%. [WWD]

Sonia Rykiel has named Geraldo da Conceicao, who formerly worked at Miu Miu, Louis Vuitton, and Yves Saint Laurent, as its new artistic director. Rykiel herself announced that she has Parkinson's disease in April. [WWD]

Protests in China over the disputed sovereignty of the uninhabited Senkaku islands (which are also claimed by Japan) have been negatively affecting the Japanese-owned Uniqlo chain. Japanese businesses, restaurants, and even cars have been targeted by mobs. Signs reading "The Senkaku Islands belong to China" have been posted at several of Uniqlo's Chinese stores, once at the request of local police looking to defuse tensions, and other times by persons unaffiliated with the company. Sixty Uniqlo stores were closed temporarily because of the protests. In Japan, the backlash over the reports of signs has been severe, with thousands of Japanese customers calling and emailing Uniqlo to say that they won't shop there anymore. [WWD]

Now Art Ortenberg, the former Liz Claiborne executive and longtime partner of Cathy Horyn, has weighed in on the New York Times' critic's weird, distantly food-related spat with Oscar de la Renta. De la Renta, you will recall, misunderstood Horyn's use, in an overwhelmingly positive review of his spring show, of the slang term "hot dog" (meaning "showboater"). And — rather than Googling it — de la Renta bought a page of Women's Wear Daily to express his hurt feelings and ask why he shouldn't now go around calling Horyn a "stale, three-day-old hamburger." Then once everyone had explained the slang and made whooshing over-my-head gestures in de la Renta's general direction, the designer doubled down and said, well, probably "99.9 percent of people" read it the same way he did. And everyone said NO OSCAR CATHY HORYN REALLY DOES NOT THINK YOU ARE A MEAT PRODUCT. REALLY. Everyone except for Lady Gaga that is, who Tweeted that she found de la Renta's paid ad which was based on a basic misunderstanding "chic." This is because Lady Gaga has never liked Cathy Horyn, because as Gaga explained to us all in V magazine last year, she comes from a magical realm where the relativity fairy has made all opinions equally valid and actual professional critics are like so last season because we have Tumblr now. Well. Ortenberg wrote a letter to the editor of Women's Wear Daily and ugh why can't this whole stupid thing just end now please here is the letter:

To the Editor:

True, Cathy Horyn is my girlfriend. Nevertheless, I feel it necessary to cudgel Gaga for her badly informed, dumbing-down opinion that an uninformed opinion is as valid as that of a seasoned critic — as though Gaga and Bridget Foley of WWD or David Denby of The New Yorker or Ben Brantley of The New York Times or Brooks Atkinson or Pauline Kael or any professional critic is just another opinion and that Gaga's vacuous thoughts deserve the same status. Grow up, Gaga.

Please, people. Just stop. [WWD]