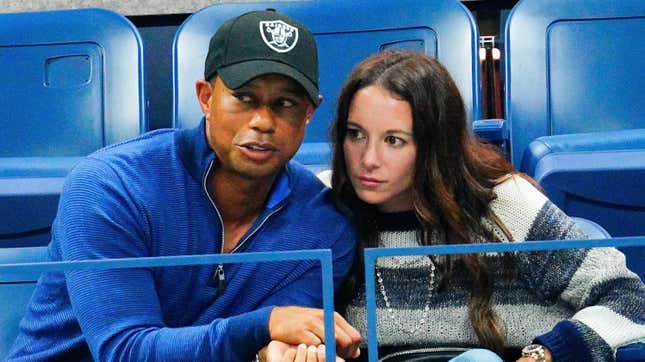 Back in March, Tiger Woods' ex-girlfriend of six years, Erica Herman, filed a $30 million lawsuit against him and his trust, Jupiter Island Irrevocable Homestead Trust, aiming to nullify a non-disclosure agreement she claimed he'd forced her to sign. The filing raised eyebrows for more than one reason—chief among them being Herman's citation of the Speak Out Act, which prevents the enforceability of an NDA agreed upon prior to a dispute that involves sexual assault or harassment. Now, nearly two months later, Herman is providing some needed context.
Taylor Lautner Doesn't Even Remember Saying 'Bella! Where the Hell Have You Been Loca?'
Per a new filing, Herman claims the golfer pursued a sexual relationship with her while she was an employee at his Jupiter, Florida, restaurant in 2016, then went to questionable lengths to coerce her to sign an NDA. "Tiger Woods, the internationally renowned athlete and one of the most powerful figures in global sports, decided to pursue a sexual relationship with his employee, then–according to him–forced her to sign an NDA about it or else be fired from her job," Benjamin Hodas, Herman's attorney, detailed in the suit.
"When he became disgruntled with their sexual relationship, he tricked her into leaving her home, locked her out, took her cash, pets, and personal possessions, and tried to strong-arm her into signing a different NDA," he continued. "Now, he wants to deny her access to the courts and put this case into secret arbitration, based on a highly redacted document that he claims is a contract between them."
In March, via the first filing, Herman alleged that at the end of their relationship, Woods broke a "verbal tenancy agreement" they had and "tricked" her into moving out of the home the couple shared under the guise of a vacation, while his trust pocketed $40,000 of her money after she was locked out.
In Herman's second filing, the documents further described the "scheme" in which Herman claims Woods told her to pack for a weekend trip to the Bahamas. However, when Woods dropped her off at the airport, his lawyer was there to meet her and allegedly told her that she would no longer have access to the home they shared since 2017 and that she would not see her partner again.
"Then, Mr. Woods's California lawyer, out of the blue, told her that she was not going anywhere, would never see Mr. Woods again, had been locked out of the house, and could not return," Hodas explained in the filing. "She would not even be able to see the children or her pets again."
"While still in the hangar, 'Ray Donovan (a fictional character) with a pen' proceeded to insult Ms. Herman, (advised) her she had no legal rights, and (tried) to force her to agree to a (different) non-disclosure and arbitration agreement," the document states. Though the lawyer is not directly identified, there is a California-based attorney with "Ray Donovan with a pen" on the homepage of his website. He did not respond to Jezebel's request for comment. (USA Today didn't receive a response either.)
Herman is not only seeking for the NDA to be lifted, but also $30 million in damages, citing the home's value. Attorneys for Woods, however, claim that she's simply using the Speak Out Act as a means for making their legal battle of public interest and to evade the binds of the NDA. Woods claims they didn't have an agreement about the home they shared and that when Herman filed the first suit against him, she checked the box for "NO" when asked to denote if the case involved allegations of sexual abuse.
"Ms. Herman's position is utterly meritless," Woods' filing countered in March, referring to the plaintiff as a "jilted ex." "It is a transparent abuse of the judicial process that undermines the purpose of the federal statute and those whom the statute seeks to protect." J.B. Murray, an attorney for Woods and his Jupiter Island Irrevocable Homestead Trust, did not immediately respond to Jezebel's request for comment.