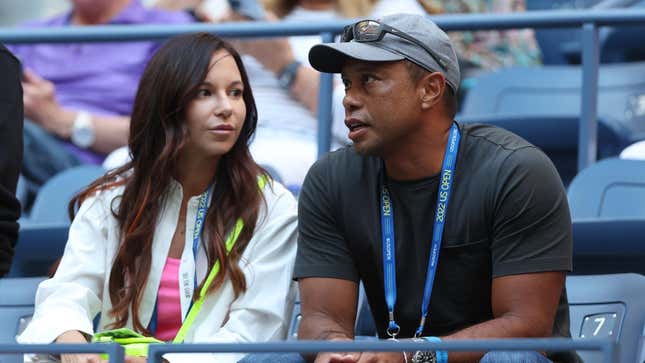 On Monday morning, Tiger Woods fired back against his ex-girlfriend Erica Herman's claim that he forced her to sign a non-disclosure agreement she's now arguing should be nullified.
In a new filing reported by TMZ Sports, the professional golfer referred to Herman as "a jilted ex-girlfriend" and alleged she's simply trying to litigate the conclusion of their relationship in a public forum.
Last week Herman, with whom Woods was in a relationship with for six years, filed a legal claim that alleged he made her sign an NDA when they first began dating and it's been unjustly enforced since their breakup in October 2022. Notably, Herman's documents argued that the NDA should be declared unenforceable, citing the federal Speak Out Act—legislation that prevents the enforceability of an NDA agreed upon prior to a dispute that allegedly involves sexual assault or sexual harassment, though she did not allege any specific assault or abuse perpetrated by Woods.
In a separate filing, Herman also alleged that, at the end of their relationship, Woods broke a "verbal tenancy agreement" they had and "tricked" her into moving out of the home the couple shared under the guise of a vacation, while his trust pocketed $40,000 of her money after she was locked out.
"By trickery, agents of the Defendant convinced the Plaintiff to pack a suitcase for a short vacation and, when she arrived at the airport, they told her she had been locked out of her residence, in violation of the oral tenancy agreement and in violation of Florida law," Herman's attorneys detailed in the filing. Herman is not only seeking for the NDA to be lifted but $30 million in damages, citing the home's value.
Attorneys for Woods, however, claim that she's simply using the Speak Out Act as a means for making their legal battle of public interest and to evade the binds of the NDA.
"Ms. Herman's position is utterly meritless," Woods' filing counters. "It is a transparent abuse of the judicial process that undermines the purpose of the federal statute and those whom the statute seeks to protect."
Woods not only claims they had no such agreement about the home they shared, but that when she first filed the suit against him, she checked the box for "NO" when asked to denote if the case involved allegations of sexual abuse.
Attorneys for both Herman and Woods did not respond to requests for comment.