The saga of Kim Davis continues. The bigoted county clerk (who found Jesus only four years ago and is making up for lost time) will have to face District Judge David Bunning this week to explain exactly why her refusal to issue marriage licenses shouldn't land her in jail or with a massive fine. And "fear of going to hell" is probably not going to cut it.
Salon reports that Davis, who has issued a statement saying that signing off on a same-sex marriage license would violate both her conscience and compromise her ticket to heaven, has been ordered to stand in court Thursday (with her entire staff present) and face the possibility of "substantial and onerous" fines over her refusal to comply with the laws of the country that she swore to serve when she took office. And while it's unlikely that Davis will go to jail for being in contempt of court—the couples suing her have expressly asked that she not be imprisoned—it's very probable that no explanation she can provide will move Judge Bunning, the man who ordered her to sign off on marriage licenses the first two times that Davis protested.
Davis' refusals to issue marriage licenses, which she's attributing to "God's authority," has led to an investigation into her own life by multiple sources. Rumors that have been swirling about Davis' previous marriages (forbidden by her beliefs!) have finally been confirmed by her lawyers, who released the following statement:
Matt Staver, attorney for Rowan County clerk Kim Davis, confirmed reports about her personal life Tuesday night, acknowledging that she has been divorced three times and has been married a fourth time.

"She's acknowledged that she's made mistakes, " Staver said. He explained that the turning point in her life came four-and-a-half years ago when her mother-in-law died. To fulfill her dying wish, Davis went to church and found her Christian faith.
And now Davis is acting like she's been holy since birth. In fact, in a statement she released to the press, Davis says she never thought she'd be forced to violate "scripture" and "Jesus' teachings on gay marriage." She also said the following:
"I have worked in the Rowan County Clerk's office for 27 years as a Deputy Clerk and was honored to be elected as the Clerk in November 2014, and took office in January 2015. I love my job and the people of Rowan County. I have never lived any place other than Rowan County. Some people have said I should resign, but I have done my job well. This year we are on track to generate a surplus for the county of $1.5 million.
G/O Media may get a commission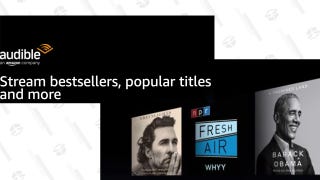 FREE
Audible Premium Plus 3-Month Free Trial
It's funny she says that, because the whole "I live and work in Rowan County argument" is exactly the same one she's ignored when the same-ex couple she's refused to marry have pointed out that as citizens of the county, they have as much right to get married in her office as anywhere else in Kentucky. And they shouldn't be denied the freedoms they have fought for just because Davis thinks gay marriage is icky.
There's also the fact that no matter what Davis believes about Jesus, he also told his followers not to judge others. And according to information found by U.S. News and World Report, Davis is really in no position to proselytize or tell others that their marriages are sinful or illegitimate:
She gave birth to twins five months after divorcing her first husband. They were fathered by her third husband but adopted by her second. Davis worked at the clerk's office at the time of each divorce and has since remarried.
Her lawyer told reporters that Davis' conversion changed all that, though, and that her slate has now been wiped clean.
"Would you do this to an interracial couple?" Davis was asked Tuesday as she denied David Moore and David Ermold a license for the fourth time.
"A man and a woman? No." Davis replied, after asserting that she had not violated anyone's rights by treating the couple as second-class citizens.
"We are paying you to discriminate against us!" David Moore yells back.
Davis has said that she will not vacate her position as county clerk, regardless of what may come. Because she's an elected official, Davis cannot be fired, only impeached. Calls to Davis' office were met only with a busy signal.

---
Contact the author at mark.shrayber@jezebel.com.
Image via YouTube