In the wake of Alex Jones' lawyer accidentally sending the full contents of his phone to a lawyer for Sandy Hook families suing Jones last summer, the Southern Poverty Law Center has published thousands of his text communications in a new report on Wednesday. You probably wouldn't be too surprised to learn that texts sent by the conspiracy theorist and InfoWars founder between 2019 and 2020 suggest he is not a great person: While paying a private investigator to stalk and track his wife in 2019—specifically to try to prove that she was cheating on him—Jones was simultaneously cheating on her.

Watch Alex Jones Realize He's About to Get Busted For Perjury
As has previously been reported by Rolling Stone, at around the time these texts were sent, Jones oversaw an elaborate "spy ring" to surveil his ex-wife, Kelly Jones, and current wife Erika Wulff Jones. Jones went so far as to keep a GPS tracker on Erika's car and required hourly updates on her location from Tim Enlow—a former cop and Blackwater spy—whom he'd hired to follow her.
Yet despite his suspicions about Erika, at the same time that he was texting Enlow demanding updates about his wife, he was also texting an unnamed married woman with whom he was having an affair, "On my way. Pleas run me a bath," per SPLC's report. At another point, he asked his mistress for a "sucky."
Jones also sounds pretty miserable in the newly published texts. When his wife suggested they divorce, just before the Jan. 6 insurrection he helped foment, he wrote: "I am in hell." He texted his dad around that time that he lives in a "black hole."
G/O Media may get a commission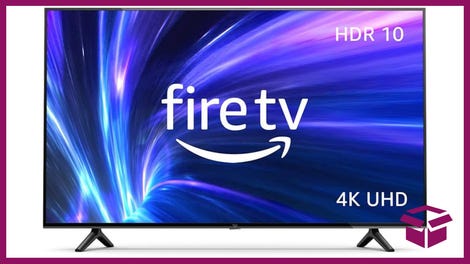 42% Off
Amazon Fire TV 50" 4K Smart TV
Anyway, no one feels bad for this miserable man, because he convinced an alarming number of people that the mass shooting of children at Sandy Hook Elementary was a hoax and directed unfathomable harassment at the deceased children's families. To that I say: Enjoy hell, sir.