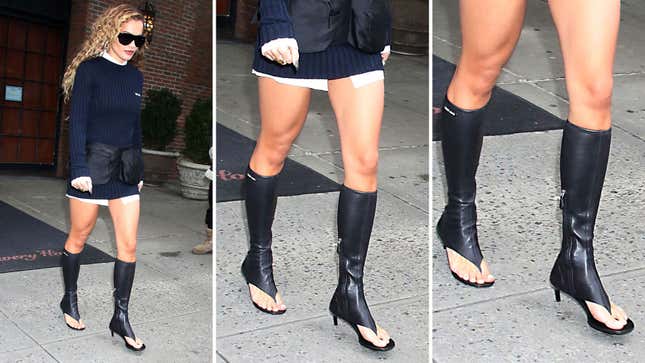 On Tuesday, the weather in New York City might have been considered warm for January, but it was still cold. Certainly not flip-flop or open-toe sandal weather. Regardless, Rita Ora was photographed wearing a Miu Miu ensemble consisting of a sweater dress layered over a white blouse (appropriate), a double fanny pack (practical), no pants (chilly but not unheard of), and what could appear to be a basic black boot—until you scan down to the toe region.
What is this boot/flip-flop hybrid situation? It's a thong boot—a thoot, if you will—and while it's maybe not a "trend" yet, Kendall Jenner wore them in a Miu Miu ad, which can only mean their invasion is imminent.
Fashion is, of course, an industry of innovation, of taking risks and asking if a dress is just a dress or if it can also be a barricade. Does a shirt have to be made of cotton or silk? Or can it be a huge, elaborate metal sculpture that doesn't cover anything except your nipples? These are important questions. But the question of whether it makes sense for our bare toes to spring out from knee-high boots in any kind of weather feels like one that answers itself.
Miu Miu debuted thong boots during their Spring/Summer 2023 show at Paris Fashion Week in October. They came in different colors: pale pink, white, bright green; they came in different lengths: ankle, calf, and metatarsal (the thing between your toes and your ankle); they came out on almost every model, which means that Miu Miu is determined to make these shoes the shoes of the season.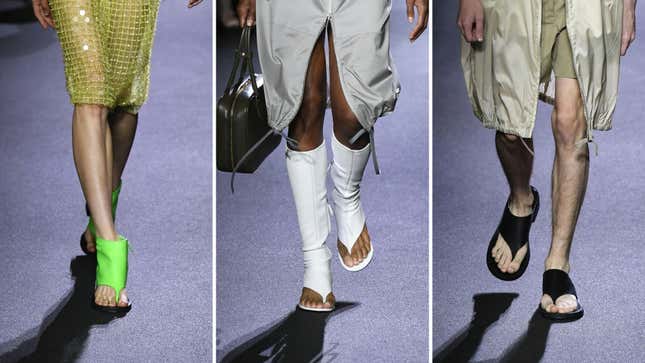 Personally? I don't know. I live with half-cankles, so I'm all for any opportunity to wrap them up and get them out of sight. But, luckily, I can already do that with most shoes, and I can definitely do that with all boots—boots that don't force me to sacrifice toe coverage. Iterations of the thoot have been around for a while, but they've never stuck, probably because—like low-rise jeans, gauchos, and dresses you'd wear over pants—no one really wanted them. Or maybe because if it's warm enough to wear a flip-flop, then just wear a fucking flip flop????
But if we agree that the world exists in shades of grey as opposed to black and white, then might there be a place for these to exist in harmony with the rest of our footwear? Our toes work so hard to bring us places and keep us balanced—don't they deserve fresh air and sunlight, even in the winter?
Then again: no.
Following Miu Miu's show, designer Miuccia Prada told Vogue of the collection: "I'm very serious but also fun. I am both." Unfortunately, this is not helpful. I don't find thong boots serious or fun, just a shoe that's trying to be both a boot and a flip flop but ends up neither, instead becoming something much more offensive than a shoe has any right to be.
Anyway, if these speak to you, then I guess you and your toes can get ready to have one of the best goddamn years of your life. As far as my toes and I, thank you to Miu Miu for their suggestion and thank you to Ora for her willingness to give these a whirl but, respectfully, it's a fuck no from me on the thoot.