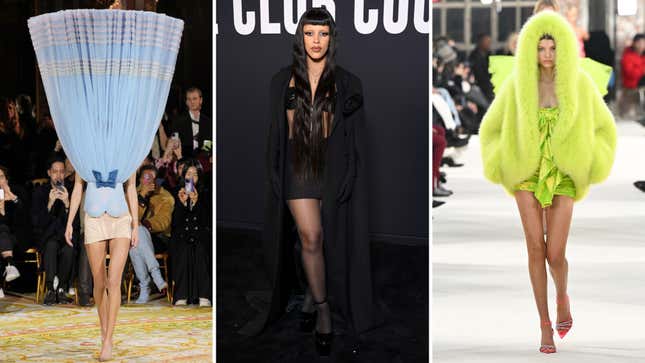 Of all the fashion weeks around the world and throughout the year, I continue to be of the opinion that Paris Haute Couture Fashion Week is the best. It's the wildest; it's the most spectacular; it has the highest amount of shit that makes you say, "Pourquoi?" But as Trey Phillips (I recently rewatched Laguna Beach) so succinctly put it in 2004: "The thing that's cool about fashion, it's straight-up wearable art, you know?" Fuck yeah, I do know!

Haute Couture Week opened Monday with Schiaparelli, a nearly 100-year-old fashion house known for its surrealist designs and imaginative and transcendent takes on silhouettes. This collection was heavy with stuffed animal heads—which I love. Keep them guessing! Kylie Jenner attended and got to wear her own massive fucking lion head that, shockingly, still failed to make her seem interesting.
According to British Vogue, designer Daniel Roseberry said the collection is about blurring "the lines between the real and the unreal." OK! Doja Cat also attended wearing something that I can only describe as both real because I know she is a living, breathing human, and unreal, because...wut? So: Mission accomplished, Roseberry. He also said the collection was his "homage to doubt," which makes much more sense to me.

Other designers also debuted their craziest collections, so please enjoy all of this cool, wearable art.