Today in Midweek Madness, celebs feel the sting of having an ungrateful child: Tom Cruise's daughter hates him, Mel Gibson turned his kids into drug addicts, and Sarah Palin isn't speaking to Bristol... because Alaskans don't own cell phones.
OK!
HOW I LOST 10 LBS FAST!
Imagine you're at a party and run into an acquaintance whose name you can't quite remember. For the next 45 minutes, she prattles on about how yoga has changed her life and encourages you to try these new protein shakes she's "addicted" to. Now you know what it's like to read a six-page cover story about the Bachelorette getting even thinner. Let's excuse ourselves to check in with our old friend Lindsay Lohan. Sources say that during her brief stay at Robert Shapiro's sober living facility, Linds "experienced grueling withdrawal from prescription drugs." She felt sick and "got very dizzy and could barely stand," but now it's "No more Adderall, no more Vicodin, no more stuff like that. Only a low, low dosage of antidepressants — which she legitimately needs to function — and a low-level anxiety pill that will help her cope." Next: Inspired by Kristen Stewart playing a stripper in Welcome to the Rileys, an OK! scribe has composed some Twilight erotica: "She admits to friends she feels super sexy when she gyrates to the music and struts around," claims a source. "Rob already thought Kris was the sexiest woman in the world, but the first time she offered him a lap dance, he couldn't believe his luck." In other news, Kendra Wilkinson's baby is now seven months old and growing less marketable by the day, so she's started selling the tabloids stories about her currently non-existent second kid. She hopes to get pregnant at some point in the next year and will name the baby Jaden. Finally, can you match these stars to their mostly-hideous tattoos? (Image 7)
Grade: F (Sharper than getting a prison tattoo of a serpent's tooth.)
G/O Media may get a commission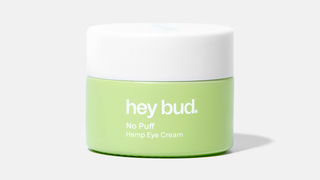 15% off
Hey Bud - No Puff Hemp Eye Cream
Life & Style
WHY SANDRA IS TAKING JESSE BACK
This article presents no actual evidence that Sandra Bullock and Jesse James have reunited. However, "Her heart is open to him again," according to an "insider" — probably Sandy's liver. In other poorly-reported news, the "exclusive" on Alicia Keys' upcoming wedding is a two paragraph story in which a source claims they'll get married in Europe this summer with Jay-Z and Beyonce in attendance. Life & Style confirms what we already know: Jennifer Aniston is not, repeat not, dating Chris Gartin. "They had dinner once but haven't really spoken since then. It was one and done." It's costing taxpayers 16,000 a month to lock Lindsay Lohan away for three months, but she stands to make more than $500,000 on her stint in jail. In addition to interviews she'll do during and after her incarceration, she spent her last few hours of freedom Tweeting product endorsements for $2,500 to $3,000 a pop and showing up to stores to get paid for posing with various products. Next: Mel Gibson's wife Robyn claims he never abused her, but a source says she's just trying to get more money from their divorce settlement in exchange for her silence. "What she put up with for the last 10 years was often sheer hell. He'd go on alcohol-fueled rages, and she'd be terrified — not only for her own life but for the lives of her children." The source adds that Robyn blames Mel for getting "at least two" of their kids addicted to drugs. Moving on: The mag reports that when Jake Pavelka said, "Please stop interrupting me," on the Bachelor reunion, "the brute force of the words sent Vienna racing through the studio doors in a flood of tears that probably washed away Jake's long-held dreams of stardom too." Lastly, RHONY's Bethenny Frankel says she hasn't decided if she wants to have a second child, but she better decide fast; The mag notes she's 39 and, "her biological clock continues to tick" ... even though she just gave birth three months ago.
Grade: D- (A poor player that struts and frets his hour upon The Bachelor, then is heard from no more. )
In Touch
MARRYING A MONSTER
A "pal" says Kourtney Kardashian and Scott Disick have been negotiating with E! about doing a series based on their wedding, and they stand to make $3 million. "E! wants to develop a series based around their entire nuptials, starting with the proposal and ending with the event." There's some more stuff about how the Kardashians hate Scott, but I stopped reading. If I was interested in fake drama cooked up by E! producers I'd watch one of the two shows they already have on the network. Next: "Should Renee be JEALOUS of Sandra?" Yes, because a women should assume that every other female who comes into contact with their man is trying to steal him. In an article that's stupid even for In Touch, the mag illustrates how Renee Zellweger and Bradley Cooper were "decidedly unsmiling" while the sun was shining in their eyes at a recent event. However, when Bradley and Sandra Bullock were being paid to promote All About Steve the used to smile all the time! Watch out Renee! Ladies, the news you've been waiting for: Jon Gosselin finally loses his beer belly. His secret: "Jon's made time for himself." Moving on: Tom Cruise's daughter Isabella wants to move in with her mom Nicole Kidman when she turns 18 in December. Since legally, she'll be an adult then it's unclear why Tom is "fighting to stop Isabella from moving out." One possibility: Tom and Katie are concerned that "Bella will likely stop her Scientology studies since Nicole is anti-Scientology." Though previous reports have suggested Nicole doesn't have much contact with Isabella and Connor due to some bizarre divorce deal, according to this article Isabella talks to Nicole several times a day and hates Katie. Why did Angie and Brad look so good at the Salt premiere? Two words: Plastic surgery. Both have had fillers, and Brad may have had mini-lipo, injecting his own fat into his face. While Brad is a "man's man," apparently he's also "as vain as a woman." (Image 8) Mel Gibson was there for Britney Spears after she went nuts, and now she's his "only friend." A source explains, "They speak on the phone all the time, usually late at night." Oh, but Robyn and his kids are also there for him. "They believe Oksana used Mel... They all met for dinner recently and Mel apologized to his children for embarrassing them. His family is really rallying around him." How sweet. Speaking of support from unlikely places, here's are a few people who have reached out to Lindsay Lohan: Ashley Greene, Sean Penn, and Willie Nelson. Also, Prison Break actor Lane Garrison, "taught her how to survive in jail."
Grade: D (Let me not to the marriage of two morons admit impediments.)
Us
HOW SHE STOLE BRAD
By "SHOCKING NEW TELL-ALL BOOK," Us means that same Andrew Morton book we've been hearing about for more than a year. The mag goes back to Brad Pitt's first date with Jennifer Aniston and retells the entire saga for the benefit of those who have been stranded on an island and locked in a mysterious underground bunker for the last decade. For the rest of us, this is all we learn: Jen visited her favorite psychic, Faye, while she was still with Brad, and she warned her about a "dark angel" in her life. She visited the same psychic on the day their divorce was finalized, but we don't know what Faye told Jen, just that she was wearing "cargo pants, with no makeup and hair pulled back." Scintillating. Also, add Timothy Hutton and Gary Sinise to the list of dudes Angie may have hooked up with. Next: A source says Mel Gibson's kids, "have all seen his temper and are scared of him... He rules them with an iron fist." Natalie Portman and Ashton Kutcher "couldn't stand each other while filming Friends With Benefits. He "talks about Twitter all day and thinks highly of himself... She would do her scenes, then head back to her trailer to read books or scripts." In a follow up to last week's Bristol Palin-Levi Johnston cover story, Bristol tells the mag that she actually told Sarah Palin about their engagement before the issue came out. Sarah is "apprehensive and concerned" and said she's "going to have to wait to see if he changes — if he gets a job and an education." Bristol denies that this is all a plot orchestrated by Sarah, and says she isn't interested in doing a reality show. When asked if she and Sarah have grown closer as fellow moms, Bristol says:
I think it'd be a lot more bonding if I were older and married and had the same support system she had when she had Trig. But it has not been tremendous in bringing us together.
Also, she and Sarah don't talk much because she's been traveling and "we don't have cell service in most of the state." And as for Levi's sister Mercede, she won't be invited to the wedding because she keeps talking to the press and, "in seventh grade, she was like 'I'm going to kick your ass.'"
Grade: D+ (From forth the fatal loins of these two foes, a pair of star-crossed lovers shop their life story to E!)
Star
Stars Without Makeup!
In other words, "Stars Don't Have Anything Interesting Going On In Their Lives." Star had nothing this week, it was either this or the best and worst bikini bodies. In 12 pages, all we learn is that stars look less glamourous when they're out on the street in foul weather rather than coated with foundation on the red carpet. This blurry shot of Christina Hendricks blinking in a windstorm is typical (Image 9). Moving on: Pals Star is worried that Jessica Simpson's new man Eric Johnson is using her. "Jessica is so starved for love, she just doesn't see any of Eric's faults." Get it? Starved for love, just like she's always starving for a sandwich. Hilarious! As for the similarly pathetic Jennifer Aniston, she has a new man. ("Finally!") In reality, she just had dinner with Scott Stuber, who has produced several of her films, but the mag wants you to believe that she's been lusting after him since she was married to Brad. Soon he'll be single as well, since he's in the process of divorcing Rachel Nichols, better known as the green chick from Star Trek. Blind Item: Which aging Hollywood Lothario was spied at a Beverly Hills steakhouse ordering a $2,000 bottle of wine and getting cosy with a beautiful brunette years younger than his famous wife? In closing, though Bristol Palin and Levi Johnston say they're abstaining from sex until they get married, his teenage sister Mercede Johnston has the scoop on their sex life. "They're definitely sleeping together," says Mercede. "I doubt they're being safe."
Grade: D (If steak and $2,000 bottles of wine be the food of love, bring it on.)
From OK!
From In Touch
FromStar