If it's Wednesday, this must be Midweek Madness! As always, we "read" In Touch, Us, Star, Life & Style and Ok! so you don't "have" to. Burning questions:
Did Britney have a meltdown? Is Sandra the happiest mom ever? Do real men wear pink???
Ok!
This magazine should be called Lying Liars & The Lies They Tell Weekly! Oh wait — this is exclusive, meaning "made up." Robert Pattinson was late to the set because he'd gone to a strip club and Kristen Stewart got pissed. So Rob told Kristen that he wants to spend the rest of his life with her, and proposed… that they'll get married one day. He can't imagine being with anyone else, etc. This story trails off into random factoids, like: Some scenes in Eclipse had to be reshot because test audiences noticed that KStew's hairpiece was askew; she had to get a new wig that would stay on. Also, a scene in which Bella professes her love for Jacob — and kisses him — had to be reshot because tween audiences thought it was too racy. Oh, and: RPatz has his personal security team clear out his hotel room when he checks out so that his dirty socks don't end up on eBay. Moving on: Kim Kardashian is moving to Miami, not only to be near her sisters, but because she wants to spend more time with Cristiano Ronaldo, who vacations there. Ed Westwick and Jessica Szohr are back together! Britney Spears fired Jason Trawick as her agent, "which clears the way for the next step — perhaps a trip to the altar." Except they might be breaking up, because Britney has a hot new bodyguard, with whom she had lunch on May 10. Lastly: If you hate Sex And The City, you can use this map to decide which places in NYC to avoid (see image 7).
Grade: F (ash)
G/O Media may get a commission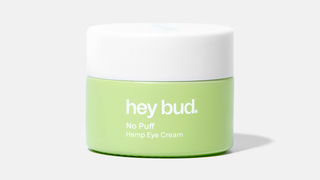 15% off
Hey Bud - No Puff Hemp Eye Cream
Life & Style
"Hanging By A Thread: Another Baby To Save Her Marriage"
The coverlines are so soap-opera epic: "A distraught Hank discovers the sex tape is worse than he thought, so Kendra is doing everything she can to keep him. But Hank's still moving out." But! the story is SUCH a non-story… Nowhere does it say she is having a baby to save the marriage, and it doesn't even say that Hank is moving out. It does say that Kendra is "freaking out" that people know she cooperated with the making of the sex tape. And: "Kendra now faces a difficult decision: Profit from the tape or take the moral high ground and forego the money for the sake of her husband and son." Zzzz. Moving on: Which scares you more? That a twenty-nine year old woman is joking about being married to a sixteen-year-old boy? Or that she can't spell "Bieber" (see image 8)? Kim Kardashian has supposedly been "betrayed" by Cristiano Ronaldo since he went on dates with some blonde, but Kim and Cristiano aren't in a committed relationship, so whatever. Tori Spelling used to be "alarmingly thin," but "what a difference a few pounds make." She is now almost 100 lbs., according to a nutritionist who does not treat her. ZOMG unsolicited uterus update! Beyoncé might be pregnant, because: She's gained weight; her roots are showing; and she was seen at a party drinking only water. Simon Cowell has traded his American Idol in-house dressing room for a $1.8 million two-story trailer — bigger than a double decker bus, with five plasma TVs, two bathrooms, and a sitting area that accommodates 30 people (see image 9). It looks nicer than any place we have ever lived. January Jones and Adrien Brody were seen holding hands at a party! When asked, "Whose sex tape do you want to see?" Kris Jenner replied, "Mine. I want one." Gah. On stage at a concert in Stockholm, Lady Gaga said: "I know that I work really hard and run myself into the ground, and I also know that alcohol will kill me one day." Hence the headline: "Lady Gaga: Alcohol Will Kill Me." Finally: A picture of Scott Discik, presented without comment (see image 10).
Grade: D- (cold coals)
Star
"47-Year-Old Kelly Preston: 3 Months Pregnant!"
It's a "miracle baby." Moving on: Amanda Seyfried is not into her relationship with Dominic Cooper anymore, because her career is taking off, and the last thing she wants is a needy boyfriend who keeps asking when they can have dinner alone. Blind item! "Which actress shocked guests at a recent charity bash by getting so wasted she could hardly stand? She's never been much of a party girl, and considering how she holds her alcohol, that's a good thing." James Franco news! He was busted sending text messages during a lecture at NYU. The professor was pissed and made James wait outside for the rest of the class. When the class ended, James got a talking-to. Heidi Montag's dad says that he is "worried for her" and "afraid for her life." An insider says "Spencer is losing it and living in a house full of guns. Something terrible is going to happen." Apparently Spencer patrols the house — armed — and is "jittery and jumpy." One wrong move, and Heidi could get shot. Heidi's mom is trying to organize an intervention to get Heidi to leave Spencer and move back to Colorado. Is Courtney Cox cheating on David Arquette with her Cougar Town costar Brian Van Holt? They had dinner four times in the past month. Eyewitnesses claim: "They acted like a couple," and "she reached across the table and grabbed his arm" and "they looked like they were holding hands." Miley Cyrus is out of control. She has a "wandering eye," and was "all over" Joel Madden at a recent party, even though Nicole Richie was there. Miley's boyfriend Liam witnessed the whole thing! Miley also spends money "like crazy" and a "pal" says "her life is spiraling out of control. No one can stop her." Lastly: Working for Oprah means living under a "reign of terror." She doesn't like to be looked at or touched. She often cancels bonuses as punishment. She has threatened to fire people for not stocking her candy cabinet, and on a bad day, she'll order an assistant to bake brownies.
Grade: D (warm embers)
Us
"Sandra's New Life As A Mom."
Sandra Bullock was in Austin, Texas recently, and she bought $248 worth of baby clothes, from hats to a tiny t-shirt which read "Cowboy." The store owner says Sandra was "such a natural" with baby Louis, and "so easy-going and chill." Sandra's friend Mark Brunetz says it's great that Sandra is embracing the single mom thing: "I think the universe did a little housekeeping for Sandy." Sandra was showing off the baby to random people in stores and letting them hold the baby and play with him. Amy Adams named her baby girl Aviana Olea Le Gallo, which sounds like a fancy, pretty, South American airline. Ashton Kutcher was asked something about how Demi Moore looks so young and he called her a "genetic freak." This is now being interpreted into: "Ashton's ready to be a dad." Isn't he already a father to her three daughters? Reese Witherspoon and CAA agent Jim Toth are talking about moving in together. Brad, Angelina and the kids all went to the Greek island of Santorini. Stephen Moyer and Anna Paquin will get married this summer, according to a source. Although they say they haven't made any wedding plans yet. In a story titled "Kristen & Rob: How She Tortures Him," we learn that KStew and RPatz fight a lot, and she snaps at him in public. And she's also supermoody. Yet he dotes on her, and is protective of her… ZOMG Just like Edward! There's a Jennifer Aniston piece in this mag that is soooo nasty to her. The slug is "Fear Of Years," And the copy reads, "Obsessive much? [Jen's] on an endless quest to stop time." When Jen saw final cuts from her movie The Switch, she wasn't happy with how "rough" she looked, especially in the daylight scenes. "She wanted them retouched further, but the studio had already spent its post-production budget," says a source. While filming, she was seen pulling her hair down to cover her facial lines. While filming Just Go With It in Hawaii, Jen is "intimidated" by and "jealous" of swimsuit model Brooklyn Decker, who is also part of the cast. Jen is "always on a diet," and while she denies being on the baby food program, two sources confirm she's been spotted eating pureed food during Just Go With It. And! She still smokes a pack a day. Yet someone saw her in the gym and the treadmill was inclined all the way — she does an hour of cardio every single day. Last: Face your own mortality, consider your teenage sartorial choices and question what it means to be a "little girl" who is "sugar and spice and everything nice" as you check out the ladies who have gone "from babies to bombshells." (see image 11)
Grade: D+ (orange flicker)
In Touch
"Tormented By Their Men."
Reggie Bush is "tormenting" Kim: He was on a date with some other woman and kept complimenting her, and told her that her body is amazing. The lady asked how her body compares to Kim's, and Reggie said that the lady's was better, because Kim's body "is totally fake." Later in the piece, a "friend" says Kim has hired a professional matchmaker to help her find love. She wants a rich, successful businessman… but doesn't have a lot of time to meet guys. Meanwhile, Scott Disick has been taunting Kourtney about her weight. She feels so bad about her post-baby curves that she might get a "minor" tummy tuck. Next is the story that should have been on the cover: For Mother's Day, Britney planned an outing to Disneyland for herself and the boys. — a VIP visit that included meeting characters and front-row seats for the fireworks. At the hotel, Britney and Jason Trawick had a fight — the boys were in the adjoining room with the nannies — and Britney locked herself in her room. A source says, "Jason and the boys were left sitting with the nannies all day. They never got to meet Mickey Mouse." Sniffle. The nannies ended up rushing the kids through the park. That night, things got worse: Britney had scissors sent up to her room and later, when housekeeping showed up, "so much hair had been flushed down the toilet, it was blocked." Here are the "warning signs" that Britney is having a "bizarre meltdown": She hacked her hair, she got out of a car without wearing undies and flashed onlookers; she's having moodswings and she looks tired. Also inside: Renee Zellweger has been visiting Bradley Cooper on the set of The Dark Fields and spending a lot of time with his mom, because she's trying to prove that she'll be the perfect wife. She's "100% ready" to marry Bradley — however, he feels suffocated by her clingy-ness. Sandra Bullock hired a private plane and flew in the middle of the night to bring little Louis to visit Jesse James — that's why she was in Austin! Jesse and Sandra met on a friend's private ranch, and Jesse brought his 14-year-old daughter, Chandler. Kevin Jonas and his wife Danielle are sleeping in separate beds, because Kevin "snores light a freight train," but she didn't know, since they never spent the night together before they were married. A source claims that Freida Pinto and Dev Patel are getting married in India this summer. The evidence is that they asked about shipping a cake from a bakery in LA to India for the wedding! The two had their first date at said bakery. Here's a silly story about Angelina: The cover line states, "Angelina and Brad fight over Shiloh." Then the headline inside reads, "The Fight Over Shiloh's Birthday." And the actual story is that Angelina isn't inviting Brad's parents to Shiloh's party, and Brad got upset. But all the info here points toward trying to keep the grandparents from flying too much — they'll see the kids in July, and when you have six kids and live in France, can you really expect grammy and gramps to be at every single birthday? Anyway, here are some other details: Maddox had a soldier-themed party when he turned four, so Shiloh wants the same. Shiloh wants "boys' toys," and she will get new boots, toy guns, and a new bed that looks like a spaceship! Brad also bought her a kiddie Jeep. Moving along: Demi Moore is jealous of Natalie Portman, who is shooting Friends With Benefits with Ashton Kutcher. But! Demi and Natalie are "so alike" because they have both stripped in a movie, done period films, and shaved their heads for a role! The producers of The Hills have pushed the cast to do shady things. For instance: They wanted Lo to make a sex tape, but she and her boyfriend said no. The producers were the ones who started the "Kristen has a cocaine problem" story — but said it was Stephanie Pratt, so K and S would fight. The producers encouraged Heidi and Spencer to spread false rumors that Lauren Conrad had a sex tape, and they're planning on bringing JustinBobby back, to force a confrontation between Audrina, her new boyfriend Ryan Cabrera, and JB. Oh look, another Miley Cyrus panic: Miley is "too sexy too soon" because she was seen dancing provocatively at a club. Why was she at the club? It was her mom's birthday party! She kept grinding and showing her bra all night. Taylor Momsen is 25 lbs. underweight, according to an "eyewitness" and a doctor who has never met her. Finally: "Nobody does it like Kingston!" (see image 12)
Grade: C- (yellow flame)
From Ok!



From Life & Style



From Life & Style



From Life & Style



From Us



From In Touch