Welcome back to Midweek Madness, in which we attempt to satisfy our cravings for "news" with the weekly tabloids. This week: Pregnant Mariah can haz cheeseburger; Heidi and Spencer mooch off his parents; and Tish Cyrus is the "ultimate groupie."
Ok!
"Amber Steals Leah Back!"
It's a really crazy time in our lives when a 2-year-old supporting cast member from a reality show is the big face on a tabloid cover. We're not talking Suri Cruise or Shiloh Jolie-Pitt or even Zahara! I guess Teen Mom gets good ratings, but will most of the people at the checkout line recognize Leah? Anyway: Last week we learned that Amber left the baby with Gary and didn't contact him for a couple of weeks. But Halloween, Amber returned to claim her child — of whom she has custody. So she was not "stealing." Amber's brother is an Iraq and Afghanistan war veteran, and he tells the magazine that she's been getting death threats, which is why she had Gary keep the kid for a while. Amber's brother also says that Gary "runs his mouth off" and "asks stupid questions to incite a fight." In other words, Gary provokes Amber and isn't a victim. Whatever. These crazy kids need to get their shit together, and not on TV. In other Teen Mom news, Maci sold pictures of her son's 2nd birthday party to the magazine, so if you want to see her hanging at Pump It Up, the Inflatable Party Zone in Chattanooga, you're in luck. Ryan, the baby's dad, was there, as was Maci's new boyfriend Kyle. The "Big Debate" question this week is "Was It Selfish For Catherine To Go To China While Michael Was Home Battling Cancer?" Oy. Finally: What Jennifer Aniston Really Eats In A Day. (see image 7) Honestly? If you put her breakfast and lunch together, you might have one good, boring meal.
Grade: F (empty pantry)
G/O Media may get a commission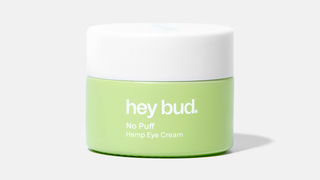 15% off
Hey Bud - No Puff Hemp Eye Cream
In Touch
This story keeps getting rolled out over and over: Tom and the Church of Scientology are "controlling" Katie — sorry, KATE Holmes, and blah blah blah. This particular tale revolves around an upcoming tell-all book about Scientology that will contain a couple of chapters about TomKat. The book's not even finished, but apparently Katie and Tom sleep in separate bedrooms, which we're supposed to find scandalous. The "oddest quirk" they could come up with is that Tom looks down on people who get colds or flu. Tom and Katie have a full-time Scientologist staff with 18-hour work days, and the Church has staff members who are just dedicated to Tom Cruise. "They spare no expense with him," says a source. Yawn. Oh, this part was exciting, though: Katie's shopping allowance is $125,00 A MONTH. Since Katie's usually in jeans and flats, Suri's closet must be the size of an airplane hangar. Moving on: Teresa from Real Housewives Of New Jersey swears her husband never cheated on her and says if she found out he did, she would leave him in "two seconds." She also says she might have more kids: "I did go to a psychic once, and she said I was going to have five. You never know!" Brad Pitt wanted to take Pax and Maddox to L.A. for the premiere of Megamind — his first child-friendly film — and Angelina wouldn't let him! She didn't want the boys to be taken out of school or miss Halloween. The mag writes that Brad "reluctantly" stayed at home, boo hoo. Miley Cyrus threw a party when her parents were out of town, and was "out of control," dancing on the furniture. A source says she was overheard saying: "I bought this house with my money, I'll destroy it if I want!"
Grade: F (empty refrigerator)
Life & Style
"Kendra: Why I Left Hank"
Everything on this cover indicates that Kendra left Hank. Like "the moment I realized that I had to leave" and "my tears over being a single mom." But the truth is: Kendra is an "NFL widow." Hank is in Minnesota playing for the Vikings, and Kenra is living in LA so she can near friends and family. Which we already knew! So she's not a single mom, and we wouldn't care if she were. She does say: "I really appreciate every single mother out there who can raise their children well." BTW she saw her husband three weeks ago, and sure, that is rough, but she is not actually single, and surely being a pro football player pays well. It's not like she's working at Wal-Mart and worrying about making ends meet. Gah. Next: More Teen Mom news! Derek, Farrah's babydaddy, died, and his mom sued Farrah for custody, and just lost that battle last week. Her name is Stormie Clark. Stormie says: "Farrah's too selfish. She's a heartless, spoiled brat and doesn't deserve Sophia." Stormie says she has met the baby — when she "persuaded a reluctant babysitter to let her hold Sophia in the park." Shady! Stormie also claims that Farrah and Derek would fight, and Derek would come home with scratches on his face. Sigh. But wait! More Teen Mom: Amber's mother says that Gary "made" Amber violent. "She wasn't raised to behave that way… Gary did that to her by doing things to make her upset. He has control issues. I think he trapped her by getting her pregnant. He didn't wear a condom." Okay. Dancing With The Stars dancers Cheryl Burke and Mark Ballas were seen making out at a party. Tough times: Heidi and Spencer gave an "exclusive" about how they are bankrupt and homeless — and it's not the main story on the cover! The piece is extensive and detailed. Spencer says he thought that The Hills was going to be like 90210 and have another 5-10 years. He didn't see Jersey Shore coming. "Before TV audiences were fine with seeing us all argue, but now they want to see you punch one another in the face and hook up with three different people." Spencer admits that a "divorce" story was the only way to keep Heidi's career going — he says "look at Sandra Bullock. Her divorce from Jesse James was the best thing to happen to her image." That's bullshit, FYI — she'd just won a mothertrucking Oscar. Anyway, Heidi and Spencer spent all their money and Heidi felt "forced" to consider posing for Playboy (?!?!) but Spencer's parents are letting them live in the guest house. Heidi says: "We spent so long pretending we had jobs on The Hills that we don't have any skills. PR was never my real job." Sniffle. Now that they have no cash, Heidi does her own makeup and waxing, and has to "slave" over the stove to make dinner. She also, HORROR, does laundry. Spencer doesn't seem to do any housework. Hmm. Lastly: A chart of Angelina's "favorite" Hungarian phrases! Including "What Jen said was uncool." (see image 8)
Grade: D- (stale crackers)
Star
"Miley's Family Torn Apart"
The slut-shamey story here about Tish Cyrus and Bret Michaels is skimpy on details, but full of creepy quotes from a "friend." For instance: "Bret was enthralled by the whole phenomenon of Miley, so he and Tish had this dialogue about business that ended up turning into pleasure. He made Tish feel like a real woman again." Wow! Was she feeling like a robot before? "Tish would always show up to the studio in tight jeans and revealing T-shirts and flirt shamelessly with Bret." Did you know that Tish was 19 when she got pregnant with her first child? The dad was a drummer in some (non-famous) band. Her second child was spawned by some other dude "with a BonJovi haircut." And a source calls her "the ultimate groupie," adding "her life has been one big party." Billy Ray and Tish are already "bickering over how to handle their most valuable asset: Miley." Billy Ray was Miley's Hannah Montana costar, but Tish has acted as Miley's manager. Drama! Added bonus: Miley turns 18 on November 23. Maybe she can run away from these freaks and keep all her cash? Just like Ok!, the mag gives Catherine Zeta-Jones a hard time for going to play golf in China while Michael Douglas is "wasting away" from cancer. But CZJ made a commitment to be at a celebrity golf event and gala, dammit! Justin Timberlake is denying he hooked up with Olivia Munn — he told Jessica Biel that he is just an "easy target" now that the Social Network did well. Jessica is buying it, "even though he's been cheating on her for years." Finally: "Skin & Bones" features celebrities who are "scary skinny" and illustrates their weight with a "skinny scale." Freida Pinto, Kristin Chenoweth and Olivia Palermo are among those targeted.
Grade: D (moldy bread)
Us
"My Baby Miracle"
In an actual interview, pregnant Mariah Carey says: "I'm very happy." Groundbreaking! She also says: "I'm sleepy an in a constant state of nausea." Yearning for more uterus news, mag asks: "What made you take a test? Had you missed a period?" YES. THEY ASKED ABOUT HER AUNT FLO. Mariah is keeping calm by reading the Bible every night and she also gets acupuncture all over her body. Nick Cannon says, "I feel like it's my husbandly duty to make sure nobody stresses her out." The mag asks about Mariah's cravings, and she says "roasted red peppers." But then Nick says: "And McDonald's. I think I have probably more cravings than she does. We order McDonald's in the middle of the night so we have to find a 24 hour one. She likes a cheeseburger and fries, and I always want to get a milkshake." Just the thought of these millionaires sending an assistant out for value meals — and Nick having sympathy cravings — makes us LOL. Did you see Dennis Quaid dressed as Pauly D for Halloween? Nice tanface. (See image 9) Justin Timberlake and Olivia Munn have been "in constant contact" since the story about their "amazing sex" came out. JT says he loves talking to her, because she makes him laugh. He wants to keep Olivia handing on — and break up with Jessica. Allegedly! Taylor Swift and Jake Gyllenhaal went on a date in Big Sur, California. They hung out at the pool at Post Ranch Inn, then went for ice cream. She stroked his hair, she held his hand! Tish Cyrus had an affair with Bret Michaels and had "at least one other fling," but Billy Ray was completely unaware of what was going on. In fact, it was eldest daughter Brandi who told Billy Ray that Tish was cheating. A source claims the marriage had been on the rocks, and, all together now: "They were living separate lives."
Grade: C (number 2 value meal)
From Ok!
From Life & Style
From Us