Welcome back to Midweek Madness. Every Wednesday, we "read" the celebrity tabloids so you don't "have" to. Today, we have an Unsolicited Uterus Update on Ms. Jennifer Aniston. We learn that post-pregnancy January Jones is barely eating — that way she can zip up her Betty Draper dress. And we discover that even though Ashton may have cheated on Demi, it's her fault because she is pathetic and over-the-hill. We're aging right now, so we'd better just begin.
---
Ok!
"Jen's Pregnant"
We've heard a zillion rumors about Jennifer Aniston's uterus, and this one is no different. There's no proof that she's knocked up, just a lot of "signs." Like the "obvious change in her svelte physique" which we have not noticed — and her "curvier, more buxom shape." Supposedly, Jen has baggier clothes, a curvier booty, a "discernible bump" and bigger boobs. (See Fig. 1) Also, a source says that "whenever anyone hints around the question, Jen gets really giggly and shy." These are the symptoms of pregnancy, you guys. Blousy tops and giggling. You may be pregnant right now. Moving on: Jessica Simpson is also pregnant, but won't make an announcement because it's too early. Finally, Kim Kardashian and Kris Humphries had their "biggest fight ever," and it was about money. She spends and spends and spends, which he finds it irritating. Has someone created a countdown clock yet?
Grade: D- (fecal incontinence)
---
G/O Media may get a commission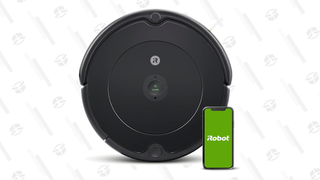 35% Off Black Friday Deal
iRobot Roomba 694 Robot Vacuum
Life & Style
"Teen Moms Give Up Their Babies …So They Can Party."
Jenelle has been handcuffed for assault, been to rehab and arrested for a probation violation. Now she is couch-surfing and clubbing, and the mag claims that on September 30, she danced with drag queens. The horror. Her mom has custody of her kid, so whatever, I mean, no one wins, right? Amber has been going out a lot, says her brother, and so that is a problem, too, but it's just so hard to care about these people so let's move on. Kate Middleton has gained weight, because she "can't wait" to have a baby. Jennifer Aniston has completed her total makeover of boyfriend Justin Theroux. A source claims that she fell for him right away, but felt "he needed some fixing up." She shuttled him off to get a haircut, a shave and a spray tan, and now his life is so much better! A "longtime acquaintance" of Justin's says: "He used to be kind of negative, just critical and down on life. Now he's totally positive. Than God he met Jennifer!" Ladies and gentlemen, the power of bleached teeth. (See Fig. 2) Next, January Jones has already lost the baby weight, because "she's on a crash diet" and "being very strict about what she eats. Apparently filming for Mad Men has begun and JJ is "determined" to get back in Betty Draper's dresses. Sounds healthy. Demi Moore is "in crisis." See, "accused cheater" Ashton is not the problem in the relationship: Demi is. She's "scary-skinny" and has been drinking and partying "to a frightening degree." Demi had been sober for a long time, but now, feeling old has pushed her right off the wagon. "She eats vegan and chugs Red Bull like there's no tomorrow," says a "family friend." "She thinks if she could just be skinnier and look younger, all her problems would disappear." How bizarre! It's not like we live in a society obsessed with youth and thinness… oh, wait. Anyway. Two And A Half Douchebags has Ashton working 14 hour days and Demi feels abandoned. Luckily, Ashton wants to save her. A "friend" says, "he may have fooled around with this girl, but his wife is his priority." Right after he gets out of the hot tub, okay? Moving along. Eva Longoria says, "I'm in a happy place; I think divorce agrees with me." Diane Kruger's $1 hair tricks may require a $200-an-hour stylist (See Fig. 3). And last, but not least, Here's Wendy Williams on Demi Moore: "Why should she be surprised? An older woman dating a younger guy is a recipe for disaster. Girlfriend, with all due respect… I'm surprised the marriage lasted this long."
Grade: D (loss of eyesight)
---
Us
"Caught Cheating."
Not a lot of new stuff here. Ashton had to go to Quicksilver in San Diego at 10am on September 24 — the date of his sixth wedding anniversary — because, he told a salesperson, "I was in a hot tub and it overflowed. My clothes were outside and got all wet." Aww, #DirtyDogCheaterProblems. Anyway, as we all know, Ashton had sex with Sara Leal and hooked up with her friend, too, and now he and Demi are in counseling. Some words used to describe Demi in this story are "pathetic," "insecure," and "desperate." As for Ashton, a source claims Demi's insecurity fuels his ego, and: "He thinks everyone wants him or wants to be him." Last, but not least: The Blake/Leo story here asserts that things got "hot and heavy" really fast and it was Blake who didn't want to settle down. Hmm.
Grade: D+ (loss of hearing)
---
In Touch
"Love Child Shocker!"
First and foremost, know this: There is no love child. But there could have been, because remember that time last year Ashton Kutcher had sex with Brittney Jones? It was unprotected. "He told me he hadn't used a condom in 10 years," says Brittney. And of course, she wasn't on birth control. But she wound up not being pregnant. This Sara Leal person, we don't know about. But a source says that Ashton and Demi have a semi-open marriage — the caveat of which is that Ashton is supposed to be discreet about it and not embarrass Demi. Let's move on. Jessica Simpson has to redo her wedding dress and turn it into a maternity dress. Kate Middleton was seen having lunch with Pippa and "she ate like a horse." She even asked for more clotted cream to go with her scones. So the story's called "baby joy," because, you know, having an appetite means you've got a bun in the oven! Oh. Hey. You know how sometimes you want to buy something, but you don't really have the money, and you think about it, and run different numbers through your head, and imagine juggling things around and not paying your phone bill on time and eating peanut butter and jelly for five days straight so you can make it work? Yes? Well, definitely don't read the story called "Kim Kardashian Is Addicted To Freebies." (See Fig. 4) It's followed by one called "The Kardashians Are Raking It In," which informs us that they earned $65 million last year. Last, but not least: How do you solve a problem like LeAnn Rimes? Or more importantly, how much attention is devoted to her body? It's a fucking mindscramble. Also, the side bar called "Her demons still eat at her." Eat. Really. Fucking hell. (See Fig. 5)
Grade: C (loss of teeth)
---
Star
"The Photos That Ended Their Marriage!"
Eight whopping pages are devoted to the Demi/Ashton debacle, and some pages only feature photographs of Sara Leal, the chick Ashton allegedly had sex with beside a hot tub, scantily clad and boozing it up. There's even a picture of Leal with a bong, and copy from a text she sent to friends, which read, "I fucked Ashton Kutcher Friday night, LOL." (See Fig. 6). The pictures of Ashton from the night of the indiscretion are low-quality and fuzzy, but, you know, that's all you need, apparently. There's a description of the night (again) — which involved lots of booze, music blasting, and everyone naked in a hot tub. Then there's this ridiculousness: "Sara really liked Ashton. He didn't seem like someone who would just sleep with her and walk away. Ashton was telling people that he was separated from Demi, so she didn't ever believe that it was just going to be a one-night stand." I know he's been dead for a while, but can we please exhume the body of the ORLY owl? Please? Also, Sara Leal's "secret photo album" seems to consist of Facebook pictures. Secret! Also inside: Angelina really really likes her bodyguard, a guy named Guy. Bethenny Frankel's mom thinks Bethenny will divorce Jason Hoppy: "It won't last. He is really too weak for her." Lastly: Jennifer Lopez and Jason Statham are filming a movie, Parker, together, and sparks are flying on the set. But it hasn't stopped her from being a diva! A source spills: "The hotel staff said that Jennifer acted like a snot the entire time she was there… She never said thank you… She even made the staff rearrange the flowers because she demands only white." Le plus ça change and all that.
Grade: C+ (wrinkles)
---
Addendum
Fig. 1, from Ok!
Fig. 2, from Life & Style
Fig. 3, from Life & Style
Fig. 4, from In Touch
Fig. 5, from In Touch
Fig. 6, from Star