Nothing says "I want my insides licked out" quite like the finest confections that money can buy. "I don't know if that chocolate is fair trade," you might say to your honey, as they're eating, "but my asshole is and it tastes just as good." Pinkies out, let's take a trip to Assville.
"The anus that made Britain great!" is handmade and takes a little extra time to deliver, so order yours now if you want to let your partner know you want them to swing for a timeshare in Butt Town by Valentine's Day. Remember, saying it elegantly is the best way to ask for a rim job. Or you know, just ask for a rim job and save some money on shipping. But this way you can tell your partner that they look so good with a face full of ass that it'd be a shame to just end that when the chocolate's done, wink wink. You know what I mean? (The commenter who sent this in sure did.)
And look how elegant the entire thing is. LOOK AT THE ELEGANT BOX AND THE VARIETY OF FLAVORS TO CHOOSE FROM. LOOK AT HOW EXCITED THIS GUY IS TO SHOVE SOME PASTILLE BUTT INTO HIS FACE HOLE:
And if your lover is more into jewelry or home decor than chocolate, you can purchase an illuminated crystal anus (the light comes from within) or a genuine crystal anus ring which they can fiddle with and take furtive licks at when they're bored or nervous. Nothing calms one down like placing their tongue on the cool crystal wrinkles of a stranger's brass ring.
Oh, and for $2,000, you can have your own anus cast in bronze. Just send a picture. Hemorrhoids probably extra.
Just remember to wash carefully before anyone takes a trip to flavor town. You don't want to catch some kind of stomach bug from all the donkey sauce down there. I know because I had to answer a lot of awkward questions about my own butt-licking habits the last time I had to go to the doctor for an intestinal bug. I need better insurance!
G/O Media may get a commission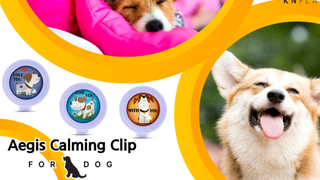 20% off
Aegis Calming Clip for Dogs
Image via Shutterstock