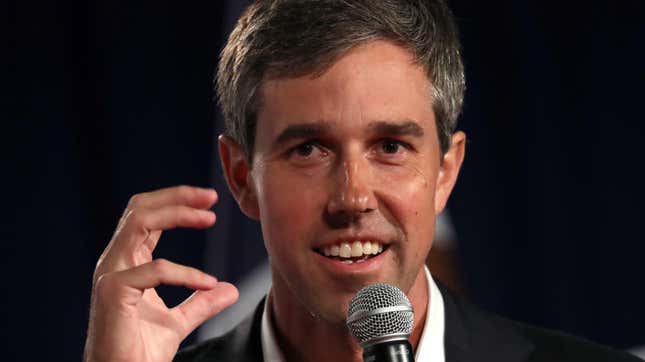 Over the weekend, on-again, off-again presidential hopeful and strategic curser Beto O'Rourke said three times that the shootings in his home state of Texas were "fucked up," and is now selling tee-shirts bearing the phrase "This is f*cked up."

Taylor Lautner Doesn't Even Remember Saying 'Bella! Where the Hell Have You Been Loca?'
O'Rourke was at a campaign stop in Virginia as details of the August 31 shooting in which a man opened fire during a traffic stop in Midland, Texas and continued shooting as he drove down the highway, leaving eight dead, including the shooter, unfolded. In response, O'Rourke told the crowd, "This is fucked up." He also tweeted the sentiment along with of video of his Virginia speech then used the phrase again in a September 1 interview with CNN:
"The rhetoric that we've used — the thoughts and prayers that you just referred to — it has done nothing to stop the epidemic of gun violence to protect our kids, our families, our fellow Americans in public places — at a Walmart in El Paso, Texas, where 22 were killed, in Sutherland Springs — in a church," O'Rourke told CNN's Dana Bash. "One or two a day all over this country; 100 killed daily in the United States of America. We're averaging about 300 mass shootings a year. No other country comes close.

"So yes, this is fucked up," he added. "If we don't call it out for what it is, if we're not able to speak clearly, if we're not able to act decisively, then we will continue to have this kind of bloodshed in America, and I cannot accept that."
Strategic swearing has been a go-to tactic of O'Rourke's for a while and now his most recent swears have become part of his fundraising efforts as well. O'Rourke's official campaign website has begun selling tee shirts that read "This is f*cked up" six times followed by "End gun violence now" in smaller print, though he might sell more shirts if he left the sentiment open-ended.