Thinx period panties sure do have a way of keeping themselves in the news: first ads for Thinx were banned from the NYC subway for reminding men that periods exist, then founder Miki Agrawal was ousted amid sexual harassment allegations, now, it would seem that the panties themselves are full of poison.

A recent investigation by the Sierra Club's magazine, Sierra, found that the crotches of Thinx contained polyfluoroalkyl substances, or PFAs. These chemicals have been linked to cancer and fertility problems in humans, so right next to the vag is most likely not the best place for storing them.
In order to test the PFA levels of various period underwear, journalist Jessian Choy mailed unused Thinx, along with similar products from Lunapads, to a lab. Of the three brands, the main line of Thinx underwear and their product marketed to teens were the only ones that tested positive for PFAs.
What's more, the high PFA levels suggest that the toxic chemicals might have been intentionally added to the underwear:
"One question is whether Thinx added the PFAS deliberately to the material, or whether they're a by-product of the manufacturing process, which occasionally happens. PFAS are commonly used in waterproofing and stain resistant finishes, and they have been used across many industries. They're found in surgical gowns, carpets, commercial aircraft, and low-emission vehicles. According to Choy, the PFAS levels are high enough in Thinx's products 'to suggest they were intentionally manufactured with PFAS.'"
G/O Media may get a commission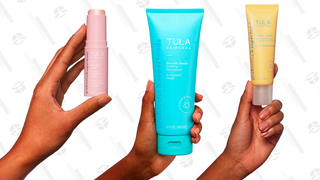 Thus far, news coverage of Thinx has resembled the pattern of news stories around some hot young celebrity: infatuation with a bad-girl, yet commercially appealing feminist message, a public meltdown and breakup, now a struggle with chemicals. Stay tuned for the inevitable makeover and comeback tour undoubtedly being planned by a PR team this very second.
Update, 5:30 p.m.: A representative from Thinx sent Jezebel the following statement from CEO Maria Molland:
"Our customers' health and safety is our number one priority, and we will always work to deliver the safest products available.
All Thinx and Thinx (BTWN) underwear undergo the most stringent product safety evaluations available. While Thinx products comply with all legal safety requirements in Europe and the United States, we strive to go beyond those requirements and are constantly working to improve our products and manufacturing processes to use the safest substances and materials available.

Thinx uses both OCS-certified and GOTS-certified organic cotton, and our product safety testing is conducted to meet the robust European safety standards of REACH and OEKO-TEX, which include testing for some PFAS chemicals. Based on these third-party tests, PFAS chemicals were not detected in Thinx products.
In treating this issue with the seriousness that it deserves, we are working to dramatically expand the list of chemicals that we test for in our products, including unregulated PFAS chemicals, and develop a robust safer chemicals policy across our entire family of brands. If any of these chemicals are found, we will move swiftly to remove them from our products."