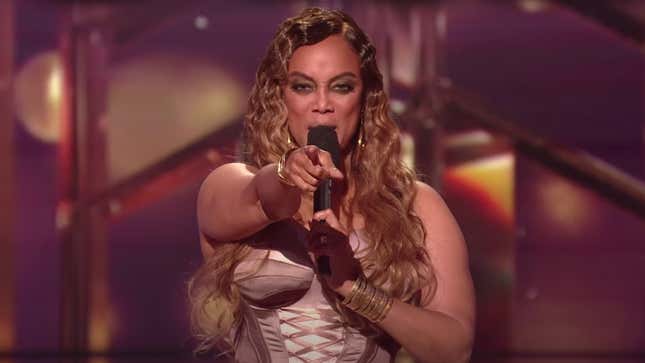 ABC'S Dancing With The Stars, a beloved television competition series now hosted by America's Next Top Model coach and Smize innovator Tyra Banks, suffered its own 2017 Oscars Best Picture fake-out fuck up Monday night: Banks announced the wrong names for the bottom two performers due to an error on her notecards, Us Weekly reports. (She read "Anna Heche and Vernon Davis," instead of "Anna Heche and Monica Aldama." Eventually Heche went home, so does it really matter? Also: Normani is on this show? Wow.) Anyway, audiences were scandalized. I was, too, but for another reason: the absolutely heinous, pukey pink gown Banks wore near the show's end. What sinister force placed one of the world's most beautiful humans, and well-known supermodels, into such an atrocity?
Taylor Lautner Doesn't Even Remember Saying 'Bella! Where the Hell Have You Been Loca?'
Here's the full look, screenshot from Tyra Banks' Instagram Story: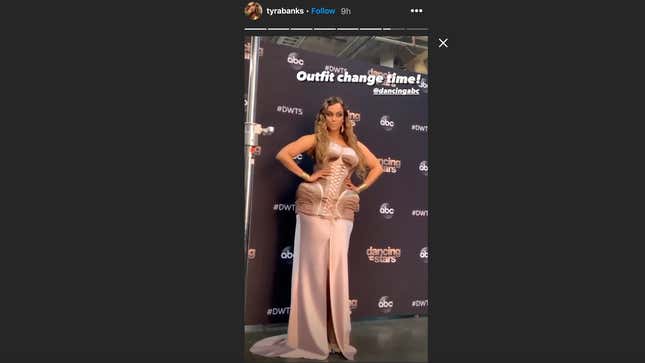 I understand what the silhouette is aiming for, and I understand that Banks makes most everything look good all the time... but the fit and cut here is simply so, so off. Why does the front, pseudo-corset closure veer off-center? Why are the exaggerated hips asymmetrical? Why did her stylist select this palette when she could so easily pull off a myriad of royal colorways? I think my frustration is amplified because she did actually begin the night in a champagne gown that worked—with so many sequins she could be viewed from space, and a smile as equally as vibrant—and instead, they handed her this weak-ass 2019 fit to close out the night. Rude! No wonder there was a last-minute mix-up with the bottom two. This dress should've been sent home. America's Next Top Model would've never tolerated this. Probably.