In Blockers, Leslie Mann, Ike Barinholz and John Cena play three parents contending with their teenage daughters's burgeoning sexuality the only way they know how: Conspiring to prevent them from having sex on prom night.

John Cena complains about how he can't hug his daughter anymore because her boobs are in the way. Later, he butt chugs a beer. Ike Barinholz gets sprayed in the face with the beer that was ostensibly in John Cena's butt after the butt chugging goes awry. Leslie Mann is horrified that her daughter is sending texts with the eggplant emoji, because that means someone's getting dick. The only voice of reason in this trailer is John Cena's wife, who asks, incredulously, "Did your dad try to stop you when you wanted to lose your virginity?"
Ana Gasteyer Satirizes the Girl Boss in 'American Auto'
Directed by Kay Cannon, the woman behind the Pitch Perfect series and produced by Seth Rogen and Evan Goldberg, the duo behind the raunch diptych Neighbors, this movie has potential if and only if the following occurs: what if the parents have a threesome instead?

Think about it: the sexual tension that underscores the entirety of this two minute trailer is not between the daughters and their potential sex partners, but between Mann, Cena and Barinholz. Not knowing anything about this film when I clicked on the trailer, something about the setup in the beginning gave me the impression that this would be our very first raunchy comedy about a successful throuple. Alas, I'm wrong: The IMDB page for the film has yet to be updated for Mann's casting; it still reads "Three fathers try to stop their daughters from having sex on Prom Night." As a movie about three strapping men trying to save their precious angel baby's virginities is maybe not the move in 2017, I imagine Mann's addition was a last minute change. Swapping out the third man for a woman was a cute move on their part-now the women will watch this movie!—but it's not enough.
My alternate ending: Have them drive to an undisclosed location in the middle of the woods. Ike Barinholz removes a blanket from the back of the car and spreads it lovingly on the ground. The moon shines bright on John Cena's smooth, poreless biceps as he removes his shirt—he's the meat in the Barinholz-Mann sandwich. While their daughters give their prom dates ineffectual hand jobs in the back of a limo while learning life lessons that they will no doubt one day laugh about in the comments section of this very blog, the three parents explore each other's bodies, souls, and spirits in a way they never have before.
G/O Media may get a commission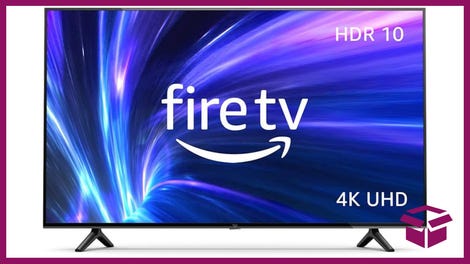 42% Off
Amazon Fire TV 50" 4K Smart TV
Let them have a threesome. Make them have a threesome. Give America the ending we deserve.