The fact that ABC's Shark Tank is even a show on television will be a surprise to anyone who enjoys leaving the house on a Friday night. But once you dive into this pool teeming with dangerous underwater creatures, you'll soon discover the secret reason for its success: the drama provoked through a strangely consistent emphasis on men, women and what we buy.
Shark Tank is a reality TV show based off the Canadian show Dragons' Den. Steadily improving its ratings over the seasons, it features a rotating panel of "Sharks" aka successful business entrepreneurs who decide whether or not to invest in products being pitched to them by a bevy of ordinary Americans. The show is strangely captivating and oddly realistic. Though the length of the dealmaking is edited down for television, as the disclaimer at the beginning of the episode makes it very clear, these are real deals that are going down (whether many of them are actually followed through on is another story).
There's plenty of sexism in the business world (and in the rest of the world too), so it stands to reason that Shark Tank wouldn't be exempt from having some of that represented on their show as well. But Shark Tank isn't an inherently sexist show as much as it's a show that waffles back and forth between advocating for female empowerment and reinforcing antiquated ideas of what women can and should do. It will feature an incredibly sexist remark from a Shark one minute, only to to have him be chastised by another Shark for said remark moments later. It will show a female entrepreneur making a deal, except the deal is for an extreme version of Spanx, the modern woman's corset. Through casting and production, Shark Tank's creators have used gender as part of the entertainment value of the product in a way that seems slightly out of place, given the content at hand.
Gender struggles being used for entertainment purposes isn't new. Shark Tank might not be The Real World or Survivor: One World, but it's still reality television, a genre which, no matter what label Oprah tries to slap on it ("docu-series"), is steeped in cheesiness and people behaving badly. But on Shark Tank, unlike on those other shows, viewers are always being reminded that we live in a world that has men and women, not just a world that has people. Until this season of the show, there had never been more than one woman on the panel at any given time: they alternated between QVC star Lori Greiner (who joined the show in season three) and real estate icon Barbara Corcoran (who has been with it since the beginning). The two are referred to – and refer to themselves – as the Lady Sharks.
Corcoran was actually offered her job on Shark Tank first, but then the producers took it away from her when they cast Greiner. In a TedX talk, she read a letter aloud that she sent to the producers convincing them to have her and Greiner audition against each other for the spot. They did, and she got on season one.
G/O Media may get a commission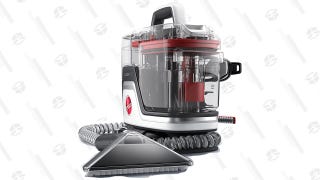 Save $10
Hoover CleanSlate Plus Carpet & Upholstery Cleaner
Before Greiner joined, Corcoran received a good deal of attention as the only woman; she was often referred to as a "witch." The man repeatedly referring to her as a witch is usually Kevin O'Leary, a businessman who was also on Dragons' Den who boasts the nickname "Mr. Wonderful." O'Leary's role on Shark Tank seems to be that of the "bad boy" who always says things that get others riled up (there are multiple YouTube videos devoted to his brilliant zingers). He wrote a book called Cold Hard Truth on Men, Women & Money and seems to think it's his job "to shut down Barbara for being a woman and Mark Cuban for being Mark Cuban - who's, by far, the wealthiest Shark in the Tank," my friend Laura Mayer, a public radio producer and a noted Shark Tank expert told me (she's seen every episode, some of them twice). A classic example of O'Leary's sense of humor occurred during season three of the show, when the Sharks were being pitched "Cougar Energy," an energy drink for women. The prospect of Cougar Energy prompted O'Leary to say to Corcoran, "Barbara, you used to be a cougar."
If O'Leary's role is to make slightly (or overtly) sexist remarks, Corcoran and Greiner make it their role to remind everyone they are women – even if their stances on why that's important get a little confusing. In a recent Nightline episode about the show, Corcoran and Greiner discussed being on the panel together and why they think they're so valuable to Shark Tank.
"We have a different perspective on the product," Corcoran told Nightline. "Most of the men here have trophy wives, they're wealthy men. They don't don't shop, they don't buy their kids clothes, they probably don't shop for groceries. And we also bring friendship to the women that step on the set."
"I think I bring compassion," Greiner added, arguing that she's "protective" of the female entrepreneurs that pitch to the sharks.
Though Corcoran said she brings "friendship" to the women pitching her, she also says she's tougher on the women who come through than the men:
I'm tougher on anyone who will use any excuse as to why they didn't get ahead because I've walked in the shoes knowing that I had a million excuses I could have used and I chose not to use them.
When dealing with men in her business life, Corcoran is all about reminding them that she's a woman. "I always use the sex card," she said. "I wear short skirts, I make sure I have make-up on and I flirt like crazy with the men and guess what: I get into them that way."
Greiner and Corcoran consistently refer to their genders when "battling" over pitches with their fellow Sharks. They both believe that being female gives them an advantage over their male coworkers:
Corcoran: We sort of leveled the playing field by having two women on the set.

...

Greiner: It's not a fair fight. Two women, three men. Not a fair fight for them.

Corcoran: It's more than a fair fight because our combined IQ is more than three times theirs.
This fighting, fair or not, is regularly promoted by ABC, like for the season five, episode 23 episode they promoed as a "Battle of the Sexes."
The "Battle of the Sexes" segment was over the product Hold Your Haunches, a line of very strong shapewear. Corcoran and Greiner went to head-to-head with their fellow male Sharks over these leggings and pants, accusing the men of not being interested in the product because it was marketed to women.
"Why is it every time there's a female product on this show, you guys go out right away? We've invested in many male products, we give it a chance," Corcoran said when a few of the men had said they were "out" or not interested in the pitch.
"You're not saying women don't need shapers, you're saying, 'Oh, I don't want to touch that with a ten foot pole,'" Greiner added.
Mark Cuban took issue with that claim. "That's like me saying to you, 'Why don't you do technology deals? You never do technology deals,'" he shot back, while O'Leary very appropriately suggested that he wasn't interested in the product because it was "fraud" to misrepresent a person's body that way.
In another instance this season, Corcoran and Greiner were pitted against each other in promos as if they were going to have a "cat fight," like in episode five of this season, where they sparred over a product called Ruffle Butts. Except when the episode aired, what occurred wasn't a cat fight, but Barbara asserting her strengths as an investor while Lori asserted hers back. Pretty boring stuff, but perhaps enough to get people watching.
Whether Corcoran and Greiner were entirely accurate in their claims that the men drop out of deals over female products more than the women do is unclear. First of all, hundreds of people apply to be on Shark Tank who never even make it through the door, so the producers could be filtering out great, diverse prospects. In the episodes that have aired so far, of the 17 products I counted that were pitched by women/for women (and/or children) that have gotten deals, Mark Cuban and Barbara Corcoran actually tie for most pitches invested, with a total of six each. Lori Greiner has invested in five, Daymond John has invested in four, and Kevin Harrington and Robert Herjavec are last with one each. (Many of the pitches the Sharks actually go in on together.)
As the website Shark Tank Success explains, at the end of season five before they were on the panel together, the women were "dominating" the other Sharks, investment-wise:
The biggest surprise of Season 4 was Barbara Corcoran and Lori Greiner's Shark Tank Seat they share throughout the Season. When combined, our Lady Sharks dominated all the other Sharks in new Investments.
Looking just at "female" products pitched and accepted, the numbers indicate a few things. As alleged, Kevin O'Leary is truly not into lady stuff. The number of Daymond John's investments is likely high because of his retail background (he started FUBU). Lori Greiner's high investment count in female products makes sense given her background with QVC, a network that targets women.
But Corcoran, with her background in real estate, doesn't make as much sense as the others with regards to her choice to invest in "female products" except that she's is female. On the flip side, Cuban clearly has one of the best records of investing in female-centric products out there, despite his male parts. (These numbers also don't take into account how many deals total each of the Sharks have made in comparison to each other, and how many have ended up working out.)
Though the men have invested in other companies pitched by women, some viewers think that doesn't matter. They see Shark Tank as a show where gender dominates down to every last brilliant nail polish invention. "The women's businesses are always 'mommy' businesses (and most of the female entrepreneurs have narrative about being SAHMs with a hobby that turned into a business) or fashion/beauty," one reddit user wrote about the show recently. "Further, the judges have no problem objectifying the female entrepreneurs and making sexualized comments about them."
Laura agrees with this to some extent. "There are lots of gender issues to unpack in Shark Tank," she told me, "not least because a lot of the products pitched are items that are meant to solve beauty-related problems for women or 'Mommy Problems.'"
In season one, for instance, most of the sharks didn't know what to do when they were pitched Gayla Bentley Fashion, a fashion line for plus-sized women. Though Barbara and Daymond John eventually invested in the company, it was Barbara's prodding that got the deal along, despite John's background in retail.
"Is it possible that larger-sized women – and don't beat me with a stick, because I'm just trying to find out – don't care about fashion as much, that's why the market doesn't service them?" O'Leary asked during negotiations, like a fucking noob/troll. "I believe the market always serves demand. That's the way the world works."
He wasn't alone; every other man on the panel except for John was totally unfamiliar with the idea that plus-sized women have trouble finding clothes for their demographic, prompting Corcoran to accuse her fellow Sharks of being willfully ignorant.
"You guys aren't married to heavyset ladies, that's the truth," she said. Pointing to Kevin Harrington she added, "He's on his third, fourth, fifth trophy wife or something. All skinny."
"What does any of this have to do with money?" O'Leary responded.
"You're not listening," Corcoran responded. "Here's an opportunity in an area you can do well with. Open your ears."
But plus-sized fashion wasn't for O'Leary. "Gayla, I cannot be the pioneer with the arrows in my back," he told her.
This lack of knowledge about "women's products" comes up time and time again on Shark Tank. While presumably there are areas that the female Sharks are not as knowledgeable about as well, they rarely say it's because they don't know enough about men's...whatever. Take Boot Illusions, a product that adds decorations to shoes, that Barbara ended up investing in during season three. When it was pitched, Robert Herjavec said (as he says often), "I don't understand anything about women's shoes or fashions. I think it's a pretty good idea, just nothing that I'm going to add any value to."
"The bottom line is that I have no idea for retailing to women's fashion, so for that reason, I'm out," Cuban added. Weirdly, Cuban's lack of background in women's fashion wasn't an issue when he also invested in the company Litter that season, a line of body jewelry presented by two very together young women.
"When women come on with very technically savvy inventions, there is usually some 'Oh, you pretty lady with this complicated invention' talk. And, almost always, questions about whether she can be invested in her company if she's tending to a family full time. And that comes up a lot, since many of the female Shark Tank contestants happen to be mothers," Laura told me. "But whenever a guy comes on with inventions his commitment to developing the product is accepted without regard to his domestic situation. Recently, a full-time male firefighter came onto the show and kept whipping out invention after invention. His time constraints are major - I mean, he's a firefighter, that's not a loosey-goosey, free-time heavy job. But he was applauded for being a prolific inventor, not questioned about whether he had the time to make his hobby into a business."
Shark Tank's back and forth about what to do with women – lift them up or shut them down – came to a head during a recent pitch for the product Angellift, a piece of plastic that fits in your mouth and allegedly smooths out wrinkles on your face. The product was brought in by definite skeezeball Aaron Bruce, who, while singing the praises of his product, said that, "The most difficult thing about wearing Angellift for women is just to be quiet for a few minutes."
This comment prompted huge response from the sharks, especially O'Leary, who said, "We can really use Angellifts up here," as he pointed to the Lady Sharks who surrounded him. "You obviously aren't married," said another Shark. Awkward laughter was heard when Bruce clarified that he was indeed married: to the woman modeling the strips silently.
Perhaps Shark Tank's obsession with the difference between men and women is just a reflection of reality. There are a lot of successful products out there that target female appearance insecurities and far fewer that do the same for men. There are more high-profile male CEOS out there than female ones. People do work on projects that they can see themselves using or being helpful to, and that often precludes them from taking risks in areas they might not be familiar with.
But the bottom line is that the business world is full of people who say one thing and do another in order to get what they want. In this sense, Shark Tank's producers are doing exactly what their Sharks and their contestants are doing: figuring out the best way to make a buck, even if they're not sending a particularly consistent, uplifting or foreword-thinking message while they go about it.
Ultimately, despite red flags about the product and its inventor, Greiner decided to invest in Angellift. "If he doesn't have the patent, if he can't get on QVC, if he doesn't have the trials, it's all gone," she said. Whether a female entrepreneur would have been given that same opportunity – or that another one of Greiner's male Sharks would have considered themselves familiar enough with a product for women to back it – is anyone's guess. In any case, it made for some good television.
Image via ABC