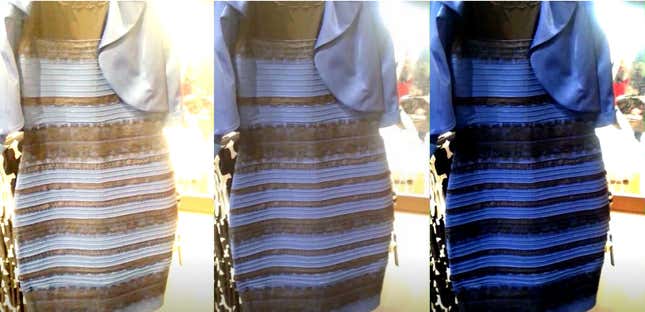 I will never forget where I was when I was asked the question all young girls dream of. It was 2015 and I was in a gnarly Bushwick dive bar when a guy I'd gone on three unsatisfactory dates with shoved his phone in my face and said, "What color is this dress?" I responded "White and gold" before realizing how divisive my answer was.

Don't Feel Bad if You Can't Achieve the 'Clean Girl Aesthetic'
But, unfortunately, Nothing gold and white nor black and blue can stay. On Friday, The Times reported that the man whose wedding the dress was bought for, Keir Johnston, has been charged by Glasgow's High Court for the attempted murder of his wife, Grace Johnston—meaning this fun viral optical illusion has re-entered the zeitgeist in a deeply horrific way.
I'll spare all the gruesome details of the decade-long abuse allegations ending in an alleged murder attempt, but trust me, they are horrific. Between April 2019 and March 2022, Keir was charged multiple times with extensive physical and emotional abuse, including isolating Grace from her friends and family. There has been no public word on where Grace is now, but I obviously hope she is safe and away from this man.
In 2015, Grace's mother was deciding on an outfit to wear to her daughter's wedding and sent photos of a few options to get her daughter's opinion. "The white and gold one" Grace told her mother, she later recalled on Ellen. "No the blue and black one," her mother responded. As they brought in more opinions, no one could decide what the dress' color was, and it wreaked havoc on their small Scottish Isle of Colonsay (seriously, very small, like 125 people.) So their friend Caitlin McNeill shared a photo of the dress on her Tumblr.
Within days, Keir and Grace rose to international fame and, as I mentioned, ended up where all people who "break the internet" end up: Ellen. Eventually, scientists chimed in on why we saw different colors: It's something to do with the shadow on the dress, our eyes' ability to take in a spectrum of light, and the quality of the image. Frankly, I still don't really understand it.
But this follow-up to a truly innocent and fun internet moment is incredibly depressing. What makes it almost unbearably ironic is that the incident was used in a domestic violence awareness campaign by the Salvation Army in 2015. A woman wearing a white and gold version of the dress, her face severely bruised, poses beside the message: "Why is it so hard to see black and blue? The only illusion is if you think it was her choice. One in six women are victims of abuse. Stop abuse against women."
Keir denies all of the charges against him, and the case will go to trial in 2024.