I've never been to Joanne Trattoria, the Upper West Side restaurant owned by Joe Germanotta, perhaps better known as Lady Gaga's dad, although I have friends who've made pilgrimages to it as though it were some kind of gay landmark in New York City. From my understanding, Joanne Trattoria serves very adequate Italian food, which is all well and good considering my favorite Italian dining experience is slamming my face into bottomless anything at Olive Garden and downing a few Italian margaritas with friends, and then preferably not remembering leaving the restaurant, or having been in the first place really.

However, unlike at Olive Garden where the slogan is "We're all family here," (RIP, "When you're here, you're family"), the Joanne Trattoria slogan appears to be something more like, "Can someone else pay these people please, I don't wanna." Doesn't have quite the same ring.

"I'm doing the best I can but we had to close Joanne for the month. Our staff needs some help financial. Any help for our employees will be appreciated," Joe Germanotta wrote in a since-deleted tweet, while also directing people to a GoFundMe page that was set up to support the staff. The campaign raised $541 out of the $50,000 it was originally asking for before being deactivated.
According to Germanotta, the $50,000 would cover the "typical payroll for approximately 2 weeks, and 100% of the profits would go to our hourly workers to provide those necessary items like food, childcare, and medical expenses."
Now, far be it from me to point fingers here, but it does feel like one of the co-owners of Joanne Trattoria, perhaps one Ms. Lady Gaga, might have been able to step in here and front the money to support the Trattoria staff. Or, at the very least, convince her rich father to step up and continue to pay them during the shutdown, as opposed to putting the burden on the backs of the public, who are likely in less secure financial situations than the parent of one of the biggest pop stars on the planet. [Page Six]
G/O Media may get a commission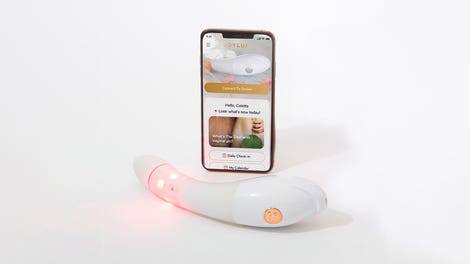 $50 Off
Joylux vFit Gold Device
---
Tom Hanks and Rita Wilson, the first two celebrities I know of to test positive for covid-19, the disease caused by the novel coronavirus strain, have returned to Los Angeles after isolating themselves in Australia where they were diagnosed. The two were onsite filming a forthcoming Baz Luhrmann film about Elvis.
Hanks tweeted out the news and said he and Wilson would continue to practice social distancing, reminding us in the most Tom Hanks of ways, that we should be too.
Thankfully, for all of us, Hanks's son Chet, whose name I still can't believe, and Chet's more than questionable occasional accent, have yet to announce anything regarding his parents' return to the States. Hopefully, for all of us, it stays that way. [Deadline]
---
It looks like Cardi B is just as into Tiger King as the rest of us, and she's all in for Joe Exotic.
---