This week, Julie Chen and Sharon Osbourne apparently went on Howard Stern's show and badmouthed Jenny McCarthy. Good job girls! Everyone agrees with you about Jenny. Except why are you and your coworkers spending all your time talking about a show that you're not even on?
The The View vs. The Talk feud is now age-old. The first shot was fired when CBS announced The Talk in October 2010: executive producer and panelist Sara Gilbert said she came up for the idea of the show when she had her first baby, describing it as a place where women would talk about issues "through the eyes of mothers." Despite the fact that Gilbert and her team had, depending on your perspective, clearly drawn large inspiration from ABC's The View/entirely ripped it off, Gilbert defended the show's format, saying, "In the same way David Letterman or Jay Leno sit at a desk, there are certain formats that people use for talk shows. We're using one of those formats."
Which is fine! It's cool to steal. Even Barbara Walters admitted as much when asked about this new imitation show. Since then, however, the cast of The Talk just won't let the comparisons go. There have been many other significant instances of drama, all instigated by the women of The Talk.
June 2012
When presenting at the Daytime Emmy Awards, the cast poked fun at their similarity to The View by introducing themselves as if they were members of other cast, purposefully labeling themselves as women that they were not the same race as to play up the joke. You know, Sharon Osbourne is Sherri Shepard, Sheryl Underwood is Elisabeth Hasselbeck, etc.
G/O Media may get a commission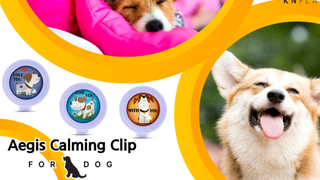 20% off
Aegis Calming Clip for Dogs
September 2013
In an interview with the Huffington Post, Chen cautioned The View from becoming too much like The Talk with the addition of their new host Jenny McCarthy:
Chen said viewers know they're going to get an "hour of fun" from "The Talk," with doses of celebrity scandal and relationship chat. She said she believed "The Talk" and "The View" have unique audiences but could collide if "The View" and its new cast "tried to be a little bit more like us. Then we might be going after the same audience. We specifically said when we launched that we wanted it to be different from `The View.' We don't want to talk politics and `The View' launched, basically, as a female `Crossfire.'"

...

"I don't think we have to respond to them," Walters said. "I don't think it's competition to us. It's on at a different time. I wish them well. I don't think people are saying, `I'm going to watch `The Talk' so I'm not going to watch `The View.'"
November 2013
Sharon Osbourne goes on Arsenio Hall with the rest of the cast and apparently has one too many of whatever is in the solo cups the women are drinking out of because, when asked by Hall what the difference is between The View and The Talk, throws her solo cup behind her shoulder and says, "Cut to the chase, stop being polite. Barbara—idolize her, divine, she is super-human, I love Barbara Walters. The rest can go fuck themselves!"
Sherri Shepard is the only cast member to respond to the situation, arguing to an angry fan of The View that Sharon Osbourne was worse than Jenny McCarthy:
The next morning, "Mrs. O" apologized on The Talk:
I have to own this; I'm fully responsible for myself (some of the time). Unfortunately, I was inappropriate and I was trying to be funny at somebody else's expense...I want to apologize to Jenny, Sherri and Whoopi who are all accomplished self-made women who have amazing careers. They have achieved so much. I mean, Whoopi is an Oscar winner. Who am I to say anything about Whoopi? Any of the ladies – I respect Jenny as a mother, as a woman, as an artist. Sherri too, and really, I can't even get the name of my own show right. So please understand, it was my irreverent, irreverent behavior and no disrespect meant and I'm not a person that is mean. I'm really not. And I apologize.
Osbourne also got the name of her own show confused with the name of The View, before yelling "See I'm not well!" Next, Julie Chen chimed in, adding that it was annoying to the women that they were continually asked about the difference between the programs because the difference is clearly that the women don't discuss politics. She didn't acknowledge that when the show was created, it was with the idea that the women would all be moms (since a few hosts have been dropped and added, the focus on moms seems have quietly faded away):
I just want to mention, we have been asked the same question for four years now...We give the same answer every time and I guess people are not happy with the same boring answer which is we don't talk about politics...Everyone wants women to attack other women and that is so clearly what we do not do.
December 2013
Chen goes on Howard Stern with Osbourne to promote the show. When asked about The Talk potentially surpassing The View in the ratings, Osbourne said, "I will be honest to say that we're going to wipe the floor with them," while Chen added that they were talking pleasure in their success, given how critical people were of the show when it began. Stern then asked Chen about whether hiring his favorite girl, Jenny McCarthy, was a mistake for The View. She said yes:
Yes and I'll tell you why I think so. Because what made The View so popular and so good was that you had five different women from different walks of life discussing politics. And when whatever happened, when Joy left, and when Elisabeth left, and then they got Jenny in, I think they were trying to lighten the mood at the table – more gossip, more fun, more laughs. Jenny is beautiful and funny and talented and smart. And what happened was, in my opinion, The View doesn't know what it is now. Its lost its way. What put them on the map and made them good and famous, they don't do that anymore. And no one wants to hear Jenny McCarthy talk about the New York mayoral race. Or politics. They just don't. That's not what you put Jenny McCarthy on for.
"They knew what their path was," Osbourne added, "and now it's kind of all over the place." Chen also said that she thought Jenny would have been better style-wise for The Talk, a statement she reiterated to Extra later, and speculated that McCarthy wasn't really picked with Walters' insight, given that she's retiring.
As of right now, that's where the drama ends. On the one hand, it is totally annoying that The Talk has to defend itself. It's not their fault they happened to be the first of the rip-off View shows. On the other hand, stop feeding the fire.