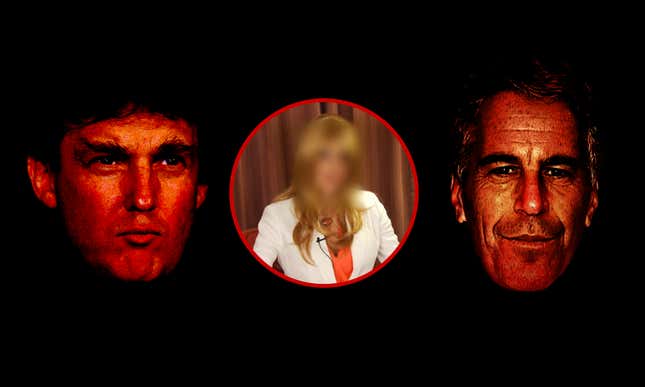 A woman who accused Donald Trump of raping her at a party when she was just 13 years old has voluntarily dismissed her lawsuit, according to court records. The woman, who has gone by the pseudonyms Jane Doe and Katie Johnson, was a no-show at a much hyped press conference earlier this week with celebrity attorney Lisa Bloom.

Taylor Lautner Doesn't Even Remember Saying 'Bella! Where the Hell Have You Been Loca?'
Jezebel previously detailed the bizarre backstory behind two lawsuits Johnson filed against Trump and celebrity sex offender Jeffrey Epstein, who she said also raped her at a party in 1994. A group of men worked for a year to push the rape allegations into the news, while preventing access to Johnson. No journalist has ever been able to speak to her directly in person or confirm her existence. However, her attorney, Thomas Francis Meagher of New Jersey, has told Jezebel he's met with his client on several occasions and has gotten to know her "quite well."
According to court records, Johnson/Doe voluntarily dismissed the suit on the afternoon of November 4. No other information is provided in the filing.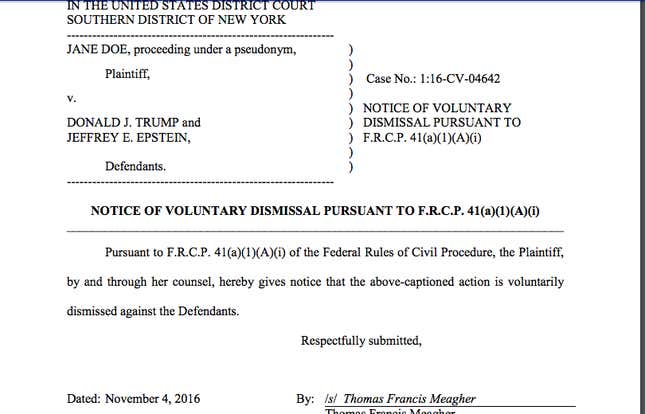 Bloom said earlier this week that Doe/Johnson didn't appear at a planned press conference because she had received death threats and was in fear for her life. Bloom didn't represent her, but was supportive of the allegations and critical of media outlets she said were refusing to cover the story.
The first lawsuit Doe filed against Trump and Epstein in California was dismissed for failure to properly state a claim. A second lawsuit in New York was voluntarily dismissed in September, then re-filed with an affidavit from a woman using the pseudonym "Tiffany Doe," who said she had witnessed the rape.
We've contacted Doe's attorney Meagher for comment and will update if we hear back.
Update, 9:10 p.m.:
Bloom posted a brief statement to her Facebook page and Twitter this evening, confirming the choice to dismiss was Doe's.

Update, 10 p.m.:
The Daily Mail published an interview with Katie Johnson this evening, including pictures of her. They say the interview was conducted in Lisa Bloom's office shortly before the aborted press conference. One of the photos is of Bloom and the woman, who did a photoshoot with the tabloid but requested they not reveal her real name. The outlet says they did not compensate Johnson in any way to share her story:
DailyMail.com is aware of Johnson's real identity, but has chosen to continue not to name her, as she requested anonymity to discuss her claims.

She neither requested nor was she offered any compensation to tell her talk about her claims.
She also called Trump a "rapist" and says the incident "affects everything in my life."
She claimed her motivation to tell her story was to expose Donald Trump to stop him from becoming president.

'We would have a rapist in the White House. I would feel horrified every single day if I stay in this country,' she said, in dramatic terms.

Johnson said her experiences in the summer in 1994 still haunt her today.

'As much as I try to forget about everything that happened, it always affects everything in my life,' she said. 'I mean it affects my relationships, I don't think I've ever had a successful relationship, one that I feel I can trust that person, there's always that mistrust.'
The DM interview also adds an interesting detail: Johnson claims she didn't know who her attacker was in 1994, but figured it out after watching The Apprentice:
But she also said that in 1994 she had no idea who her attacker was and that it was only when she watched The Apprentice that she came to believe it was Trump, claiming that she could not forget her attacker's face.
This is a breaking news post and will be updated.