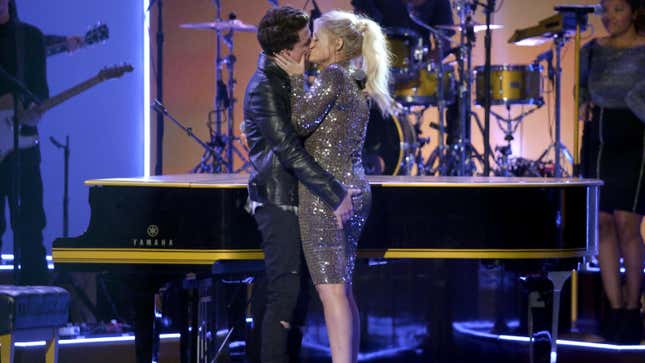 One thing about Meghan Trainor? She's going to share, whether you like it or not. In the last few weeks, the singer songwriter—for better and most certainly, for worse—has divulged that she was diagnosed with vaginismus, that her husband packs a mighty dong, and that her adult brothers share her home and are aware of her sexual habits. Unfortunately, her lips keep movin'.
Dirt Bag of the Week: Katharine McPhee
On Monday, Trainor appeared on Andy Cohen's Watch What Happens Live and, once again, got very candid during a Q&A with fans.
"Meghan, since your makeout with Charlie Puth at the AMAs was such a viral moment, did you ever make out with him at a time when the cameras weren't rolling?" one question read, referencing this bizarre 2015 performance of their duet, "Marvin Gaye." Was it viral? I can't be certain given I was a mere junior in college, thus unreached from my women's studies soapbox but I appreciate that fan's kindness!
"Yeah, I'll give you tea," Trainor gleefully volunteered. "The day we recorded 'Marvin Gaye'—very, like, romantic song—there was booze, and we made out that night in the studio." A romantic song, eh? It's been a long time, so let's revisit thus lyrics shall we?
Let's Marvin Gaye and get it on

You got the healing that I want

Just like they say it in the song

Until the dawn, let's Marvin Gaye and get it on, babe
It's not exactly "At Last," but making Marvin Gaye a verb? That's a kind of boldness one has to respect from a quirked up white boy and a Nantucket native who just stopped speaking in AAVE fairly recently.
"All right, you were in the moment," Cohen very generously replied. "We were in that moment. The song got to me, the liquor. It was great," Trainor concurred, before stating that there would not be a part two.

Puth has yet to comment on the er, collaboration but for some reason, I sincerely hope he does. The notion of a sordid studio affair between two of Radio Disney chart toppers is simply sending me.