"I am willing to talk to the Senate Judiciary Committee in any way the Committee deems appropriate to refute this false allegation, from 36 years ago, and defend my integrity," Supreme Court justice nominee Brett Kavanaugh said on Monday in what has now been his second statement denying sexual assault allegations made by Christine Blasey Ford.

Ford has agreed to testify before the Senate Judiciary Committee but senators remain divided over whether to postpone voting on Donald Trump's Supreme Court nominee or let Thursday's vote carry on as scheduled. Trump himself seems committed to Kavanaugh's nomination. When asked on Monday if Kavanaugh offered to resign, Trump responded: "What a ridiculous question."
The White House and right-wing pundits (not to mention men who feel as if the internet would be bereft without their input) have scrambled to form a coherent response to the allegations. What they have landed on is familiar terrain:
Instead of claiming that Ford is simply lying, they have instead suggested Ford is simply overreacting. Such arguments imply that while what Kavanaugh allegedly did might have been unsavory, it was normal behavior from a hormone-addled teenage boy.
More than just misreading harmless behavior as aggression, Kavanaugh's defenders have raised the stakes of the allegations: it isn't just one man's reputation on the line—it's all men.
It's a massive tell.
One day before Ford's letter was released, Donald Trump Jr. mocked the seriousness of potential accusations against Kavanaugh as feminist panic. He posted a meme on Instagram with the caption, "Judge Kavanaughs sexual assault letter found by Dems..." It's followed by an image of a piece of wide-ruled paper with a childish message written in crayon: Hi Cindy, will you be my girlfriend? Love, Bret." It includes the requisite boxes to check either "yes" and "no." Trump Jr. wrote, "I believe this is a copy [of Ford's letter] for full transparency." He tagged it: #maga.
G/O Media may get a commission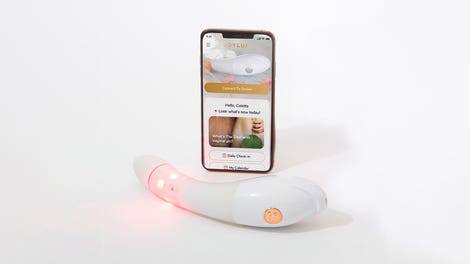 $50 Off
Joylux vFit Gold Device
Trump Jr.'s post intimates that Ford doesn't know what real sexual assault is— and that Democrats are desperate to see sexual assault in anything for the purposes of discrediting a supposedly good man. (It's a sentiment shared by James Woods—a right-wing actor, accused of his own slew of unscrupulous sexual behavior—who called the Kavanaugh debacle a "Me Too Lynching" in a now-deleted tweet, which Trump Jr. liked).
A lawyer close to the White House told Politico that Ford's accusations will actually help encourage the Trump administration to stand by the Kavanaugh's nomination on some hazy principle of gender solidarity. "If somebody can be brought down by accusations like this, then you, me, every man certainly should be worried. We can all be accused of something," he said. The "you" here is revealing; it knows its audience. Ford's allegation is simultaneously an overreaction as well as a skeleton in the adolescent closet of every man.
In the middle of the back-and-forth, both Ford and the seriousness of her allegations have largely been swept aside in favor of the rhetoric of good men and the churlish behavior of boys. As a reminder, Ford's accusations are as follows: In the early 1980s, a teenage Kavanaugh and his friend were "stumbling drunk" when they corralled Ford into a bedroom during a high school house party. Kavanaugh allegedly pinned Ford to a bed, groped her, rubbed his body against hers, and sloppily tried to take off her bathing suit and the clothes she was wearing over it. When she tried to scream, he covered her mouth with his hand. Kavanaugh's friend stood by and watched. Ford thought Kavanaugh may inadvertently kill her.
Is it fair to characterize all teen boys as budding attempted rapists until proven otherwise? It's doubtful that those defending Kavanaugh's behavior would feel comfortable if this assumption were applied to every teenage boy; it would undoubtedly be denounced as feminazi bullshit, as #MeToo gone mad. And yet, they hold up this very description as customary. They want it both ways: Distance from assumptions of sexual assault on the basis of their gender as well as absolution from it.
As alarming as it is to imagine the many men who do have an adolescent closet full of sexual assault are likely rooting for Kavanaugh, it's similarly alarming that so many men who likely did not spend their formative years sexually assaulting girls are more invested in projecting themselves into Kavanaugh. They appear more interested in preserving Kavanaugh's reputation—that insistence he is a good man who loves his family—than distancing themselves or denouncing his behavior as anything more than the normal, if churlish, misogyny of boyhood.
This is both surprising and not: Boys and men, as well as girls and women, normalize aggressive sexual behavior early and often. Unsurprisingly, girls and women suffer the brunt of the aftermath. In "Normalizing Sexual Violence: Young Women Account for Harassment and Abuse," the research of Heather R. Hlavka shows how both groups prop up a structure in which sexual violence at the hands of men and boys is treated as harmless rites of passage. "As men's heterosexual violence is viewed as customary, so too is women's endurance of it," wrote Hlavka.

Hlavka gave a summation of her findings in a separate writing:
Young women overwhelmingly depicted boys and men as natural sexual aggressors, unable to control their sexual desires. Girls normalized their experiences of sexual harassment and abuse because they were so common and indiscriminate; "that's what boys do" and "they do it to everyone." Given expectations of, and experiences with, male aggression, young women were then consistently positioned as the gatekeeper of sexual activity and aggression. Girls in this study said they did not want to make a "big deal" out of their experiences and rarely told anyone. Charged with self-protection and silence, girls also criticized each other for not successfully maneuvering men's aggressive behavior or for speaking up; if they complained about men's abusive behaviors, they were disbelieved and policed by their peers through rumors and slander.
All of the above has been echoed in the Kavanaugh-Ford discourse, congealed into an ugly rhetoric that collapses on itself on close inspection yet persists because it's effective: It consistently turns Ford into an irrational woman, overacting or misremembering. Boys are boys, Kavanaugh's defenders insist. But not all boys. And what does it even matter, it was nearly four decades ago?
But Kavanaugh's past will continue to be tempered with his present. The pre-hearing Kavanaugh media blitz insistently reminded us that Kavanaugh is a decent man, a good Catholic boy from Maryland who did everything right and is suddenly being punished for simply being a typical boy. The kind of thing that might happen to any man or, in the White House's words, "every man."