Beyoncé's twins are here on this earth. We know that for certain. But that's about all we know. For anyone who cares about these kind of things, it has been fascinating to watch gossip and entertainment sites struggle to report and confirm the very little information swirling around the newest members of the Carter family, though that's probably exactly what Beyoncé and Jay Z were banking on.

The secrecy and confusion this time around has been high even for Beyoncé. When she gave birth to her first child, Blue Ivy Carter, on January 7th, 2012, the reports about both the birth and her name were almost immediate.
Friends like Rihanna and Gwyneth Paltrow even took to Twitter to offer their congratulations, presumably with permission from the couple.
G/O Media may get a commission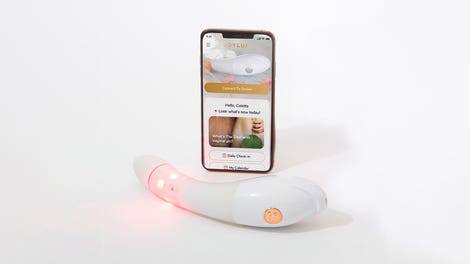 $50 Off
Joylux vFit Gold Device
About one month later, helloblueivy.com popped up with photos of the new family.
This time around, there seems to be even less intel, and tabloids and gossip sites are scrambling cobble together and confirm whatever scraps of information they can get. Let's look at TMZ, considered the holy grail of gossip websites and generally quite accurate.
On June 17th the site confirms the babies were born. This news is echoed the next by Beyoncé's father, Mathew Knowles, on Twitter.
At the time, TMZ cannot confirm the sex of either baby but strongly suggests she had a boy and a girl "based on balloons that were delivered to a hospital." This report about a very specific balloon delivery is also mentioned by E! News on June 17th:
As speculation that Beyoncé give birth to her and Jay Z's twins grows, an unidentified woman was photographed Friday at a Los Angeles hospital, carrying a bouquet of pink, purple and blue flowers with two giant baby foot-shaped pink and blue balloons that read, "Baby Girl" and "Baby Boy." An eyewitness said the woman walked into the front of the building, then got back into her car and drove into an underground parking lot. She emerged five minutes later without the flowers.
Both reports were presumably informed and/or backed up by this tweet:
The next day, on June 18th, TMZ reports that the babies are being kept at the hospital for a "minor issue" and that Beyoncé remains at the hospital with them.

On June 19th, Jay Z is spotted at a West Hollywood SoulCycle class.
Now, fast foward to today. TMZ ran a story at 1 am PT with sources saying the babies were still at the hospital with jaundice. They added that a "release date is unclear."
However, around 9:30 ET, The Daily Mail reports that all the Carters have left hospital and are home at a sprawling Malibu mansion.
At 8:15 am PT, TMZ runs the same story, both citing The Daily Mail and assuring confirmation from their own sources.
Then there's the curious matter of where the birth took place. Months ago, multiple sites reported Beyoncé and Jay Z had chosen Cedars Sinai, the celebrity hospital of choice, for the birth and that the family had even moved closer to the hospital in preparation.
Following the delivery, Vanity Fair and Hollywood Life said she'd given birth at Cedars. However, TMZ and a few first-hand sources claimed she was actually at Ronald Reagan UCLA Medical Center. This was largely confirmed when Jay Z was spotted entering the hospital on June 19th. Interestingly, a number of sites simply said Beyoncé had given birth at an "LA area hospital" without specifying which one. The vagueness now feels deliberate.
I can't even begin to imagine what goes into planning the secret birth of twin babies by one of the most famous human beings on the planet in a major American city. Clearly whoever was in charge of this event did a great job because the little information that has surfaced seems to mostly be delayed, incorrect, or uninteresting.
Of course, doctors, nurses and hospital staff can't really go around leaking private medical information without the risk of finding themselves in a great deal of legal trouble. But we also know from Beyoncé's last two albums, which seemed to come out of nowhere, that whoever is drawing up those Non Disclosure Agreements really knows what they're doing.
Regardless, this is likely the exact outcome the couple was hoping for and the best that could be expected when dealing with a huge event from two people who are both incredibly famous and incredibly private. They had their babies, mostly in peace, and will release names, pictures and whatever else on their own time, with their own narrative. Just like pregnancy announcement itself and practically everything else in Beyoncé's life.