Beyoncé is going to give birth basically any minute now, and I'm strangely nervous about it. What happens when the big moment arrives?! Is there a little bell I'm supposed to ring, or do I just scream the news out of my window?

While I'm worrying about that, Bey has moved herself and her family to a house near Cedars Sinai, where the Event will take place. From Radar Online:
According to a source close to the Carter family, the move near the delivery room is a huge indication that the C-section will be very, very soon.

And it couldn't come soon enough for stressed out baby-daddy, Jay Z. Even before the move, the insider said, "He's been super frantic!"
I don't know what there is to be frantic about, since Jesus himself will probably descend from the heavens in order to oversee the arrival of the most important twins to ever bless our humble, unworthy Earth. Still:
"Beyonce wants everything to be perfect and things keep going wrong," the source said. "And this move near the hospital will make her delivery so much easier, she thinks."
G/O Media may get a commission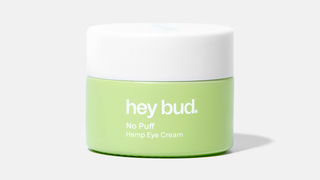 15% off
Hey Bud - No Puff Hemp Eye Cream
I should think so, yes.
---
People has already written the perfect lede, so there's nothing for me to do here but copy and paste it.

They starred together in 2002's Crossroads. But Zoë Saldana found herself at a crossroads with Britney Spears in 2014 when the pop singer spilled the beans to the press that the actress was pregnant with twins.
The real news to me is that Saldana was in Crossroads?! Maybe if I'd known that I would have seen it. Probably not, though.
In any case, Saldana appeared on "Watch What Happens Live" and shared the story of how Spears went and opened her big mouth after the two had chatted about Saldana's pregnancy on a flight together.
"When she disclosed it, she was just...being Britney," Saldana says. It's not up to me to determine whether this is shade, but if it looks like shade and it smells like shade, well, you know.
[People Babies, which should be its own magazine]
---
Good morning, here is an inspirational quote from Chrissy Teigen:
"I had an armpit sucked out, which was one of the best things. It's a big secret, but I don't care. It was nine years ago or so. And I had two inches to my armpit. Now it's back though, so now I've gotta pay for [liposuction] again. It was so easy. It made me feel better in dresses; I felt more confident. It was the dumbest, stupidest thing I've ever done. The dumbest, but I like it, whatever. I have no regrets, honestly."
I...don't understand? Just one armpit? Sucked...out? Also, I wasn't aware this was an area of my body I even needed to be concerned about. Do I need my armpit(s) "sucked out"? Please advise!!
---
STFU Adele.
---