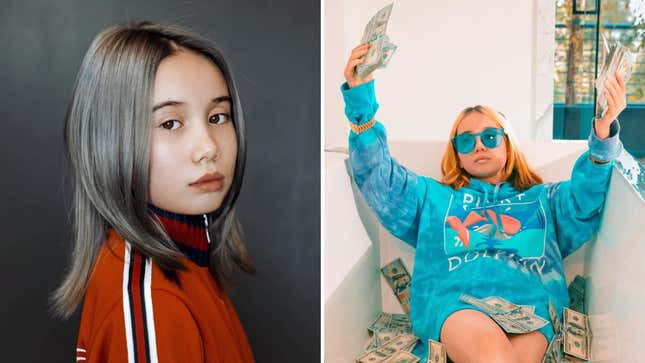 It was just another day in the life on Al Gore's internet, in which an Instagram account belonging to formerly internet famous child rapper Lil Tay posted an announcement that said child rapper had died—except Lil Tay has since confirmed to TMZ that she is very much alive and that her Instagram had been hacked, and now, no one knows what the fuck is going on. You with me?
Taylor Lautner Doesn't Even Remember Saying 'Bella! Where the Hell Have You Been Loca?'
I'm going to break down the following mindfuckery of Lil Tay's fake death announcement—and the lead-up to Lil Tay's seeming disappearance from social media nearly five years ago—in the simplest terms possible, but if you find yourself confused at any point in time, just know you are not alone. Jezebel's former misinformation correspondent nearly required a lobotomy trying to dig into the origins of this (at the time) underaged Instagram influencer who talks like a fully grown male rapper and sometimes issues racial slurs.
Let's rewind to yesterday: It's Wednesday, and the account belonging to Lil Tay, with its 3.5 million followers, has just posted a since-deleted statement that Lil Tay and her brother Jason Tian have both passed away and that their deaths are currently "under investigation." Several media outlets have run with the story, including People and Variety, who claimed management confirmed to them that Lil Tay had, in fact, died at age 16. The announcement read:

"It is with a heavy heart that we share the devastating news of our beloved Claire's sudden and tragic passing. We have no words to express the unbearable loss and indescribable pain. This outcome was entirely unexpected, and has left us all in shock. Her brother's passing adds an even more unimaginable depth to our grief. During this time of immense sorrow, we kindly ask for privacy as we grieve this overwhelming loss, as the circumstances surrounding Claire and her brother's passing are still under investigation. Claire will forever remain in our hearts, her absence leaving an irreplaceable void that will be felt by all who knew and loved her."
According to TMZ, the outlet contacted both Vancouver police and family members of Lil Tay, all of whom were none the wiser about her and Jason's alleged passing. Lil Tay's ex-manager Harry Tsang also told Insider Wednesday that he couldn't confirm or deny his former client's death. "Given the complexities of the current circumstances, I am at a point where I cannot definitively confirm or dismiss the legitimacy of the statement issued by the family," Tsang said. "This situation calls for cautious consideration and respect for the sensitivities involved. My commitment remains focused on delivering updates that are both reliable and appropriately timed."
Lil Tay's followers quickly caught on that something smelled fishy, and by Thursday morning, TMZ had run a report that Lil Tay was not dead, that her Instagram had been compromised, and that someone claiming to be Jason said everything that had emerged thus far was all a lie.

Tay reportedly told TMZ, "I want to make it clear that my brother and I are safe and alive, but I'm completely heartbroken, and struggling to even find the right words to say. It's been a very traumatizing 24 hours. All day yesterday, I was bombarded with endless heartbreaking and tearful phone calls from loved ones all while trying to sort out this mess."

"My Instagram account was compromised by a 3rd party and used to spread jarring misinformation and rumors regarding me, to the point that even my name was wrong," she continued. "My legal name is Tay Tian, not 'Claire Hope.'" Tay then told TMZ that Meta had helped her regain control over her account, and the statement has since been removed.
But there's another wrinkle in this story! Also on Wednesday, shortly after the original death announcement was posted, another Instagram account under the handle "termanii_" popped up and began posting as Tay's brother Jason. Accompanied by a photo of Tay, "Jason" claimed that he and Tay are not dead, that he and Tay were "winning [their] case," and that they were just a few days from coming out with "the truth." Their parents, he continued, wanted them "gone off the internet," that they "took everything," and "abused Tay, hard." Finally, the person claiming to be Jason admitted that the original death announcement had been for "attention" because they knew they were about to lose access to the account.
To explain the "case" and the "truth" so-called Jason keeps referring to, we'll need to go back to the beginning, to the three-month period in 2018 when Lil Tay went viral. The 9-year-old girl had become an internet sensation for rapping, cussing, bragging about stacks of money, picking fights with other influencers online, and affiliations with other internet personas like Bhad Bhabie—she'd even landed a spot on Good Morning America.
Though Lil Tay, in a 2019 NY Mag feature, claimed to have grown up "broke as hell" in Atlanta and at one point said she was "partially Black," that's just a facade. Legally, Lil Tay was born as Claire Hope on July 29, 2007. She was raised in Canada alongside her half-brother Jason Tian by their mother, Angela Tian. A realtor, Angela allowed the kids to film videos in the properties she worked on. But Claire/Tay's parents—Angela and Canadian lawyer Christopher Hope—were not married, and shared custody of their child. (If this sounds like a foreboding detail, that's because it is!)

After Lil Tay was named "World's Youngest Flexer," had garnered over 3 million followers on Instagram, and started spitting lines like, "I'm a 9-year-old millionaire and I be smokin' dope," things began to fall apart. Jason, who was 16 at the time, was the one controlling Lil Tay's Instagram account, according to Vox. He also reportedly coached his sister on how to talk in her videos and (in Vox's words) was "often harsh and cruel, and on at least one instance prompted her to say racial slurs." Shockingly, three months after her viral fame had taken off, Lil Tay's account went silent and, up until the fake death announcement, hadn't posted anything since.

Now, back to Mr. Hope, the lawyer! Tay's father, knowing how the law works and such, had gotten a court order requiring Tay to remain in Vancouver and shut down the Instagram account her brother was reportedly managing. According to TMZ, while Hope and Tay's mother Angela both wanted to help support their daughter's growing fame, they had very different ideas on how to handle the situation. Hope wanted to trademark her name, put her earnings in a trust, and put Tay in school where she could learn about the arts. Angela, meanwhile, preferred a more hands-off approach, opting to allow the kids to run the account as they pleased (when interacting with Jezebel for a 2019 investigation, Angela ended the conversation when former Jezebel staffer Anna Merlan declined to pay for an interview).

As bickering stage co-parents do, the duo wound up in a bitter custody battle over Tay's life and career in late 2018, and in October of that year, Lil Tay's Instagram account began posting claims that Hope and his wife were abusing Tay. Angela described the incident as a "hack," while Hope told Insider that he was preparing a defamation suit.
Following? Now, back to the present. It's Wednesday again, and the secondary account supposedly now run by Jason and Tay posts one final update:
"Since the end of 2021 me and my brother have been planning on coming back to social media and start streaming we didn't tell anyone other then [sic] our parents and once we did they got mad and called us ignorant because we weren't going to do the same thing that i was doing when i was 9-10 and they locked us out of every social media we had because they still wouldn't let us have full access of it thag [sic] started a big argument then she got mad and for a few weeks we agreed to live with our grandparents and ever since then they basically cut contact with us so about 4 months ago i texted my mom for the first time in years and we were talking about getting our account back and she agreed at first and then switched up randomly and now this happens out of no where i haven't talked to her since may."
In its stories, Jason/Tay/or some combination of the two have vowed to go live on the secondary account when it hits 25K followers (its follower count is currently resting at 14.7K). As it stands, this whole saga looks to be quite a tragic cautionary tale about child stars, neglectful parents, the influence of an overbearing half-sibling, and the public's willingness to eat all of it up. As Merlan wrote in her 2019 investigation, "I became convinced that [Tay was] being put in front of the camera and in potentially dangerous situations by people who aren't looking out for her best interests….I also just desperately wanted to know where her fucking parents are."
We'll update this post as we learn more.