Guys, how many more weeks are left in this year? What are the odds 2017 will bring about a greater national understanding of shade as well as fewer instances of people trying to bite Judge Brown's steeze? Oh, incredibly low, you say? Perfect.
In this week's Shade Court, Julie Chen is unbothered, John Mayer isn't paying attention and an ether is never shade.
Shade Court Docket #2016JZ000224
The Case: On Taylor Swift's birthday, onetime boyfriend and constant source of inspiration for breakup jams John Mayer tweeted about the day in unflattering terms.

G/O Media may get a commission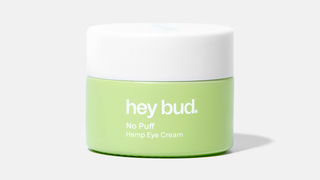 15% off
Hey Bud - No Puff Hemp Eye Cream
He later deleted the tweet and added:
The Defendant: E! News, Us Weekly, Entertainment Tonight, TMZ, Elle, Hollywood Life, Page Six
The Evidence:
The Deliberation: It's hard to even understand what he's talking about. Tuesday December 13th....as a concept? Only this specific December 13th that falls on a Tuesday is lame or is it all December 13ths? How can a day, as a concept, be lame? I'm no John Mayer expert, but I did spend part of a rauncus evening with him once and I didn't have much of a clue what he was talking about then either.
My hesitation here is I have a hard time believing John Mayer really cares about shading Taylor Swift's birthday. Honestly, I feel like he didn't even realize it was her birthday when he sent that tweet. He might have even been "experimenting" with some "music" when this random-ass thought popped into his head.
This just feels too easy and kind of like an accident. Also, dude, what?
The Ruling: Not shade
Shade Court Docket #2016JZ000225
The Case: An orange man with skin thinner than a piece of single ply toilet paper submerged at the bottom of the Pacific Ocean attended the annual Army vs Navy college football game between the United States Military Academy and the United States Naval Academy. Upon attendance, he said some words.
The Defendant: Dan Wolken
The Evidence:
The Deliberation: Let's take a moment to appreciate the abomination of a sentence that came out of the future leader of the free world's mouth:
"I mean, I don't know if it's necessarily the best football, but it's very good."
Hm. Is it?
If I thought this was a deliberate tactic instead of the deranged ramblings of an egomaniac who hasn't actually listened to a word he's said in at least two decades, I might see some brilliance here. Instead it just sounds like he has a nervous tic where he ends every sentence, no matter the subject, with: "it's very good."
Now, consider that he, a man who is supposed to lead and unite a nation, is talking about a bunch of teens and 21 year-olds. A bunch of teens and 21 year-olds who will one day serve in our nation's military. He felt the need to point out that they're not very good at football. Ok! That's a choice.
Let's just get to the most irritating part of this—the fact that Donald did kind of throw shade. After dissing the athletes, he added: "But, boy do they have spirit. More than anybody. It's beautiful."
He said that with a surprising amount of what seemed like sincerity to the point of bordering heavily on condescension and, dare I say, shade.
If he hadn't insulted their football skills 0.4 seconds before and instead, when asked about the game, had just shrugged: "Oh yes. Lots of spirit. They sure are excited," that would have been some rather good shade and I would have to fling myself into vat of sauvignon blanc becuase I can't have this fool dipping his toe into one of the few joys of my life.
He didn't truly earn it but my deep commitment to the laws of shade won't allow me to not award partial credit.
The Ruling: UGH KINDA
Shade Court Docket #2016JZ000226
The Case: Julie Chen hosts the CBS knockoff of The View. On an episode of Watch What Happens Live! Andy Cohen asked about a recent report in Page Six about Barbara Walter's apparent unhappiness with the direction the show has taken.
"I do think that Barbara Walters is probably like, 'This amazing show I created is now just kind of withering away with a revolving door of hosts that people can't keep straight,'" Chen said. "I mean, I should know all of the names of the hosts and I don't 'cause it changes so often."
The Defendant: TMZ
The Evidence:
The Deliberation: Now to be fair, The View has been a hot ass mess as of late so she's not really stepping too far out of line in pointing this out.
This is an interesting case. Chen's delivery is quite measured and extremely matter-of-fact. The real question is: How much does Julie Chen hate The View?
I'm not convinced she truly gives a damn. Granted, The Talk is still being beat by The View ratings-wise, but at least they didn't treat Candace Cameron Bure like a serious person whose opinions deserve to be heard.
No, I think Julie Chen is completely unbothered and it shows. She's too unbothered to really throw shade even. Frankly, she sounds like she's just trying to give Whoopi and Company some advice.
That being said, I would potentially accept a shadier reading of this incident—particularly the part about not knowing the names of the hosts—but, like Julie, I don't quite have the energy.
The Ruling: Shady but not shade
Shade Court Docket #2016JZ000227
The Case: Vanity Fair published an article about the restaurant at Trump Tower titled: "Trump Grill Could Be the Worst Restaurant In America." Writer Tina Nguyen dined at the restaurant and observed it as the exact embodiment of Trump: subpar in every possible way.
The Defendant: Ana Navarro

The Evidence:
The Deliberation: Let's recap some of the gems from Nguyen's piece:
Renowned butcher Pat LaFrieda once dared me to eat an eyeball that he himself popped out of the skull of a roasted pig. That eyeball tasted better than the Trump Grill's (Grille's) Gold Label Burger, a Pat LaFrieda–branded short-rib burger blend molded into a sad little meat thing, sitting in the center of a massive, rapidly staling brioche bun, hiding its shame under a slice of melted orange cheese.
Perhaps Trump's veneer of a steakhouse is too obviously a veneer, meant for the hoodied masses to visit once and never return.
And indeed, it was slop: as soon as I got home, I brushed my teeth twice and curled up in bed until the nausea passed.
Perhaps it's a sign that Trump is in over his head, and a shallow, mediocre man who runs a shallow, mediocre business empire (and restaurant) would sink and implode, crushing the expectations of millions of his hopeful supporters.
This, my hip hop novices, is what we call an ether. Nguyen wasn't trying to be subtle because she knows Trump doesn't speak the language of subtly. She literally called Trump Grill the WORST RESTAURANT IN AMERICA.
Let's turn to Ana. "Throws more shade than an oversized beach umbrella" is one of the corniest collection of words I've ever heard. Why are you even specifying that the beach umbrella is oversized? By definition, aren't beach umbrellas already quite large? Your adjectives are extraneous and provide no additional benefit!
I can appreciate Ana Navarro to some degree. She has, by and large, been one of the few sane Republican voices we're heard over the past year. Still, you can't convince me this isn't part of a longer ploy to ultimately become the face of the New Republican Party in the next three to five years when democracy as we know it has crumbled like every sandcastle I've ever built.
Further, never forget that Navarro stays saying shit like this:
Also, she clearly knows nothing about shade.
The Ruling: Not shade