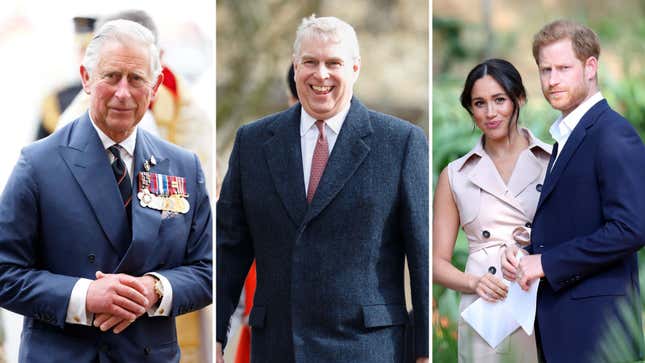 How do you solve a problem like Prince Andrew? The favorite child of the late Queen Elizabeth and an accused sexual predator who's been linked to Jeffrey Epstein is currently being volleyed around the Firm's real estate portfolio like a pervy hot potato. After getting booted from Buckingham Palace and potentially pushed out from Royal Lodge, now Andrew is getting downgraded to Frogmore Cottage. It's a move anyone who's ever had a scummy landlord can recognize: making someone's home life so inconvenient and unpleasant that they have no choice but to dip out. The jury's still out over whether or not he'll take the hint.
The Sunday Times recently reported that Randy Andy and his ex-wife Sarah Ferguson—who he still lives with (no healthy boundaries in this family, I swear)—might be passively forced out of their current residence at the Royal Lodge in Windsor in the next year. If older bro King Charles tightens the royal purse strings, which it seems he's looking to do, Andrew would stand to benefit even less from his already reduced access to royal funds. "He's not being explicitly kicked out," a source explained to The Times, "but it's expected that he won't be able to afford the maintenance" on the Royal Lodge. Oh bother.
In January, Chuck chucked Andy and his collection of teddy bears out of his room at Buckingham Palace. "Andrew loved having a suite at Buckingham Palace," a source told The Sun. "Where he was not only set up for marital life with Sarah Ferguson but used it as a bachelor's pad after his divorce."
Now, Andy is being offered the keys to Frogmore, where Harry and Meghan once lived. The gossip rags are framing it as Harry and Meghan getting evicted in the aftermath of Harry's explosive memoir—but the two haven't lived there since June 2020, before they fleed into the safe embrace of Tyler Perry. The couple most recently spent time there in June while celebrating the Queen's Platinum Jubilee. I have a feeling they will make do in their humble 13,599-sq-ft Montecito abode, far away from all the family members wondering how dark-skinned their child is.
G/O Media may get a commission
25% Off
Coleman SaluSpa Inflatable Hot Tub Spa
Considering the royal family's affinity for passive aggression, I have to assume this is Charles' way of both distancing himself from his scandal-ridden brother while also getting back at him for being his mother's favorite. Excuse me, favourite.
How will Andy survive being downgraded from the luxurious 30-room Royal Lodge to the destitute 10-room provincial Frogmore estate? The new digs are barely enough for each of the corgis he now oversees to have their own bedroom. Not to mention all of the 72 teddy bears in his collection are going to be severely cramped. It's only a matter of time before the disgraced prince is forced to take up residence in a novelty phone booth.