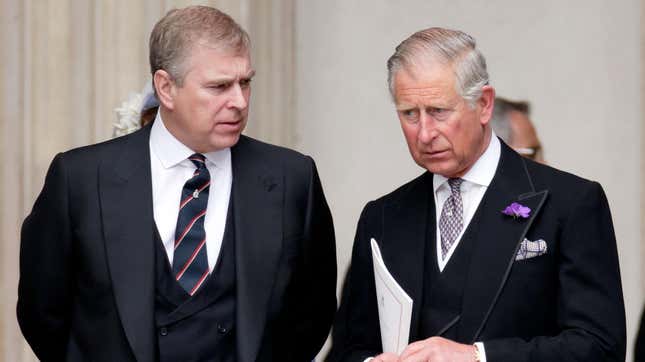 What's a good amount of time to ice out your weird younger brother who is an alleged sexual abuser and who keeps a collection of 72 teddy bears besides his bed? A year? Ten years? A lifetime?
Well, King Charles has decided eight months should do the trick. After booting Prince Andrew from Buckingham Palace last winter, he's reneging on the standoff and folding Randy Andy back into the fam. The Daily Mail reported that Charles invited his creepy brother to the family's summer vacation at Balmoral in Scotland, which the outlet described as an "olive branch." Then this past weekend, Prince William was photographed driving his uncle to church with Kate Middleton sitting in the backseat. That's a notable change from May, when the family was still playing hot potato with Andrew and kicking him out of various residences following revelations of his connections to Jeffrey Epstein. Perhaps there's no room in the budget for a driver anymore, and Wills had to step in and take over—but somehow I doubt it.
"This was clearly a very important event, and William's had to put aside his objections... to agree to be in a car with him when they knew it was going to be filmed is an extraordinary development," royal historian Andrew Lownie told the Daily Beast. Also in the brigade of cars headed to church (not my top vacation activity, but whatever) was Lady Susan Hussey, a former lady in waiting to Queen Elizabeth who quit after reports of her racist behavior were made public.
I know it isn't wise to waste my breath wondering why the royal family does what it does, but I sincerely can't think of the benefit of remaining close with alleged pedophiles and racists while also making a show out icing out family members (Harry and Meghan) for speaking out against poor treatment within the firm. I suppose the best conclusion is just that the Royals are generally not...good people? And will never fully register the harm they've enacted? Maybe because they will never actually be held responsible for it? Hard to say.