Heidi Montag has confirmed she's left her husband and already posed for "I'm sad" photos. Absent from recent episodes of The Hills— and reportedly not returning—is their split a PR stunt to promote her new reality show?
The day after the supposed separation, it was announced—through a "rep" who we cannot locate—that Heidi will begin filming a new reality show in July with Jen Bunney, a onetime recurring cast member on The Hills. The show will be about "friends, plastic surgery, and the single life." In an interview with TMZ, a giggling Bunney told the camera man that she was "not allowed" to divulge much info about Heidi's breakup because "I think they're saving a lot of the stuff that's happening in their marriage for the show." When asked if she thought that people even want to pay attention to Heidi and Spencer anymore, Bunney said, "Probably not. But that's the whole point of the show."
According to reports, Heidi and Spencer—who've been suspiciously and unceremoniously absent from the past two episodes of The Hills, and do not appear in previews for next week's show—are gone for good from the series. Reasons for the move remain unknown at this time (and MTV has not responded to our repeated requests for a comment), but we're thinking it has something to do with the couple's allegations of sexual harassment by the show's creator Adam DiVello, or the fact that Spencer was recently suspended from the show for allegedly threatening to kill one of its producers. Whatever the case, the couple hasn't been filmed for the series since mid-April, and Heidi was not invited to a cast meeting with producers regarding the finale.
Interestingly, Us reports that Heidi's role on the show was "reduced" after she refused to comply with a story line in which she contemplates divorce.
G/O Media may get a commission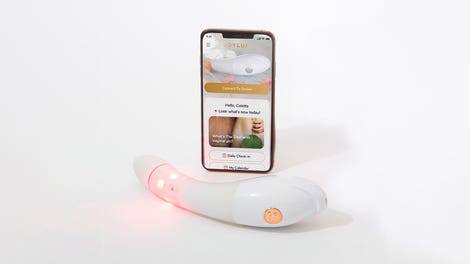 $50 Off
Joylux vFit Gold Device
Fast-forward to one month later, and Heidi has publicly confirmed—again through her "rep"—that she's "separated" from her husband of 18 months, but (much like her sexual harassment allegations) has not filed any legal documents regarding the split, citing that Spencer's acrimonious relationship with Heidi's mother was the straw that broke the camel's (scooped) back. However, it was Heidi—not Spencer—who called the cops on her mother Darlene Egelhoff, after Egelhoff showed up to Heidi's home unannounced. She's yet to reconcile with her mother, and told Access Hollywood, "She needs to stay away from me. I'm planning on getting a restraining order against her." Just three days before she announced her separation from Spencer—claiming it revolved around a riff he caused with her family—Heidi tweeted that she has no friends, and that her family members are all liars who are "trying to make money off of me."
Additionally, Heidi's own sister doesn't believe that the Montag/Pratt split is real. Two days ago, she tweeted:
If anyone has come to expect anything from those 2 is that THEY r the LIARS
Even the hosts of The Hills Aftershow aren't buying it.



Also suspect are the hilarious "candid" paparazzi photos for which Heidi posed with Bunney:
Heidi's reportedly looking to recruit Hugh Hefner's ex-girlfriends, the Shannon Twins, for the show. We placed a call to Heidi's agent at William Morris, who could not confirm whether the show has been picked up by a network, whether the couple is really broken up, or what the hell, in general, is going on with her.
It's been a banner year for Heidi and Spencer—who've miraculously managed to squeeze every last drop of pus from their sebaceous cyst of 15 minutes—replete with plastic surgery, psychics, sexual harassment, guns, more guns, Twitter feuds, and poetry. So yes, we suspect that this "divorce" is their machination for more attention, something at which they seem to be incredibly adroit at generating. We also suspect that their "reps" are really themselves, feeding info about where they'll be and what they're doing to the paparazzi. It might be easy for us to write Heidi and Spencer off as pathetic nobodies desperate for some publicity, but the question really is: Who're the idiots here? The bad-poetry-writing, gun-toting girl with the garishly large boobs and flesh-bearded, asshole of a husband, or us, for giving them what they're asking for?
Images via Pacific Coast News

Earlier: The Hills: Heidi Wants H-Cups For "Heidi"
Just Perfect: People Glamorizes Plastic Surgery Addiction
Spencer Pratt Engages Perez Hilton In A Twitter War; Plus More Scott Baio
Heidi Montag's Target Practice Video (Yes, With Guns)
Heidi Montag Writes Poetry
Related: Heidi Montag Calls It Quits with Spencer Pratt [TMZ]
PHOTOS: Heidi Montag's "Boo-Hoo Break-Up" Photo Shoot [Radar]
Heidi, Spencer Pratt Might Not "Come Back" for Hills Finale [Us]
Montag calls police on mom [MSNBC]
Heidi Montag plans to add Shannon Twins to new reality show [x17online]
Spencer Pulled A Gun On Me, Says Former Friend [Radar]
Heidi Not Ready to Pull Trigger [TMZ]
Heidi Montag's New Psychic Manager: I Hear Dead People [People]