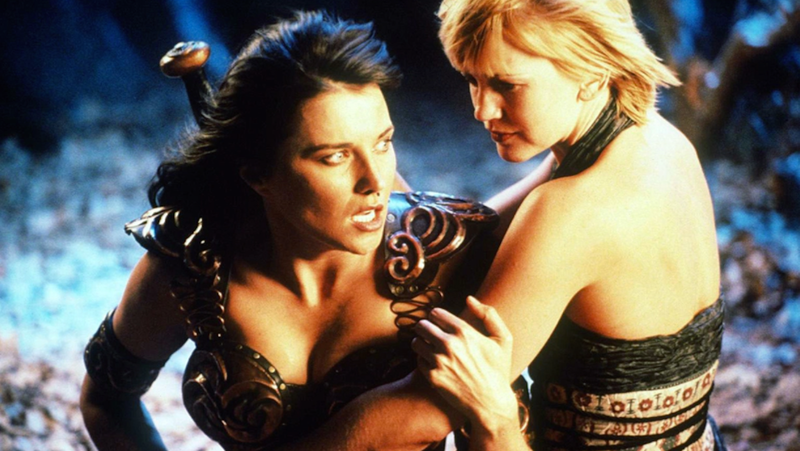 The planned Xena: Warrior Princess reboot was never going to feature Lucy Lawless (boo!), but it was going to feature an openly gay relationship between the new Xena and her protégé (yay!). Now it's going to feature nobody and nothing, because it's canceled.
According to the Hollywood Reporter, a version of the Xena reboot, in which she can openly express a love for her female companion in a way that viewers of the nineties iteration could only dream of, is dead at NBC. It's not stated explicitly that this is in any way connected to the potential gay romance, but it's still a freaking bummer.
Writer Javier Grillo-Marxuach, of Lost, left the project in April over the cursed issue of "creative differences." Grillo-Marxuach had said in an interview in 2016 on Tumblr that without the queer romance, there is no modern Xena:
"There is no reason to bring back Xena if it is not there for the purpose of fully exploring a relationship that could only be shown subtextually in first-run syndication in the 1990s."
NBC Entertainment president Jennifer Salke says that the network is still open to a reboot of some kind in the future, but she wants someone to come in with a "point of view about what they want to do."
"Nothing is happening on that right now. We looked at some material; we decided at that point that it didn't warrant the reboot," Salke tells The Hollywood Reporter. "I'd never say never on that one because it's such a beloved title, but the current incarnation of it is dead."
I believe that Xena will come back to life, like she always did, until the very end. If Will & Grace can do it, what's holding back a warrior princess?