Last night's Real Housewives of Beverly Hills, 90210 featured the bachelorette party for Lisa Vanderpump's daughter Pandora and like any sensible group of women on such a night would do, they flew to Vegas and saw a Chippendale's show. (I know, I was surprised that it took this many seasons of this many housewife shows on Bravo for a cast to attend a Chippendale's show, too.) Let me just warn you now: it was kind of a mess.
The ladies, of course, were seated in the front row. They had both the best view in the house and the privilege of having the sweaty shirts of the dancers thrown in their faces. Taylor Armstrong, maker of ridiculous faces, absolutely lost her shit throughout the performance; she was grabbing Lisa so much the Brit turned and said, "You're hurting me! What is wrong with you? Calm down, woman." Lisa followed that up with the extra-sad query: "Have you never seen a grown naked man before?" (Maybe that's something Taylor and Russell are working on in therapy?) The night went on; Brandi and Camille grinded up on each other (to the distaste of Adrienne Maloof) and by the end of the evening, Pandora, Taylor, and Lisa were whisked onto the Chippendale's stage for a competition. The task at hand? Giving a lap dance to the men — the "Chipmunks," as Lisa kept calling them — and no surprise, Lisa won.
And now, without any further ado, we present the good stuff....
A NSFW Gif Gallery Of Bravo's Chippendales Extravaganza
Click to enlarge (no pun intended, I swear!)
---
G/O Media may get a commission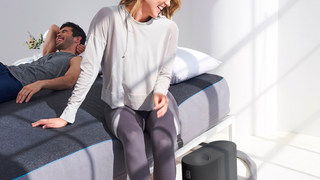 Eight Sleep Pod Cover
---
Feel free to excuse yourself from the computer, go home, and take a shower.