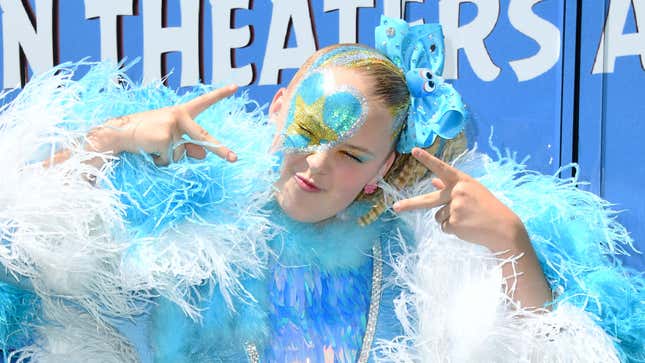 Webster's Dictionary defines "gay" as "Kahmora Hall wearing a breastplate and pads under her green-screen suit on Friday night's episode of RuPaul's Drag Race even though all of it was gonna be green-screened away anyway because she was playing a fucking tree." But the word can also mean "happy" as in "JoJo Siwa is feeling gay as hell after coming out to her fans on Friday," which she is!

Taylor Lautner Doesn't Even Remember Saying 'Bella! Where the Hell Have You Been Loca?'
"For the last 48 hours, 72 hours, I have gotten the most endless amount of support," the Dance Moms star-turned-multiplatform content creator slash tween brand incarnate said during an Instagram livestream on Saturday, Out reports. "I'm really happy. Now that the world gets to see this side of my life, it makes me really really happy. I've been happy in this world for a minute now, and now that I just get to share that with the world, it's just awesome."
"In my career, I've always been super, super happy," she continued. "But like personally, I have never, ever, ever, ever been this happy before, and it feels really awesome."
Elsewhere in the livestream, Siwa clarified that although she's now out as Definitely Not Straight, she's going to hold off on publicly claiming any one particular label (queer, gay, bi, etc.) for the time being. "The reason that I'm not ready to say this answer is because I don't know this answer," she said. "[I want to] keep things in my life private until they are ready to be shared with the public."
---
Abby Lee Miller, who coached JoJo on Dance Moms, sends the young star her best: "Love you kiddo!!! Keep making me proud." [Hollywood Life]
"Not proud of where I was at in my life," wrote Justin Bieber in a recent Instagram post, reflecting on his 2014 DUI arrest. "I was hurting, unhappy, confused, angry, mislead, misunderstood, and angry at god... I also wore too much leather for someone in Miami." [Page Six]
The Situation just celebrated five years of sobriety! Good for him. [Page Six]
When asked about his daughter, Lori Harvey's, new relationship with Michael B. Jordan, Steve Harvey said: "I like this one." Wasn't a big fan of Future, confirmed? [Bossip]
Kourtney Kardashian and Travis Barker??????? [Us Weekly]
Obseeeeeeeeeessed with this mega-lip sync to Crystal Waters' "100% Pure Love" featuring some of Chicago finest queens including but not limited to Lucy Stoole, Irregular Girl, Pangaea, Dida Ritz, the Vixen, Denali Foxx, the aforementioned Ms. Hall, Detox (who apparently just moved there??), Shea Couleé's daughters (Khloe, Kenzie, and Bambi Banks-Couleé), and maaaaaaaany many many many more.