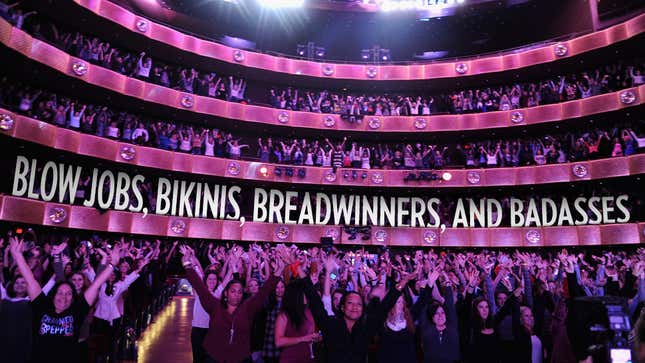 "I am so fucking excited to see you all!" Joanna Coles, clad in a pair of leather leggings, yelled from the stage of the David H. Koch theater at Lincoln Center at 9:30 a.m. on a brisk Saturday in November. Coles, the editor-in-chief of Cosmopolitan magazine, was kicking off the New York version of the publication's Fun Fearless Life conference, a two-day event for Cosmo readers created with the intent that said women will "walk away braver, smarter, happier." Despite the early hour and her protestation that she was "so hungover," Coles, surrounded by shirtless male models, certainly didn't look like she'd stayed up the night before drinking. She looked like the boss you want to work for, the aunt you want to gossip with, woman you want to grow up to be.
The launch of the Fun Fearless Life conference (sponsored by Maybelline and Express) caps off a few years of intense growth for Cosmo. If you're a news media dork, or even if you're not, it'd be hard to avoid the apparent drastic change Cosmopolitan has had over the past couple of years under Coles' watch. According to regularly glowing press coverage, the publication has turned from sex-crazed and jokey to a serious and overtly "feminist" publication.
"This event is designed to help you reflect on your goals and find a way to [connect with each other]," Coles told the audience of over 1,000 20-somethings sporting blow-outs, high-heeled boots and yes, leather leggings, before going on to explain that she intended the next two days to be "a spa weekend for your spirit."
She got her wish: the weekend, all about making your aspirational life a reality, barely touched on sex à la blow jobs assisted by scrunchies. But female empowerment, that elusive minx—she was everywhere.
---
Last November, newly-hired Cosmopolitan.com sex editor Anna Breslaw hosted a Reddit AMA seemingly intended to get the word out about nu-Cosmopolitan magazine. According to her own description, Breslaw "was hired to make the site funnier, more feminist and less about creepy servile blowjob magic." But still, her AMA brought numerous comments and complaints about Cosmo's supposed history of being a publication devoted mostly to sex tips—so many questions that the topic dominated the conversation.
Breslaw (a former Jezebel contributor who I am friendly with via the internet) found herself confronted with the history of a magazine she'd barely had anything to do with, defending a future she was only a small part of. She patiently answered her critics and also alluded to a divide between the team she works for—Cosmopolitan.com—and the monthly print publication. Her message and the understanding of the Redditors interacting with her was the same: The Cosmo she works for is the new Cosmo and what had existed before (and/or exists in the magazine still) was the old Cosmo.
"How do you feel about people complaining that a lot of the [sex] tips are uncomfortable, bad, or just generally painful? Also, what do you think of /r/ShitCosmoSays?" wrote Musicmantobes, referencing a subreddit devoted to making fun of Cosmo's more embarrassing moments.
"well, i just started working here a few months ago, and i'm not responsible for the iconic bad tips people make fun of," Breslaw replied. "(i also don't do sex tips, really, since the website has changed/become less stereotypical 'cosmo.')"
Later, after receiving questions that she felt were directed to writers and editors of the print magazine and not the website, Breslaw responded, "someone there should really do an AMA. a lot of these questions were addressed to them." (Breslaw has since moved over to the print side of the publication.)
"What changes has the magazine made to update itself?" another person asked.
"the print mag runs some edgier stories these days as well as the usual 'how to give him a bj so he cums glitter' kind of stuff," Breslaw replied. "i don't feel qualified to speak for them, but the new editor in chief Joanna Coles is very against the old style of Cosmo that was all about bj tips and not about career stuff. which reflects in the upcoming issues, i think."
This idea–that the "old Cosmo" wasn't about careers, about "serious" issues that women care about, but was instead almost entirely about man-pleasing–has been heavily proliferated through recent stories about the publication. But the truth about Cosmo and its fun, fearless, females is far more nuanced and says far more about the growth and evolution of women's media than many have taken the proper time to consider.
But who can blame them? This Cosmo is distracting. It's so very new, you see.
---
Touted by its publisher Hearst as "the best-selling young women's magazine in the U.S., a bible for fun, fearless females that reaches more than 18 million readers a month," Cosmopolitan has been around in some form or another dating back to 1886. But the way it's talked about now, you wouldn't think it had existed for longer than anal sex has been a (sometimes) appropriate topic of dinner conversation.
That's because of Helen Gurley Brown, the editor who took the magazine and turned into some form of what it is today in 1965. Brown died in 2012, leaving behind the legacy of a publication that was both heavily criticized and respected by feminists. Since her death, Brown's memory has gained a new wave of supporters: "Third Wave" feminists, especially those in the media, appear much more ready to cop to considering her a role model than many of Brown's peers did at the time.
As I and others have written about before, Brown's iteration of the magazine was focused on sex and career. While those topics might seem par for the course for women's magazines today, at the time—when contemporary publications were focused on homemaking and pleasing your husband—Cosmo read as revolutionary. That being said, Brown didn't position her publication this way entirely for the sake of trailblazing. Rather, she knew what would push sales: content about relationships.
"[H]aving a man is not more important than great work, it's as important," she told the New York Times in 1974. "I know intellectually that jobs are as important. But they're not as good for Cosmo in terms of sales. We have had major articles on careers, on nursing and library work. But they don't have nearly as much clout as an article on 'Find Your Second Husband Before You Divorce Your First One.'"
Still, as other editors at other women's magazines did, sometimes famously, Brown listened to women who criticized her publication, and always made room for a certain amount of "serious" content available within its pages; articles about the women's movement appeared in the 1970s with semi-regularity. But her emphasis was mostly on fun fun fun, as she outlined in her November 1995 letter from the editor:
People are asking me how Cosmo is changing. They're right to ask; everything changes, of course, including this magazine, but not the basics. We–the editors and I– remain dedicated to helping you have the good things in life that you want and deserve, to helping you navigate the shoals (bad stuff).

...

The magazine is also about joy–sexual pleasure, passion, friendship, love, achievement. Naturally, we try to be frisky and fresh every month while being true to our cause . . . being helpful in your life.
She went on to say:
Cosmo is going to do everything we can to help. We don't write a great deal about children, which you may indeed want and have–most people do; we let other magazines cover that subject. We're not big on scaring you. Not many articles on the perils of cosmetic surgery (your eyes wind up below your nose!), the polluted streams of Wisconsin, the dangers of big-city life. Those evils indeed exist, but we let the newspapers, TV shows, and newsmagazines deal with them. Once a month, we do one hard-hitting piece–Is the Country Gun Crazy? The Relentless March of the Fundamentalists, Homelessness in America, The Great Silicone-Breast-Implant Scare is a Hoax, etc.
That particular issue includes a story on the value of using a midwife, a piece on the importance of posture (which was basically the precursor to a presentation given by Amy Cuddy at Fun Fearless Life last month), a profile on the lives of female foreign correspondents, and an in-depth look at bisexualism.
Brown was pushed out as editor of the magazine in 1997, after three decades at the helm and then in her 70s, the magazine's circulation was at 2.5 million. She was replaced with Bonnie Fuller, who took it over for only two years before jumping ship to Glamour (Fuller slightly bumped circulation, raising it to 2.7). When Fuller started at Cosmo after leaving Marie Claire, the Globe and Mail wrote in a profile of her that she was partially responsible for the renaissance of US women's magazines that were "climbing out of their lipstick-and-lasagna ghetto":
Fuller's Marie Claire has led the charge with stories such as "They're Going to Ban The Abortion that Saved my Life," "The Abandoned Babies of Bosnia," and "The Tragedy of Female Circumcision." Others have joined in with articles on "America's Most Sexist Judges" (Redbook); the siege of Sarajevo as experienced by women (Vogue); ethics and genetic testing (Glamour).

Paradoxically, as American women's magazines are becoming more serious they are also getting more cheekily opinionated. Marie Claire recently ran a story on plastic surgery titled "Knife-Styles of the Rich and Famous." In the current issue of Allure, one of Fuller's favourite magazines, there's a feature on "America's Most Unwanted Women" — Kathie Lee Gifford and "The Vexmaster, Barbra Streisand," among them. A page of altered photos shows what Sharon Stone and Mira Sorvino will look like with double chins ("jowlbait" is the bitchy verdict).
This piece, published in 1996, foreshadows the stories that have been written about Coles' version of the magazine, and demonstrate at least one thing: Women's magazine's have been climbing out of the "lipstick-and-lasagna ghetto" for ages and ages, but the location of that ghetto has been shifting to suit the needs and whims of the media narrative being crafted by its participants and its authors. As Jennifer Scanlon wrote in her excellent biography of Helen Gurley Brown, in actuality, Fuller didn't change the magazine much; her iteration focused on "relationship issues, emotional issues, career issues, and sexual issues."
And as Scanlon notes, neither did Kate White: "...her additions, which include 'Cosmo Gyno,' a health column, and 'Ecstasy,' a sex column, remain true to concerns Helen Gurley Brown had brought to Cosmopolitan thirty-five years earlier."
White started as Cosmo's editor-in-chief in 1998. When she left the magazine in 2012, circulation was at an all-time high, at 3 million. "I think what Bonnie's done has been terrific," said White when she started, mirroring almost exactly what Fuller had said of Brown's legacy. "It's a formula that works. I'm not going in with any idea other than working with that formula." White certainly kept one thing Fuller started—the "fun, fearless female" motto that the site has stuck with.
White did up the sex factor—or at least, she upped the visibility of the sex content, much as Coles is upping the visibility of her political coverage. It's not that White didn't add more obviously sexually explicit stories (she did) or that Coles isn't adding a greater number of "serious" stories (she is) but the context for why and how their changes seem so noteworthy has been glossed over.
Why did the sex content get upped under White's reign? For one, it was informative: as White told Slate earlier this year, "This was a time when young people were clamoring for information, and they couldn't get it from their friends. We gave them permission to enjoy having sex."
But it also simply got attention. Brown's focus (and public explanations about that focus) on the interests of single women got the attention of readers and the media; decades later, White's sexually explicit coverlines did the same.

And as White made those changes, they were mirrored everywhere in the women's magazine field. In a piece called "Old-Line Women's Magazines Turn to Sex to Spice Up Their Sales" published in the Times in 2000, Alex Kuczynski outlined how Kroger supermarkets were covering up magazine covers with "sexually explicit" headlines—Cosmo was among them, but so was Redbook. The "Seven Sisters" women's magazines, which typically catered to an older audience, started to try to compete with their younger competitors in order to bolster circulation. From Kuczynski's story:
But there has been a brutal cut in the Seven Sisters' circulation. The legislation against American Family Publishers and Publishers Clearing House has soured consumers on the notion of buying their magazine subscriptions from sweepstakes houses. Since most of the Seven Sisters have relied in the past on attracting a majority of subscribers through sweepstakes campaigns, subscriptions are down.

So they are retooling their images. The 117-year-old Ladies' Home Journal had a first in its February issue: a sex column, "Behind Closed Doors," which according to the magazine's table of contents "takes a new look at making love — and making it better." A recent cover line on Ladies' Home Journal included "Grown-Up Sexxx: He Needs It, You'll Love It."
The media noticed. After Fuller left, Janet Hurley of the Toronto Star wrote in 1999, "If you picked up this month's Glamour thinking it was Cosmopolitan, you're forgiven - likely a lot of other readers are doing the same thing."
With breathless, exclamatory declarations about sex, as well as astrological predictions and top hair styles for the new year, Glamour and Cosmo seem to have morphed into one. [...] It's a tone increasingly adopted not only by Glamour, but also by Mademoiselle, New Woman and a host of other interchangeable women's magazines - and that's why I'm not a big fan of these narrowly focused publications.
White's Cosmo certainly focused on men, but in a different way than Brown's had: White wanted even men to enjoy Cosmo, including a special section of the magazine actually intended for the opposite sex to read about how to please women (perhaps partially in a response to the success of men's magazine like Maxim and GQ). In 2005, she expanded the "fun fearless female" category, honoring the first Fun Fearless Male (Josh Duhamel).
But as much as all this sex and interest in the opposite sex might have excited the press, the magazine still published much of the same content under the same editorial paradigm. A story like "Why Rape Victims Are Speaking Out" still ran alongside a detailed explanation of what the shape of his butt means about his personality ("Not all experts agree, but it is fascinating"). Yet the legacy from White's time at the helm is sex sex sex – because she wanted it to be that way.
---
Since Coles joined the magazine in 2012, she's spent her time being the star that she is. She's touted her relationships with high-profile female members of the media like Mika Brzezinski and Sheryl Sandberg and worked their stories into the content of the magazine. She's been the subject of countless articles about Cosmo's growing political content, its focus on reproductive rights, its interest in emphasizing the importance of career success. (Even her assistant has gotten his own profile.) At Fun Fearless Life, which she emceed, Coles effusively introduced speakers, ribbed her employees, interviewed celebrities like Kelly Osbourne and Gabrielle Union, and prompted outright fawning and speechlessness from her readers.
But Coles' greatest accomplishment has been building upon the work of her predecessors—not by changing the content of the magazine as much as managing to convince an audience outside of Cosmo's readers that she has done so. She has combined White's sexy legacy that modernized the publication and added readers while vocally realigning herself with Gurley Brown's now-praised legacy of empowering young single women to care about themselves first and foremost. And she has done it by incorporating attitudes and ideas developed by the very kind of website you are reading right now: websites that were created, in part, as an alternative to advertiser-influenced, Cosmo-style content. Cosmo has come so far as to interview the very woman who founded Jezebel, Anna Holmes, about how she got that job. As she told Jill Filipovic, Holmes had started out working for a woman's magazine herself: Glamour.
I had this idea that I would supplement the more bread-and-butter sex and relationship stuff with serious content, but that was not the case. I was interviewing sex and relationship experts over and over again. It was soul-destroying. I felt increasingly disgusted and bored and contemptuous of the sorts of stories I had to write, many of which felt made up by top editors. There was one in particular that I believe the headline was, "What Is Your Secret Sex Personality?" I didn't know what that meant and I don't even know what it's supposed to mean now, but I successfully pulled something out of my ass to make them happy.

I was also working at Condé Nast. Even if Glamour isn't fancy the way Vogue is, a lot of the company is about portraying a lifestyle that people aspire to, which is very much about materialism and wealth. I didn't like that. The company seemed to be populated only by white people, and the only people who were black were the mailroom and cafeteria workers. I really did not like that. Which might explain why when Jezebel launched we went after Condé Nast more than other companies. I had a chip on my shoulder, which I don't apologize for.
Holmes started Jezebel in 2007, and for myself and many of my peers, the site was a welcome replacement or at least addition to the uniform content that we'd grown up loving but had slowly became disillusioned with. The same thing was happening all across the web, at that point: blogs were recreating the idea of what a story was and how it could be told. For some women who had grown up reading traditionally prescriptive women's publications, this change felt like a bigger deal—a more personal deal, even—than just being able to read gossip at the click of a button. It felt like the very idea of what women wanted, and of what women could want, was changing, expanding, growing.
Less than a decade later, Coles and her team have taken the work of women's websites like Jezebel–and The Frisky, The Cut, Feministing, The Root, xoJane, Bustle etc.–which have demonstrated that being an edgy, flawed woman could be advertiser-friendly, within reason. As other non-women's sites have done with their web competitors, Cosmo has recognized that in a new media landscape with endlessly flowing content, keeping up with the Joneses requires more than it once did: it requires taking in the whole media landscape, not just the Seven-plus Sisters.
---
"Hearing your stories has made the whole effort of this weekend worth it," Coles told her rapt audience at Fun Fearless Life on its second day, hardly looking exhausted, despite her protestations that she was hungover yet again. She addressed the concerns of the many attendees present who felt like they were "stuck" and couldn't figure out what their goal in life should be. Your life has clues, she said, but it takes time to look back and reflect on those clues.
"I promise you if you turn detective on yourself, you will find what you are looking for."
"The core audience has always been the single young woman in her 20s, making her way in the world—the career woman who wants the manicure, the MBA and the man," Hearst Magazines President David Carey said in August in one of many articles about the new magazine. "That was the traditional Helen Gurley Brown concept: You can have it all—personal success, career success, and success in relationships. That concept was genius. Joanna has taken that core DNA and updated it."
"One of my issues with women's magazines is that you could open them up and you're not sure what decade they're from," Coles told The Daily Beast for that same piece. "I want people to understand that this is a magazine about what we're living through now."
What Coles is likely referring to is evergreen women's magazine content: stuff on cooking dinner, why he hasn't called, the best ways to approach hair removal. But the coverage of other more "serious" topics women's magazines have done over the years hasn't really shifted that much either: we're still worried—we still have to worry—about equal pay, family, and reproduction, on a personal and political level. In early May, The National Campaign to Prevent Teen and Unplanned Pregnancy praised Cosmo for winning their first National Magazine Award for their September 2013 article about birth control:
Our fearless leader, Sarah Brown, is quoted in the first paragraph as saying "If no one talks about birth control, how can we expect young women to use it? Well, thanks to Cosmo, people are talking about it. And thanks to the smart folks at the American Society of Magazine Editors, Cosmo has been recognized for their public service and extraordinary commitment to women everywhere."
Shortly before that win, Think Progress's Tara Culp-Ressler wrote a well-meaning but ultimately overstating article picked up by Amanda Marcotte at Slate titled "Why Cosmo Is Getting Serious About Its Reproductive Rights Coverage." In this piece, Culp-Ressler wrote that it was "new" that Cosmo was "persistent[ly]" focused on reproductive rights. She interviewed website editor Amy Odell, another recent Cosmo hire (with whom I crossed paths during a stint at BuzzFeed) who has cropped up again and again in the news as the poster child and fellow architect of nu-Cosmo:
"The reception has been incredible — it's been enormously gratifying to see such high engagement with our audience around these issues," Odell said. "One challenge of working on the internet, as all of we online editors know, is getting people to care about hard news as opposed to what Kim Kardashian wore an hour ago. Of course we're happy to keep readers filled in on what Kim Kardashian is wearing, but we do see stronger social engagement and traffic on stories about women who get harassed at abortion clinics by protesters."
Few pushed back on Culp-Ressler's message (or, for that matter, at Odell's tenuous implication that the magazine's increase in traffic is substantially due to their increase in stories about abortion rather than building up a team that can pump out content about breaking celebrity gossip), save for former Jezebel writer Irin Carmon, who pointed out that Cosmo has a long history of being pro-choice, linking to an excerpt of Jennifer Scanlon's book on Helen Gurley Brown that addressed the topic.
"thanks! very cool" Culp-Ressler replied.
Flavorwire's Elisabeth Donnelly followed that piece with "It's Time to Start Taking 'Cosmopolitan' Seriously" as a peg to their National Magazine Award, to which Coles tweeted "Start????" From Donnelly's piece:
Over the last year, American Cosmo has become secretly awesome—although you wouldn't necessarily guess that was the case from the headlines. Maybe smart content is the new sex tip? Coles hasn't even been at the helm of the Cosmo ship for two years, and the changes that she's making are fascinating to see. Balancing smart stuff with Cosmo's heritage seems like a challenge, but it's there in the magazine. The rest of the media just needs to be talking about it more.
The rest of the media couldn't be talking about nu-Cosmo more if it that was all they wrote about. (Though compared to the endless coverage of male-dominated media properties, it's probably a good, if frustrating, thing that Cosmo is being discussed at this volume, even if the coverage points out how little most media reporters actually pay attention to publications targeting women and their relevance.) Pieces have cropped up in The Atlantic Wire about the popularity of hiring feminists to write for women's magazines, as well as in The Cut and The Columbia Journalism Review. The list goes on. A good deal of the coverage praised Cosmo for hiring the aforementioned noted feminist Jill Filipovic to cover reproductive rights, similar to the attention Elle received when they hired Rebecca Traister and Amanda Fortini. "Hot Spring Trend: Hiring a Feminist Blogger at Your Women's Magazine" now-Gawker writer Allie Jones' Wire piece was titled. "Cosmopolitan.com hires Jill Filipovic, burnishes feminist cred" Capital New York wrote.
Filipovic told Capital that she thought the move might seem "slightly unorthodox," adding that she was encouraged to join the publication after she started noticing the website more and more on Facebook, with her friends posting "serious political and feminist content." Terms weren't exactly defined here; while once Cosmo was considered feminist for encouraging women to focus on their careers and letting them know they could have sex outside of marriage, now the bar seemed to be higher, or at least shifted.
But is it that Cosmo has drastically changed or is it that Filipovic and her peers are noticing it for the first time at its own request? These pieces written about how much Cosmo have changed have been written by people who obviously haven't read very much Cosmo to begin with. Cosmo has always had feminists writing for them (famously, Gloria Steinem and Nora Ephron)—in fact, so have all women's magazines (ahem, Joan Didion at Vogue). The New York Times, when reporting on Coles' ascension to the position of editor-in-chief, even noted that it was Brown who had "remade [the magazine] by latching on to feminism and the sexual revolution."
So why is it so shocking that Cosmo is feminist now?
Some of it is the apparent ease with which Cosmo has embraced the word and still managed to make money off of ad sales from makeup companies and clothing brands. That way was paved for them by online publications, who will always be allowed to have a slightly sharper voice than a traditional women's magazine. By contrast, Cosmo and its peers on the newsstand have been given room to adopt a tone that's less inherently ridiculous and more slightly biting–something that was noted when it increased its sex content in the '90s.
These tone changes become possible when there is a demonstrated market for them. Feminists writing for Cosmo after its reincarnation in the 1960s weren't always happy with what they were writing; as Ephron wrote rather cheekily of Gurley Brown in Esquire in 1970, "She is demonstrating, rather forcefully, that there are over 1,000,000 American women who are willing to spend sixty cents to read not about politics, not about the female-liberation movement, not about the war in Vietnam, but merely about how to get a man." But—though it might seem obvious to state—as the status of women in the United States has slowly improved, the content women have demanded and that has been made available to them has changed. (There was once a time when men exclusively ran women's publications, after all.)
The journalistic world has opened up in tandem. Women in media today demonstrate a clear excitement over what they're getting to write about—there is a range of topics available to them, and the company they're in is strong. Writers don't have to feel like they're selling out by contributing to a women's publication; instead, they're respected by the rest of their media peers. Women like Jane Marie, formerly of The Hairpin, now penning a weekly interview series with married couples, or Nell Scovell, or Roxane Gay, or Katie Heaney of BuzzFeed, or Jen Doll, or Jessica Grose, or comedian Michelle Markowitz or Caroline Moss of Business Insider or Jessica Bennett of Time, or several former Jezebel writers—just to name a few recent Cosmo contributors—can feel fully proud of a Cosmo byline, in part because it's now getting due recognition from a host of non-women's publications.
If you're looking at it from a certain angle, Cosmo and its peers can serve as a tangible representation of the history of the recent feminist movement. Once upon a time, some of the women who wrote for women's magazines had to ignore their own issues with those publications, but they eventually were able to gain access to other publishing circles and to move away from "lipstick and lasagna"-type content. Now that the magazines have caught up to those writers' sensibilities, the two have been able to converge. If there's still a gap in intentions, it's at least shrunk considerably over the years. We can think of blogs like Feministing and Jezebel, then, like consciousness-raising circles: one hopes we reach a point where they're no longer a necessary anecdote to a flawed system, but simply a cohesive part of an improved landscape.
---
Much of Cosmo's current shift is visible on the magazine's digital side. Under the leadership of Odell, the redesigned site's traffic doubled in a year, and they'd like to get to 100 million unique visitors a month. This week, they were named the Hottest Magazine in Digital by AdWeek, which noted that "Cosmopolitan.com now attracts more traffic than the websites of Glamour, InStyle and Vogue combined."
A big part of that is due to a shakeup at Hearst in how all brand websites were run. Last fall, Troy Young separated Cosmopolitan.com away from the rest of the Cosmopolitan staff, putting all of the Hearst property websites together in one big start-up-esque think tank. ("The situation is already sparking tension within Hearst over the types of stories that run online," reported Ad Age, rather ominously.)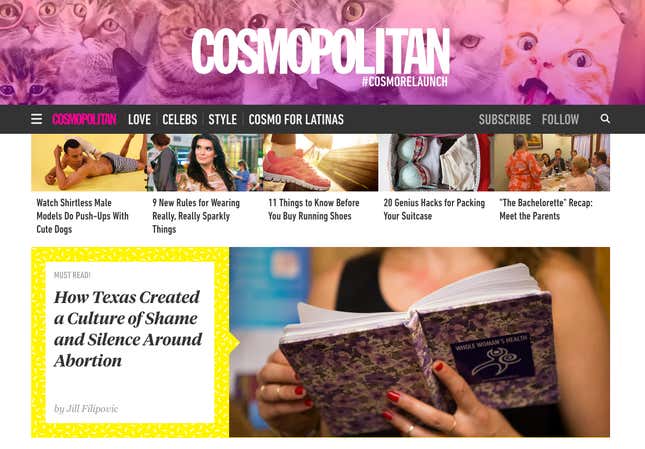 In July, the site was the first of Hearst publications to get a full "relaunch." "Welcome to the Sexy New Cosmopolitan.com," proclaimed Odell in a post. Along with a special cats and hunks banner, the site prominently featured Filipovic's piece on abortion stigma in the state of Texas. On later days, the banner was changed to pineapples, to stalks of wheat, to whipped cream, to Christmas lights. This is the Cosmo that Cosmo wants you to see: balancing fun and seriousness with a very large dose of celebrity.
Internet commenters should generally be taken with a bag of salt, but the revamp didn't go over universally well on the site's Facebook page, where there were comments on everything ranging from the quality of the content and writers, to the amount of sex content, to "repeat stories"—stories that appear to be pushed to the site's Facebook page more than once. Cosmo staff was on the offensive about those comments, especially towards those who said they focused too much on un-serious celebrity content.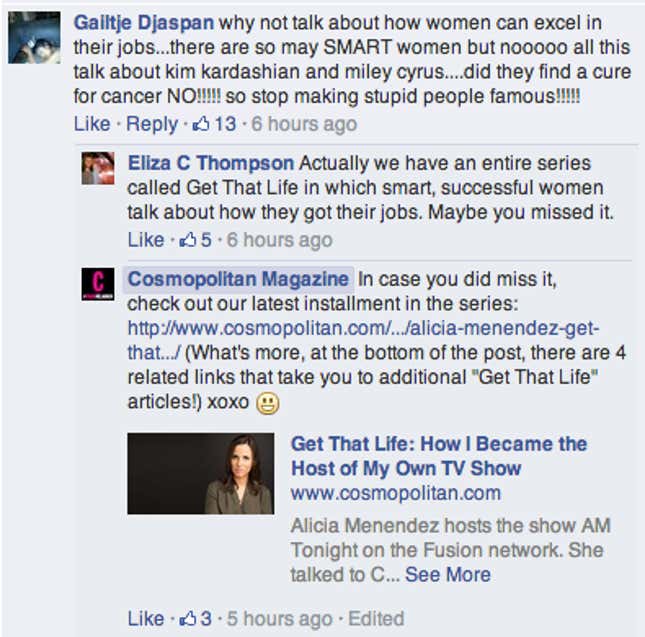 The day after the launch of the new site, Cosmo published a piece by Filipovic called "Why Don't More People Call Themselves Feminists?" The piece was heavily publicized on social media, asking women and men to respond to the question and retweeted answers with the hashtag #FacesOfFeminism.
This social interaction is a big part of nu-Cosmo, as anyone who follows them on Twitter can see. Take a look at how the voice of their Twitter account has shifted over just the past few years:
This Cosmo voice was in full force at Fun Fearless Life: Senior Community Manager Elisa Benson giggled her way through reading tweets sent out by the crowd out loud (she spent the days, in her words, "basically stalking all of you") while endlessly encouraging people to use the #FunFearlessLife hashtag (her goal was 10,000 tweets for the weekend). At one point, Coles faux-chastised Benson, apparently DMing her a message that read, "You've gotten way too much stage time."
As Cosmo has shifted its branding of its content and its web presence has grown, they've seen lots of love and lots of hate about the changes. But as is the way with the Letters to the Editor published by every magazine out there, there's been mostly praise featured—specifically praise directed at nu-Cosmo: numerous issues from the recent months includes letters from readers who love the changes.
"I appreciate the changes Cosmo is making," Megan M. of Richmond, Ind., wrote in the January 2014 issue. "I still have my confessions and makeup, hair, and sex tips, but I like how you're now covering political and work issues and news stories. It feels like a real, relevant magazine."
"I have been reading Cosmo since I was 15 and I love the changes that Cosmo has seen in the last year!" wrote Kayla V, of Bellport, N.Y. [emphasis theirs]. "With all your love and sex advice, you have added so much about being a fun, fearless female. Plus the inside tips about how to rock my career are great! I absolutely love it."
Others not featured in the magazine are less certain. Ashley Rogers, a reader who chimed in on Breslaw's reddit AMA, told me that this was the first year she didn't have a subscription to Cosmo in over 15 years. It's because she misses the Kate White days:
It's possible that the magazine is just geared toward a younger audience, and maybe as I'm nearing 30 I no longer 'understand' it. I always felt like Kate White was the fun, fearless female. She was educated, successful (in so many aspects), but understood that women still wanted to be women. With the new editorial takeover, I feel like the "fearless" has been removed. Cosmo has always featured sex prominently in its pages, but lately it feels more for shock factor. Growing up, I remember learning about birth control, STDs, things that were incredibly beneficial to me during a time when I was becoming sexually active. In all sincerity, I learned more from Cosmo than I did any other entity. It was educational for me. It taught me how to be a strong, independent woman who owned my sexuality.

I feel like more and more it is centering on celebrities and fashion. For me, that's just not what Cosmo is about. Cosmo isn't about looking good for a man. Cosmo is about loving who you are and realizing any man who doesn't see that isn't worth your time. Cosmo isn't about pleasing your man. Cosmo is about learning what pleases you, and speaking up to work WITH your partner, so you will BOTH be satisfied.
The bit about not wanting to please a man doesn't quite align with the basic understanding, however unfair, that Cosmo is chock-full of man-pleasing tips. The shift has certainly come as a surprise to longtime readers now engaging with their new web content; battles have broken out in the comment sections over clashes in ideologies. It's clear that an established readership of the magazine with perhaps more traditional ideals about what "women's interest" means is battling a new readership that was brought up on websites like, well, the one you're reading now. The transition from being a publication known primarily for its man-pleasing content to one that puts out pieces about "mind-blowing lesbian sex positions" was never going to be entirely smooth.
In that regard, Cosmo has just begun to face the wealth of criticism about being inclusive enough of all types of women that most writers and publications get when they begin to tackle more controversial topics under a generally feminist banner. Some of their online feedback suggests that a portion of their readership wouldn't mind a return to the "lipstick-and-lasagna ghetto" of women's magazines.
"Cosmo, I love you for sex tips and articles about where to get the best beauty products. Stop trying to be a grown up mag and comment on politics, it just makes you look as ridiculous as one of your readers would if they were to attempt the same thing," one woman wrote on a piece about whether or not Macklemore wore a racist costume for one his shows. Pieces about "anti-rape" underwear or "11 Things You Should Never Say to a Fat Girl" have prompted other similar outbursts. On the latter post, which started arguments between those who were in favor of this type of body empowerment and those who were… let's say, less open-minded about it, one woman wrote this:
Doesn't anybody see the irony of this article being in Cosmo? Women's magazines like Cosmo exist and profit by making women feel like they constantly need to improve something, whether it be their bodies, sex life, wardrobe, or make-up. Has anyone ever felt BETTER about themselves after reading Cosmo? I don't think so. The fact that Cosmo is now trying to pander to bigger women is laughable - women's magazines and their super-airbrushed, perfectly-Photoshopped images of women are what's WRONG with the portrayal of women in media!
(On photoshopping, a topic that got Jezebel both some of its early fame and some of its relatively recent criticism: Coles argued that Cosmo does only "light touchups" on its photos.)
The role of celebrities, photoshopped or not, is another way Cosmo's brand has evolved. Celebrities have and always will be a huge part of media content. But while Coles and her coworkers have vocally discussed the magazine's political stances, they've been less overt about how they've developed their relationship with celebrity content. Cosmo certainly has had some big names on their covers recently (photoshopped or not), names that have seemed bigger due to the association the brand has courted with these women over social media. Stars like Chrissy Teigen and Kaley Cuoco have tweeted and retweeted their covers and the subsequent articles about them, demonstrating a bond not just with the magazine but with Coles herself. (At a time in which much criticism has been thrown the way of Miley Cyrus, the magazine has also notably made it clear they are Team Miley.)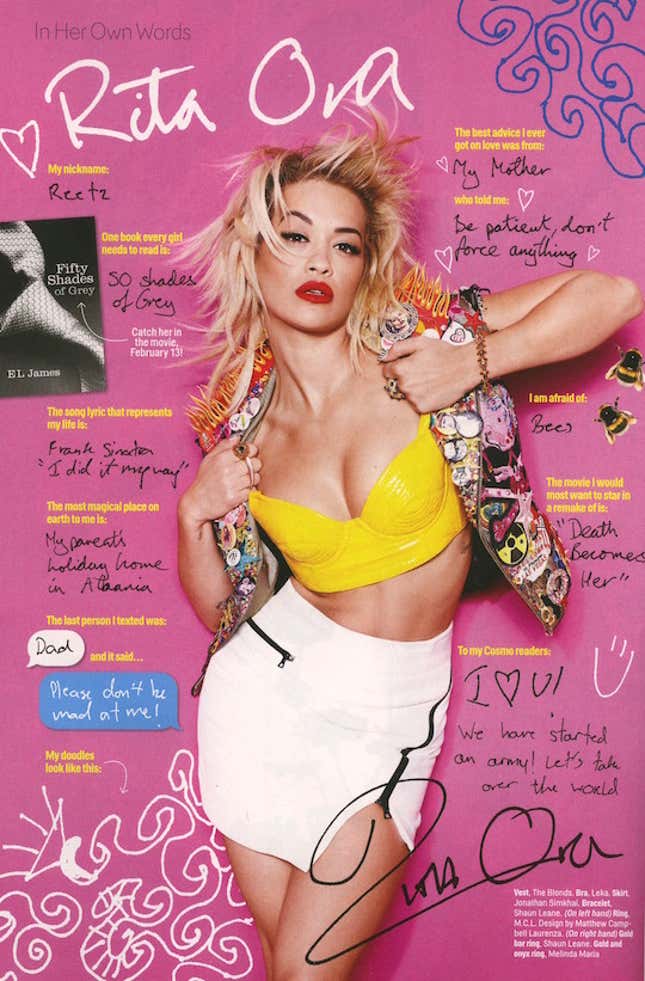 And this extends to the readers: Cosmo has emphasized a new type of connection through Cosmo Live, their weekly edit meeting with the digital team that airs live. Attendees have included Olympian Gracie Gold and actor Joe Manganiello, who chat with the web editors (plus their "shirtless hunk CJ Richards") as readers Skype and tweet in questions and suggest story ideas. It's like the celebrity Q&A they do with cover stars in the magazine (see left, from November 2014), but even more personal; in sessions like this, Cosmo has managed to make the barrier between celebrity and normal person seem much smaller, while still lofting those women up as role models to aspire to be. It's a tricky balance, one made easier through an ultimately overwhelmingly positive attitude. Celebrities don't have to worry that Cosmo might be critical of them, the way they have to with other publications, and Cosmo gets the benefit of pageviews and attention from sometimes less flattering coverage of those interviews on the websites of their competitors.
Nu-Cosmo's strands of politics, celebrity and slight internet-friendly edge have come together in pieces like the one by former 90210 star AnnaLyne McCord, who spoke to the magazine in May for a heavily-publicized piece about her experience with sexual assault, or Gabrielle Union's recent piece about having her nude photos hacked and stolen from her. During a Fun Fearless Life interview session between Coles and Kelly Osbourne, Osbourne used the word "fuck" and then apologetically asked, "Can I swear?"
"You can absolutely swear," Coles said. "It's Cosmo."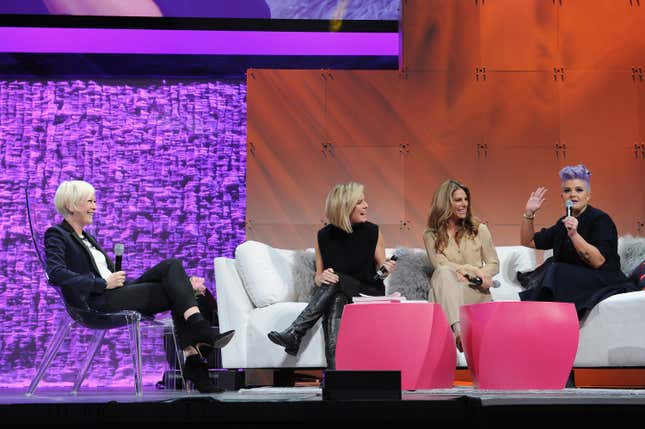 Joanna Coles with Jennifer Ashton, Jillian Michaels and Kelly Osbourne at Fun Fearless Life

Cosmo uber-fans, aka attendees of the conference, seem to love the heightened celebrity content: the whole weekend saw successful people telling you, Oprah-style, how to live your best life. They were interviewed and even helped out at the conference, becoming a bigger part of the two days than the sexy-sex content the magazine was once known for. Despite the fact that Coles said she believes having a fulfilling home life is an important part of life and of Cosmo's "legacy," the aforementioned Teigen moderated the only brief panel about dating and relationships, called "Manthropology"—the same name as a magazine section devoted to debunking what men think about dating and sex. ("Nobody usually allows models to say anything," a game Teigen told the audience, "so it's weird to be up here.")
"Our culture makes it look like success comes easily, but the celebs in Cosmo are paddling like crazy under the surface–that's why we love them," Coles wrote in her letter from the editor in January.
Just like that, the celebrities were framed not just as celebrities but as women who decided what they wanted and went after it, while dealing with struggles and setbacks along the way. Helen Gurley Brown once taught her readers that anyone can make themselves whatever they want to be, and nu-Cosmo hasn't strayed from that message: for all their articles on reproductive rights and other political issues, it was a conversation about getting what you want career-wise that dominated the conference. Coles might be discussing how proud she is of headlines like "I Feel Lucky That I Can Wear What I Want, Sleep With Who I Want And Dance How I Want And Still Be A Feminist" in interviews, but feminism with a capital F was just a subtext at Fun Fearless Life, as were other women's magazine staples, like dating or health.
Instead it was the overall betterment of the individual that was the focus, a message that has truly been the center of the publication and the brand—as well as, honestly, all legacy women's media throughout modern history, no matter what each editor has emphasized. On Saturday, during lunch, attendees were given a post-it and instructed to write their name, occupation, and "celebrity spirit animal" on it. These post-its were to be used to spark conversations during the break, with the intention that these conversations would help them form "weak ties" with other women that could turn into important connections, per a talk given by psychologist Dr. Meg Jay.
During the lunch, women clustered together while waiting in line for $8 caprese sandwiches and $4 apple juices and introduced themselves to each other. Petite Linda in marketing and IT who feels connected to Angelina Jolie; Sophia in the black blazer, also in marketing and IT, who loves Ivanka Trump; blonde Kelly, in marketing and who loves Kerry Washington—they all found common ground. How could they not? They'd all chosen to be there for the same amorphous purpose: to find what will make them most happy.
Though that same week Cosmo got press for getting women to vote via a bus of shirtless male models, there was little political involvement at Fun Fearless Life. Rather, the event was focused on the core DNA that Cosmo and all women's magazines have historically been focused on selling: You You You can be as awesome as We We We say you can.
Most attendees appeared to have come with a friend or two, and according to Cosmo, they came from all over: Copenhagen, Mexico, Los Angeles, Houston, Dallas. The politics so loudly discussed by the magazine were barely in sight, save for a brief mention of online harassment by the CEO of Twitter during a talk with Odell about "building your brand" online. The stuff considered feminism in the news media wasn't obviously on display either, though a video of Megyn Kelly shutting down an idiotic Fox News contributor over his archaic thoughts about women in the workforce got a rousing response, as did Gabrielle Union's message to women who find their former partners have shared nude photos of them without their permission: "I want you all to be the woman who did something about it."
"I was expecting a lot of people in jeans and stuff, but people are dressed up, so that's good," one woman said to a friend as she waited in line to get her makeup done by a Maybelline makeup artist, before getting her picture taken, before browsing the options at the Express pop-up shop. (The event cost between $100 and $400 for Bronze to Diamond-level tickets, but was still heavily sponsored, with executives from both companies appearing on panels. There were also video interludes to "check in" with a Maybelline make-up artist doing his work backstage and multiple raffles for Express gift cards).
The truth of nu-Cosmo is not just their emphasis that you should pay attention to their new stuff, but also what they are starting to add, after the fact: that they're just the same as they've ever been. But there's another thing that they'll point out even less often: It's their environment, above all, that's changed, and so their spin has to as well. Where will Cosmo go from here? Wherever the media landscape continues to take them.
While there was mention of giving back and charity work at Fun Fearless Life, it's Cosmo's competitors that have made community a more obvious part of their brand lately. In conjunction with their annual Women of the Year awards, Glamour has started a campaign to encourage readers to donate money to help send girls around the world to school. Recently, Marie Claire's editor declared that she still believed they were a "fashion magazine with a conscience." While Cosmo's focus on women becoming their best selves doesn't preclude them from helping make a difference, the focus is clearly on the individual doing whatever they want to do for themselves, which will in turn help the world by proxy.
On a larger scale, whether they start drastically increasing content about politics and social justice or not, legacy women's publications owned by companies like Hearst or Conde Nast will never get far away from the need to appeal to advertisers, who ultimately are selling to individuals, not causes. Platforms like, let's say, Gawker Media, still need to appeal to those advertisers as well, but their demands are fewer: the costs of running an internet publication are much lower. Upon the completion of Fun Fearless Life, Cosmo sent a survey email to readers to get some feedback on how the event went for next year's planning. After questions like "Who did you attend FFL with?" and "Since leaving the event, what actions, if any, have you taken?", there was substantial space devoted to what impact of advertisers made on attendees, like "How does knowing that a brand has an association with Cosmo's FFL impact your opinion of that company?" and "How would you rate our sponsor brand's activations? Think about how they added to the FFL experience overall."
Concern about advertisers is something that magazines that are part of big companies will never escape, which is, in part, why they each feel a need to so clearly define their brand. Jezebel, for instance, has gotten numerous questions over the years about why it has never come out as an explicitly feminist publication. It hasn't been demanded of each editor that they answer those questions in the way that Cosmo and its competitors have had to define and make clear to readers and advertisers what they're all about—demands that, it should be noted, aren't made of men at really any type of publication. That's one benefit of starting new: no legacy, no strings.
After lunch on the first day of Fun Fearless Life, I settled in to watch the second set of talks. Two young women sat down behind me. It was clear they'd never met. One began to express her frustration with her current life—she seemed to be a post-grad unclear about her future options. "I told my mom I don't want to go to Thanksgiving this year because I don't want to get that question, 'What are you doing?'" she said. But this, she said of Fun Fearless Life, "makes you want to go home and do something."
Her new friend felt similarly. "People are like, 'So, do you like your job?' And you can't be like, 'No, it sucks,'" she said sympathetically. Then, as the lights dimmed, they shared another bit of common ground: their mutual excitement over getting to see Chrissy Teigen and an upcoming appearance by Shay Mitchell of Pretty Little Liars.
"I'm obsessed with Pretty Little Liars," one said, her job frustrations momentarily forgotten; the other agreed. Teigen would be onstage soon. There was another fun fearless female to emulate, a new life to go after.
Image by Jim Cooke, Photo via Getty