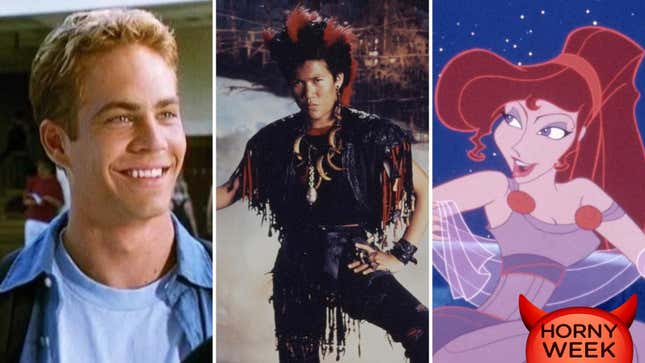 Horniness, as sexpert Chelsea G. Summers explained in her 2o16 history of the term, is the "deep-seated, itchy, essentially unslakable bodily keening for sex."

It happens to most people at some point in adolescence without any kind of external cue; but for many of us, it was also wildly accelerated by a particular movie scene we saw at a young-ish age that may or may not have featured Patrick Swayze. Tell me the movie that you remember first making you horny in life, and I will be able to guess your age within about two to three years.
There's one that stands out for all of us: Maybe it was Baby seducing Johnny in the cabin to Solomon Burke's "Cry to Me" in Dirty Dancing. Maybe it was a shirtless Tom Cruise playing volleyball on the beach in Top Gun. Perhaps it was Denise Richards and Neve Campbell in a pool threesome in Wild Things. For two Jezebel staffers, it was the cartoon movie Hercules (this is a judgment-free zone!).
For our second annual Horny Week, we reminisced about the films and moments in films that may have singlehandedly launched us into puberty—whatever year in our lives that may have been. What was yours?