Ever wondered what food your state loves way, way more than anywhere else does? We have a map for that, now.
Fast Co Design joined up with Food Genius, a food analytics firm (man, Billy Beane has his hands in EVERYTHING now), to look through a database of 88,000 menus and 59 million menu items and crunch the numbers to figure out what each state loves to a frankly unusual degree. Through that link sits an interactive map of the top five unique items in every single state — enjoy.
Keep in mind, these are not the most prevalent food item in any state. This is the item which is most uniquely loved in that state as compared to the rest of the US, as judged by the difference in percentage of restaurant menus on which it appears. Thus, while "green chile" only appears on 2% of menus nationwide, it appears on 51% of menus in New Mexico, giving it a 49% split — the largest in the entire survey. At the same time, it only takes into account unique menu items — if a chain has 18 locations and one unique menu term, it still only counts for one for purposes of this survey. It also doesn't just take into account food items; the survey accounts for unusual terms like "blended" (which comes in first in Wyoming and Arizona) and "creamy" (first in Nevada).
Some of the things they found were pretty unsurprising: crab cakes in Maryland, clams in Connecticut, cheddar cheese in Wisconsin, haddock in Maine, crawfish in Louisiana, four out of the five items for Texas pertain to Tex-Mex cuisine (and the fifth is pecan). Some were a little more surprising — cheddar cheese ranks first in Idaho, for example, and DC's is "herb," which is funny because I'd expect that to have appeared in Colorado or Washington State.*
It's also interesting because the terminology makes a big difference here: the number one item in all three West Coast states is "prawn," but you'd be hard-pressed to see that on any menu anywhere else in the country, despite it being the same item — on the East Coast, they're generally just referred to as "jumbo shrimp," which is kind of a hilarious oxymoron when you think about it.
G/O Media may get a commission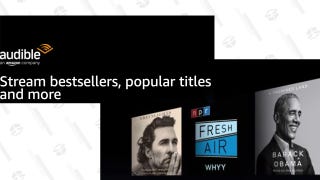 FREE
Audible Premium Plus 3-Month Free Trial
Nevada's might be the funniest entry on here, because the top five terms are so incredibly bland and white — "creamy," "vanilla," "classic," "chocolate," and "signature." "Loaded" and "delicious" are also funny, because they appear on the lists for both Mississippi and Alabama, which is a pretty clear indication that those states are compensating for something. Neither is compensating as badly as North Dakota, though, where the top four entries are, in order, "blended," "perfect," "smothered" (Guy Fieri lives in North Dakota?!), and "zesty." The fifth entry is somehow even more funny: "sugar."
I'm not shocked that Pennsylvania's #1 unique item was not the cheesesteak (that's its #2), but the hoagie — people in Pittsburgh will take every possible opportunity to say that word. I swear to God it's like just being able to say "hoagie" (or as they say it here, "heeeeeeeeooooooooooeeeegeeee") gives Yinzers an auditory orgasm. I have recurring nightmares about Yinzers shouting "where de heeeeooooooooooeeegees at?" at me until I finally suffer a nervous breakdown.
There are also some distinctively regional trends, where the difference between the region they call home and everywhere else is especially pronounced. These five trends are green chile (the American Southwest, particularly New Mexico), cheesesteak (a tiny slice of the Mid-Atlantic corridor), green bell pepper (the Northern half of the United States across regions, which is kind of surprising), ranch dressing (all over, but in particular the Great Plains states and the South**), and pecan (basically the South, Great Plains, and Southwest).
Ranch dressing is by far the most prevalent item, appearing first among seven different states. That's the single most depressing part of this survey, although it's not as bad when you consider which states are in love with the viscous atrocity known as ranch dressing: Oklahoma, Nebraska, Arkansas, Iowa, Alabama, Kentucky, and especially West Virginia. Gee, all of those sit atop my vacation plans list.
Find something interesting I missed? Let me know in the comments.
* Rim shot.
** Basically, if you took every state I might possibly want to visit — along with, for some bizarre reason, Florida — you'd be looking at a list of places where ranch dressing isn't nearly as popular.
Image via Tobik/Shutterstock.