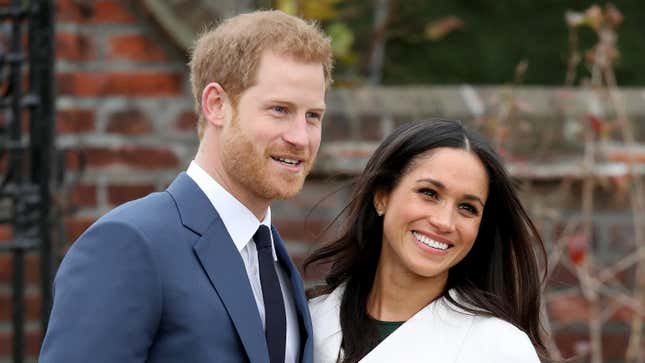 Favorability ratings are always so funny to me. Like, it reminds me of when I was 13 doing normal 13-year-old things in my bedroom in the summer before eighth grade, ranking everyone in my grade by attractiveness and popularity and never putting myself above halfway up the list. Gotta keep yourself humble! Especially at such an impressionable age when one is so prone to self-loathing…

Watch Alex Jones Realize He's About to Get Busted For Perjury
Anyway, Prince Harry and Meghan Markle's "favorability" rating amongst the general U.K. public has fallen to an all-time record low, Page Six reports. I don't know who keeps track of it or how they measure it, but apparently they do! And according to capital-T Them, Prince Harry is liked by 34 percent of the British population and disliked by 59 percent, while the former Suits star is liked by 26 percent and disliked by 65 percent.
Damn. That might hurt my feelings if I were them. Then again, yon Royals in exile are still insanely rich and powerful. They're probably fine? Hm.
---
Wrestling star Daffney Unger died earlier this past week. She was 46. [TMZ] 
Travis Barker is hinting that he might want to propose to Kourtney Kardashian, which, legally speaking, is allowed. [TMZ]
And in annoying man news, Drake appears to have leaked a scrapped collaboration with Kanye West for the latter annoying man's recently released album, Donda. It's called "Like of the Party," and it also features Andre 3000 of Outkast fame. Listen to it here, I guess! [Hollywood Life]
Kaley Cuoco filed for divorce from professional equestrian Karl Cook. [Page Six]
Meanwhile, Dr. Dre's divorce is getting ugly! He's now suing his ex, Nicole Young, for alleged embezzlement. [Bossip]
NeNe Leakes has been posting touching videos on Instagram paying tribute to her late husband, Gregg Leakes, who died on Wednesday at 66. [Bossip]
Now more than ever: Kylie Sonique Love!!!!!!!!!!