At Monday night's 70th Annual Emmy Awards, diversity was a punchline. After an involved opening skit and musical number that referenced the diversity of the nominees, Regina King won best actress in the limited series category, ending a streak of white people winning, albeit briefly. Critical darlings like Atlanta were passed over for the big awards in the comedy series category, trounced by Amazon's The Marvelous Mrs. Maisel—a fluffy bit of 1950s New York pap about an Upper West Side housewife who channels her righteous anger into a stand-up comedy career, after her husband leaves her.
The show's success is no accident. Its creator, Amy Sherman-Palladino, also created the beloved-but-less-acclaimed Gilmore Girls and the drastically underrated Bunheads, two shows featuring women who speak in monologues, zipping through and around idyllic landscapes where every house is sprawling and well-appointed, and everyone speaks to everybody else. Her eye for evoking nostalgia for a time and a place that never existed is evident in these works: Stars Hollow is an idealist's version of the Connecticut suburbs, and Paradise, California, where Bunheads is set, reads like the quirky lovechild of Malibu and Carmel-by-the-Sea. With Marvelous Mrs. Maisel, Sherman-Palladino goes whole hog, transporting one of her archetypal heroines—a white woman with brunette hair whose quirks make her misunderstood—to a candy-hued midcentury New York City, absent squalor or filth, and full of excellent coats, shiny cars, and a cheery earnestness that, when coupled with an overt empowerment theme, creates the kind of awards-season juggernaut that could conquer this category for years to come.
It's not that The Marvelous Mrs. Maisel is a bad show. Rachel Brosnhan is a wonderful actor who shines in the role, embodying a steely strength that's occasionally couched in an obliviousness that somehow reads as endearing more than anything else. Sherman-Palladino thanked her crew during her two back-to-back speeches, giving gratitude for the Herculean task of transforming the streets of 2018 New York City into something out of a golden-age MGM musical. The show is a period piece that reflects a sanitized version of the era and sells a very specific empowerment narrative with impeccable timing: the first season was released on Amazon in its entirety in November 2017, as the waves of sexual misconduct and assault allegations rolled throughout Hollywood
But because Veep didn't qualify for a nomination this year (a delay in production due to Julia Louis-Dreyfus's breast cancer treatments pushed it out of eligibility), the categories it normally sweeps were left wide open. Atlanta, Donald Glover's surrealist ode to the city he's from, was largely ignored, as was Issa Rae's brilliant performance in Insecure. Instead, the Emmy went to a show that traffics in empty nostalgia—a rose-colored fantasia dressed in New Look Dior that ignores the sometimes uncomfortable truths and realities other shows in its category relished in, to great effect. Watching the show as I did, in one fell swoop over a few late nights, is like eating candy. It is the opposite of whatever makes one feel bad—reading the news, looking at a telephone, or trying to understand the appeal of Chapo Trap House.
G/O Media may get a commission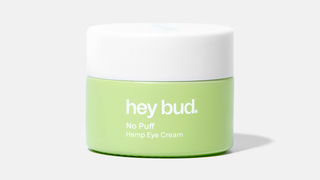 15% off
Hey Bud - No Puff Hemp Eye Cream
Sherman-Palladino makes excellent escapist fare; her rapid-fire monologues and tendency to cram pop culture references in every sentence and pregnant pause is constrained in Maisel by the limits of the era. There is much walking and talking, of course, but at any moment, one feels that the background actors could break into song. Brosnahan's performance gives the series a buoyancy that's minimized in other shows—for example, the mordant humor of HBO's Barry or the survival narrative that runs through Donald Glover's Atlanta.
Nostalgia is the driving force in television right now, as the culture emerges from the early 2010s glut of prestige TV. Nostalgia appeals because it casts the past in a warm, golden light, artfully erasing the bad. In Mrs. Maisel's New York, there is no racism or poverty, though there is a brief nod to midcentury radicalism, in the form of a Jane Jacobs-era protest in Washington Square Park that Midge Maisel happens upon. The show's greatest draw is how it creates a middling simulacrum of an era fondly remembered for its impeccable tailoring and interior design—Maisel is light, serviceable fluff that tempers any perceived emptiness in its messaging by couching the whole thing in empowerment feminism. Timing, as they say, is everything.