Here's Serena Williams, pregnant and beautiful on the cover of Vanity Fair, shot by Annie Leibowitz, natch, with an accompanying cover story written by former leather enthusiast Buzz Bissinger that covers Serena and Alex Ohanian's origin story in breathless, exacting detail.

The pair first met in 2015 at a hotel in Rome, the night before Williams was going to play in the Italian Open. Ohanian was hungover from a long night of partying with Kristen Wiig, so he went to the pool area and sat right next to Williams, even though there were plenty of tables available. Someone made a joke about there being a rat in the pool area, which provided a nice lead-in to their very first conversation.
"We were trying to get him to move and get out of there," said Serena. "He kind of refuses and he looks at us. And he's like, 'Is there really a rat here?' " At which point Serena remembers the first words she ever said to him.

"No, we just don't want you sitting there. We're going to use that table."

"I'm from Brooklyn. I see rats all the time."

"Oh, you're not afraid of rats?"

"No."
A great start for what is now the greatest and most improbable love story of our time. Essentially neither Ohanian or Williams knew much about what the other person did for a living—Williams pretended to be interested in what Reddit was and Ohanian said "I really had no respect for tennis." A match made in heaven.
Ohanian eventually wooed her by treating her not like a famous person, but a regular person, taking her on an hours-long date in Paris, with "Serena placing her faith in Alexis because he was a tried-and-true traveler, where all you needed was a backpack and the only rules were none." Sure.
G/O Media may get a commission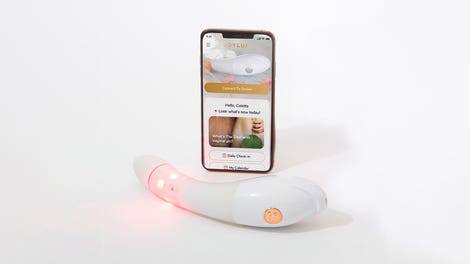 $50 Off
Joylux vFit Gold Device
Some more time passed and then Ohanian planned his proposal: he flew Serena out to Rome just as she was beginning to train for the Australian Open, then surprised her with a hotel room full of flowers and an empty hotel and also a marriage proposal. It's fairly standard stuff up to this point—a meet-cute turned romance ripped straight from the script of a rom-com watched on a plane while crying into a small wine. My favorite part of their entire origin story, however, is how Serena told Alexis that she was pregnant, right before the Australian Open was set to start.
Once Serena knew she was pregnant, she called Alexis and told him he needed to come to Melbourne earlier than planned. She did not give him the reason, but Alexis thought it was likely health-related and immediately got a United flight out of San Francisco. When she saw him, not a word was said.

She handed him a paper bag with the six positive pregnancy tests.
Better than any pregnancy photo shoot, I say.
She played the Open and won, and has since settled into being pregnant with what reads a little bit like resignation with a dash of shock.
She is now a little more than six months pregnant and showing, which is helping her face the reality that she is having a baby, because "it just doesn't seem real. I don't know why. Am I having a baby?

"If you would have told me last year in October or November that I would have a baby, not be pregnant but have a baby, I would have thought you were the biggest liar in the world. This is kind of how I am right now. This is happening sooner than later, and it's going by so fast."
For what it's worth, Ohanian is preparing for the imminent birth of his child with a shiny sort of earnestness; he puts money in a tip jar every time he swears, in an attempt to avoid swearing in front of the baby. Right now, they're in a bi-coastal relationship and Serena plans to be back on the court in January. I wish them the best.
Read the entire story here.