Last night's Keeping Up With the Kardashians finale featured Kimye's European wedding festivities—like Kim's bachelorette party, in which her friends basically admitted that she and Kanye were sort of together when she was marrying Kris Humphries.
The much-hyped finale was ultimately unsatisfying. It didn't include any footage of the family's brunch at Valentino's castle, the rehearsal dinner at Versailles, or any of the actual ceremony or reception in Florence. Rob Kardashian didn't even appear on camera despite the fact that his presence and subsequent flouncing (reportedly over being embarrassed about his weight gain and possibly fighting with Kim about it) was a huge part of the narrative of that week.
Still, there were some juicy tidbits. There was a cute scene with North crawling around on the floor of Givenchy's fitting studio and the audience was treated to a glimpse inside Kanye's understated Parisian apartment.
But the juiciest of all was Kim's bachelorette party, which was a dinner attended by her sisters and girlfriends. They all took turns going around the table telling stories about the love story that is Kim and Kanye. Apparently, they've been together—emotionally, at least—for years, despite being in other relationships. Khloe's story was probably the most illuminating and undoubtedly a reference to Kim's Fairytale Wedding to Kris Humphries:
"[Kanye] would always say to me, 'I know this is something that your sister has to go through, but I'm going to be here waiting.'"
G/O Media may get a commission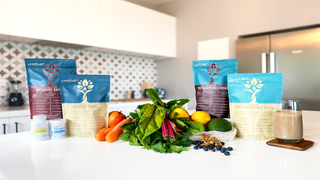 It would probably explain why Khloe never really took to Kris.
Lorraine Schwartz, the woman who designed Kim's engagement rings from both Kris and Kayne, whispered into Kim's ear to ask of she could tell her "Kanye story." Kim said yes, but then most of the anecdote was edited out. Still, the gist of her story was that, "Kanye actually wanted to marry Kim a few years ago." As in, a few years ago when she married Kris for a four-hour TV special?