Two weeks ago, several of the Kardashian-Jenner sisters—Kim, Khloe, Kylie and Kendall—launched lifestyle apps which allowed fans to get up close and personal with their favorite reality stars. These programs have been subscribed to more than a million times, but experts question whether fans will really keep dropping three bucks (or more) a month to stay up to date with what Kim and Khloe are up to.
According to The Hollywood Reporter, the apps, which are niche subscription services rather than the "pay-to-play" freemium models well-known to consumers, are being viewed as an important test of whether the public is ready and willing to accept that this is how we live now.
From THR:
"We've been living in a world where there's been one pure-play big bun­dle, and now we're going to find out over the next several years how big the marketplace is for niche subscriptions," says BTIG analyst Rich Greenfield. "In the mobile world, there's a way for content creators to have a direct connection with fans without the gatekeepers that have historically gotten in the way."
The Kardashians are just the beginning. Whalerock Industries, the Lloyd Braun-helmed company that's behind the sisters' latest offerings, plans to introduce more than a dozen such lifestyle apps in the next year. Those include a subscription app for Howard Stern as well as one for Kourtney Kardashian, whose app will launch later than her sisters'.
What are fans getting for their hard-earned cash? THR reports that Kylie's channel features "a curated radio station," Kim offers make-up tutorials and Khloe helps her fans organize (something I had no idea she was even known for). Sounds interesting—especially the organizing thing—but will fans really pay for this? The answer may be a little less optimistic than the apps' creators are hoping for. While Kylie's app has been subscribed to by more than 600,000 people, it's also quickly plummeted from its place atop the app store's charts.
G/O Media may get a commission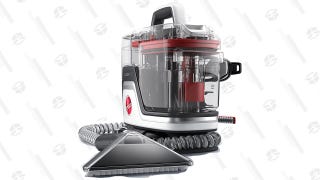 Save $10
Hoover CleanSlate Plus Carpet & Upholstery Cleaner
---
Contact the author at mark.shrayber@jezebel.com.
Image via Getty