Two hours ago, I asked myself, "Shouldn't I be using Google Incognito?" I had been doing research for this article, and though I'm on my own computer, in my own home, I could imagine some future situation in which a search history of "sexy men's jockstraps japan" might land me in awkward waters.
And then–call it an internal philosophical debate, or call it writer's procrastination–I spent minutes vacillating about whether, on principle, the security of hiding behind Google Incognito was worth the admission of such cowardice.
Why should this subject be embarrassing, anyway? After all, I work in the underwear industry. I design women's lingerie all day long. Colleagues discuss the sexiness of transparent lace, women's empowerment through corsetry, and the sales figures of pleasure toys–and these feel like totally normal subjects.
But when it comes to men's underthings, we can't quite keep a straight face. As a culture we've arrived at a place of stony unflappability when it comes to female exposure and sexuality. A popup window of a woman in a g-string? Big whoop. Another socialite sex tape on YouTube? I'd rather organize my silverware drawer. But a man in a g-string still makes us giggle and squirm like hens at an obligatory bachelorette party. We are unused to equating male sexuality with skin show, and the unfamiliarity of the display gives us pause. By "we," I mean the heteronormative majority that defines our images and comprises most underwear shoppers.
G/O Media may get a commission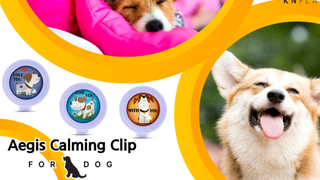 20% off
Aegis Calming Clip for Dogs
I started musing on this after a recent yoga class at my gym in New York. My very fit teacher was about to demonstrate a handstand, and as he prepared to kick his legs up, his shirt fell up around his head, exposing his back. And there it was: a wide elastic strap across his low hips, with the word "COCKSOX" boldly repeated on it. Below the band, where one would expect underwear fabric, there was only skin, followed by the waistband of his low-slung clingy sweatpants.
I stifled an unyogic giggle. It felt shocking and ridiculous for a yoga instructor to be wearing a visible fashion jockstrap. But why? We women spend a lot of attention and money on alluring/athletic sports bras and athletic wear. Is this a double standard to the detriment of male lingerie expression? And, aside from the solemn matters of heteronormative cultural dominance, gender inequality and hampered personal expression, isn't it kind of awesome to imagine a world in which men as well as women walk around in sexy underwear? Straight girls, are you with me?
I'm not trying to start a revolution here. That may be beyond the purview of this blog post. But I thought I'd at least share some sexy men's underwear currently on the market, and challenge you readers out there to think about who you would like to see in it. I also surveyed a few male friends about their underwear experiences and preferences. It's not exactly a scientific survey, but I do put a lot of stock in their opinions as fashion professionals and general men-about-town.
Cocksox, the brand that started this article rolling in my mind, offers a fun online shopping experience and a good range of styles. They fall into the category of fashion forward everyday (as opposed to novelty) and there is a focus on comfort and fabric performance in addition to style. The savvy shopper can browse by category, price, fabric color, style, and pouch. "Style" includes among accessible silhouettes, like "boxer" and "brief," less transparent ideas, like "slingshot" and "trunk." Shopping by pouch will lead you to the bewildering choices of "original," "snug," "contour," and "natural." I say "bewildering" because the classifications of each style under its respective pouch header did not seem entirely intuitive. Even the natural pouch is quite shaping, and how is it different from contour?
On each product page on the Cocksox site, a shopper is invited to get to know the item by viewing a "meet and greet" video, sort of like speed-dating for unmentionables. On it, photos of the underwear on a model from different angles are punctuated with helpful selling points like "backless backside lets your buns feel the sun!" and "Cocksox pouch keeps your 'boys' under control." Like I said, fun. Top choice of New York yoga teachers.
Another brand that's difficult not to recognize from street ads if you've ever found yourself in the Chelsea district of New York is 2(X)IST. Their aesthetic is starker and less cheeky than Cocksox, and they offer a broader range, from a plain cotton boxer brief to a straptastic conundrum of an underpant. They show an exalting attitude toward underwear, which I applaud: "Underwear. It's the first thing on and the last thing off, so make your Underwear count. Available in a number of favorite silhouettes, our signature pairs feature premium fabrics and a contoured fit that lasts all day long."
A friend of mine bought the No Show Trunk, which he expected to be stylish and practical. Instead, he reported that it was so compressing as to be unsupportive. Counterintuitive. Also, he reported feeling like a rectangle.
There's also a section of shapewear, including this Dual Lifting Brief. Dying to know how it performs–any volunteers out there willing to try, and report back? For the sake of research?
Another fashionable male friend of mine responded to a random underwear text message without batting an eye and with a clear, preformed point of view. He prefers the practicality of a traditional fly construction, which precludes most shaping seams in the pouch. The previous images in this article feature seamed pouches that serve to create shape, which is a departure from traditional underwear construction. He mentioned a brand he just picked up on a trip to Tokyo, Roial. Of course he buys his underwear in Japan.
I can see the Japanese sensibility in this pair from Roial, with its visual play on traditional men's plaid, but translated into a printed knit jersey. It also quirkily features trompe l'oile printed fly buttons, and the playful pseudo-authenticity of "CALIFORNIA" blazed big on the waistband.
It reminded me of an underwear brand I saw and loved on my own trip to Japan, Body Wild. Suspended in their storefront was a mannequin wearing a men's brief with an all around jeans trompe l'oile. I wish I could find a place to buy it here in the US, but I guess for me it must remain memory.
I would love to hear from you. Please share your own men's underwear thoughts and dreams.
This piece originally appeared on The Lingerie Addict. Republished with permission. Laura Mehlinger is the designer/owner of Lola Haze lingerie; you can follow her on Facebook and Twitter.
Earlier: 27 Daring and Disturbing Cock Contraptions (NSFW)
Illustration by Jim Cooke.