Let this be a warning: What you're about to read is more frightening than any malevolent spirit you may meet on Halloween night. Ghosts and vampires may be slightly scary, but there is nothing more terrifying than a vagina full of dead people. Yes, friends it's a veritable cervix full of corpses in here. (No, really. A living corpse literally crawls out from between a woman's legs up in here.)
In order to understand why The Haunted Vagina is so petrifying, you need to become familiar with the other work of Carlton Mellick III (not their real name, probably) (although if it's a real name it's like this person was just born to write stories about ghost-infested clitorises) who is quite prolific when it comes to stories of unexpected terror in unassuming nether regions (also what I call diarrhea). Mellick has written several highly rated independent books including Razor Wire Pubic Hair, Baby Jesus Buttplug and I Knocked Up Satan's Daughter: A Demonic Romantic Comedy and is also the author of the delightfully titled Cuddly Holocaust and Barbarian Beast Bitches of the Badlands (among others). He releases a book per quarter and, according to his Amazon author page, his latest novels approach the truly ridiculous in a way that is truly sincere. Yes, it's satire, but it's also a straight-up work of literature about labia that are gateways to the world of the undead. (Just like that time that Kesha said her vagina was haunted.)
Listen, just read the description. Nothing I write (and I have been trying) can do justice to Mellick's own description of a book that bears the tagline "It's difficult to love a woman whose vagina is a gateway to the world of the dead..."
Steve is madly in love with his eccentric girlfriend, Stacy. Unfortunately, their sex life has been suffering as of late, because Steve is worried about the odd noises that have been coming from Stacy's pubic region. She says that her vagina is haunted. She doesn't think it's that big of a deal. Steve, on the other hand, completely disagrees.
Well, every couple has a few problems, I guess. In my own relationship, for instance, my partner and I do not agree on whether the dishes need to be washed every day and whether it's appropriate or not to wake someone up by plopping an animal on their face and cackling loudly.
Here's my question (and I imagine I have to buy the book to answer this, but it's currently out of stock and you know I want a hard copy of this): How is this woman so nonchalant about a haunted vagina? How does she even know it's haunted and isn't that something you share on a first date? I shared some of my shortcomings on my first date with my partner (I care too much, I work too hard and I am very detail-oriented), so wouldn't a haunted vagine be something you kind of just bring up and see how it goes? Also, yes, a haunted vag is a big deal. I would be concerned if someone had a haunted butthole.
G/O Media may get a commission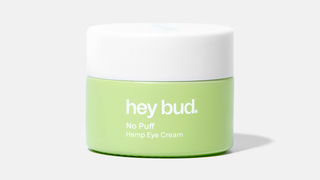 15% off
Hey Bud - No Puff Hemp Eye Cream
There's more:
When a living corpse climbs out of her during an awkward night of sex, Stacy learns that her vagina is actually a doorway to another world. She persuades Steve to climb inside of her to explore this strange new place. But once inside, Steve finds it difficult to return... especially once he meets an oddly attractive woman named Fig, who lives within the lonely haunted world between Stacy's legs.
No comment.
Okay, a lot of comment: A CORPSE CRAWLS OUT OF HER VAGINA? IT'S A GATEWAY TO THE NETHERWORLD (get it, though?) AND SHE ASKS HER BOYFRIEND TO CLIMB IN AND EXPLORE IT? AND HE DOES IT? HOW MUCH BIGGER IS IT ON THE INSIDE? AND THERE'S A LONELY BEAUTY JUST WAITING TO BE LOVED IN THERE?
Of course, there's a larger story here. Once you get past the fact that the plot is part spelunking adventure, part genital ghost hunt, reviews of the tale mention that the book is an exploration of a couple's dying relationship and the sway that the perfumed garden between a woman's legs (I think that's Anais Nin) holds over the male mind.
But, you guys, it's mainly a book about a haunted vagina.
H/T: Krista D. Ball
Images via Shutterstock; Photoshop by Jia Tolentino by specific request