The largely lackluster 76th Golden Globes aired last night and, as with any awards show, there are at least a few moments worth revisiting in the sobering light of day. Bohemian Rhapsody beat out A Star Is Born in almost every category, Regina King was recognized for being wonderful, and a Fiji water-toting red carpet server went viral.

The #FIJIwatergirl photo-bombed dozens of celebrities, including Bodyguard's Richard Madden, Crazy Rich Asians star Constance Wu, Idris Elba, Camilla Belle and a whole lot of other people with varying degrees of fame. In some shots, she's seen looking directly into the camera. In others, she's playing it sly, looking into a different lens for a different photograph. It's clear she came in with a mission, and she succeeded. Perhaps if she toned it down and saved her photobombing for only a few, ultra-famous award winners, it wouldn't have been such an obvious ploy by Fiji to obtain free advertising, by a not-great company with a history of doing such things.
Here is my theory: by placing herself in these images, Fiji benefited from viral marketing. It's very likely she was instructed to do so by the company, who should probably promote whoever came up with the plan to fool the public's desire for stunts. I mean, who isn't delighted by a seemingly regular human getting some shine from doing something as silly as photobombing extremely hot, rich, talented famous people? Allow me to remind you that we live in an era where we cannot even trust photos of Justin Bieber eating a burrito from its middle anymore. What's good is not real, it's only viral.
If you'd like further proof, on Monday Fiji revealed the identity of the viral #FIJIwatergirl in a statement as normie Kelleth Cuthbert (via Page Six):
"The award for Best Supporting Actress in (literally) Every Picture goes to FIJI Water Girl! FIJI Water Girl is a Los Angeles-based model and first-time FIJI Water Brand Ambassador.

For more than a decade, FIJI Water has proudly maintained a presence at high-profile events, including major award shows, international film festivals and movie premieres. As the official water sponsor of the Golden Globes, FIJI Water, along with its FIJI Brand Ambassadors, hydrated guests on the red carpet and during the star-studded show. FIJI Water will continue to hydrate more of Hollywood this coming awards season."
G/O Media may get a commission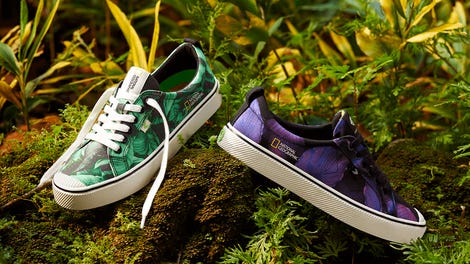 New New New
Cariuma + National Geographic
To paraphrase late-career Taylor Swift, who is also guilty of banking on public naivety: this is why we can't have nice things. Because even if they may seem pure of heart for even a second, corporations are always exploiting the gullible.