(They're prawns!)
I think we're all glad that the porn industry is no longer limited to Bang Bus. But now that free amateur porn on the Internet has more-or-less usurped the market that used to be cornered by generic blondes and greased-up dudes fornicating on $19.99 DVDs, precisely what constitutes "feminist porn" is kind of cloudy. What's are some guidelines on how to be conscious of feminist and non-feminist imagery when you're scrolling through YouPorn? Are there guidelines you should be aware of? What if your personal predilections don't align with them? Am I revealing too much about myself? I have so many questions!
As part of the eighth annual "Good For Her" Feminist Porn Awards event, which has been going on since Thursday, In Toronto, academics, cultural critics, sex workers, performers, producers, directors, activists, and fans are meeting to discuss these issues and others that are inherent in mainstream porn imagery, like a lack of foreplay, heteronormativity and a lack of racial diversity.
It's being hosted by the authors of The Feminist Porn Book, from which we excerpted back in late January. The book details the origin of the feminist porn movement:
It evolved out of and incorporates elements from the genres of "porn for women," "couples porn," and lesbian porn as well as feminist photography, performance art, and experimental filmmaking. It does not assume a singular female viewer, but acknowledges multiple female (and other) viewers with many different preferences.
G/O Media may get a commission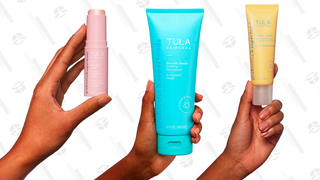 One of its essayists, Tristan Taormino, spoke with Joy Behar a few days ago to discuss the difference between traditional and feminist porn. Taormino, who pegs the upswing in porn consumption to a lack of comprehensive sex education for American youth, says: "It's about the image we create... we want to challenge these stereotypical, one-dimensional images [...] that we see repeated, over and over."
"You want dinner and dancing before the oral sex," says Joy.
Taormino replies reasonably, "I don't know if I need dinner and dancing. But I do need oral sex."
We learn that Behar hasn't seen much porn, other than this one time when she was young: "It was a woman with a donkey. And I said, 'What is this?'"
Indeed.
'Feminist Porn Awards 2013' [Good For Her]
'What exactly is feminist porn? Joy Behar talks with an expert' [Current.com]
Image via Mr. SUTTIPON YAKHAM/Shutterstock