Filmmakers gathered in Toronto this week for the seventh annual Feminist Porn Awards, an event that celebrates films for people unnerved by the wasp-waisted, plastic people-caricatures that spritz each other with genital juices in mainstream porn. Though the genre has attracted attention (mostly thanks to the internet) for the way it gives women more agency in the way their bodies are used on film, some critics claim that it's nonetheless exploitative, since, like mainstream porn, it often still manages to treat women as strictly sexual objects.
Anyone who's seen mainstream porn knows that it's generally dominated by a race of actors that look like animated wax sculptures. By contrast, feminist porn movies, according to the Daily Beast's Maura Kelly, feature women of "all shapes, sizes, and sexual orientations," ordinary-seeming people, the kind you might see on the street eating a hotdog with no sense of irony whatsoever. This year featured 41 films from eight different countries, and included several days of screenings, presentations, and an award ceremony that took place Friday night.
The Feminist Porn Awards were started by Carlyle Jansen, the proprietor of an adult toy store in Toronto called Good For Her, to as Jansen says, "acknowledge, celebrate, and endorse films and filmmakers that are redefining what porn can be." To qualify for the event, a woman must have played a significant role in the film's production (as a writer, producer or director), and the film must challenge stereotypes in mainstream porn. Like their actors, the films themselves come in all different styles, from the plodding arthouse style of Canadian N. Maxwell Lender's Emile, to Buck Angel's documentary Sexing the Transman XXX, which features female-to-male transsexuals like Angel masturbating with and without dildos.
Proponents of the genre say that feminist porn films feature performers of many different races, shapes, proclivities, and ages, and that directors ask women what they most like to do. According to genre fans, both characteristics qualify these films as "feminist," because having choice and agency is an important component of feminism. In fact, feminism is mostly about choice, at least according to Jansen, who answers those eager to criticize a bondage film, for instance, in which a woman is hog-tied and hoisted up towards the ceiling. She says,
Some women are turned on by being submissive. We need to respect that their choice for themselves is not degrading or sexist. There is so much shame and negativity around sex already. People need to feel positive about their desires.
G/O Media may get a commission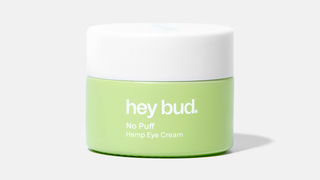 15% off
Hey Bud - No Puff Hemp Eye Cream
Critics like Gail Dines, however, believes that all porn, feminist or otherwise, sexually objectifies the human body and that none of it can be anything but exploitative. Dines, an anti-porn activist who wrote Pornland: How Porn Has Hijacked Our Sexuality, says, "Anyone willing to feed off women's bodies and use them as raw materials to make a profit has no right to call themselves feminists," and adds that even porn that doesn't feature "overt violence" counts as a form of exploitation "since it reduces women to a series of body parts." Dines takes feminist porn to task for what she sees as a growing habit of modeling itself off of mainstream porn, with films featuring women as sex slaves that are bound while multiple men have "aggressive" sex with them.
Still, even with a current of sadomasochism running through the genre, Jansen emphasizes that feminist porn actresses have more agency in determining what they will or will not do on camera (and get paid for it), and that this essential difference from mainstream porn makes the genre feminist. Choice, however, as necessary a foundation as it is for feminism, isn't in itself inherently feminist because women can make choices that bolster the patriarchy and do not qualify, therefore, as feminist choices.
Equating feminism only with choice-making ability would, for instance, make social conservatives such as Michelle Bachmann and Sarah Palin feminist, even though many of the policies they choose endorse would culminate in the severe restriction of women's rights. Feminism is first and foremost about men and women being equal, and though women who choose to write, produce, direct, or star in feminist porn are certainly free to make those choices, the very fact of choice and agency does not automatically make films featuring women as sex slaves feminist because images depicting women subjugated to men's sexual desires, whatever the intention or impetus behind the creation of those images was, reinforce the patriarchy.
Can Porn Be Feminist? [The Daily Beast]