Sports Illustrated is celebrating the 50th anniversary of its annual swimsuit issue this year. Here, we examine all 50 covers to see how "sexy" has evolved since 1964. Or didn't. (Hint: still boobs.)
---
In the beginning, the cover shot poses had a much more candid feel — especially compared to recent iterations. Almost like casual snapshots. Another immediately noticeable difference is that in 1964, the first covergirl — Babette March — didn't even fill out the top of her white bikini; in 2013, a parka couldn't even contain all of Kate Upton. However, the belted suit on the 1965 cover established a tradition of regularly featuring swimwear that would leave nightmare tan lines. Some things never change.
Top, from left: Babette March, 1964; Sue Peterson, 1965; Sunny Bippus, 1966; Marilyn Tindall, 1967; Turia Mau, 1968
Bottom: Jamiee Becker, 1969; Cheryl Tiegs, 1970; Tannia Rubiano, 1971; Shelia Roscoe, 1972; Dayle Haddon, 1973
G/O Media may get a commission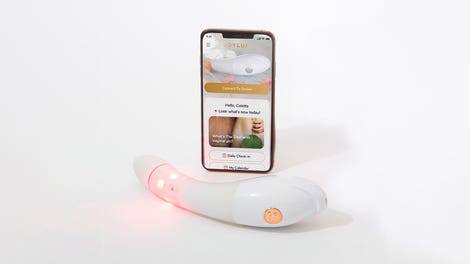 $50 Off
Joylux vFit Gold Device
---
While Cheryl Tiegs was the first repeat cover model, Christie Brinkley was the first to land three consecutive covers. Also note how these ladies are very smiley and approachable. Friendly.
Top: Ann Simonton, 1974; Cheryl Tiegs, 1975; Yvette Sylvander and Yvonne Sylvander, 1976; Lena Kansbod, 1977; Maria Joao, 1978
Bottom: Christie Brinkley, 1979; Christie Brinkley, 1980; Christie Brinkley, 1981; Carol Alt, 1982; Cheryl Tiegs, 1983
---
Elle Macpherson—who holds a record five covers—was the second to join the three consecutive covers club.
Top: Paulina Porizkova, 1984; Paulina Porizkova, 1985; Elle Macpherson, 1986; Elle Macpherson, 1987; Elle Macpherson, 1988
Bottom: Kathy Ireland, 1989; Judit Mascó, 1990; Ashley Richardson, 1991; Kathy Ireland, 1992; Vendela Kirsebom, 1993
---
Tyra Banks was the first black woman to land the cover in 1996. The '90s was also when the "sexy death stare" started becoming the preferred expression. Fewer smiles, more intense eyes.
Top: Kathy Ireland, Elle Macpherson, and Rachel Hunter, 1994; Daniela Peštová, 1995; Valeria Mazza and Tyra Banks, 1996; Tyra Banks, 1997; Heidi Klum, 1998
Bottom: Rebecca Romijn, 1999; Daniela Peštová, 2000; Elsa Benítez, 2001; Yamila Diaz-Rahi, 2002; Petra Němcová, 2003
---
---
It's not like the swimsuit issues are ever about actual swimsuits, but recently that's become even more obvious: Models are typically posed not really wearing them.
Top: Veronika Vařeková, 2004; Carolyn Murphy, 2005; Veronika Vařeková, Elle Macpherson, Rebecca Romijn, Rachel Hunter, Daniela Peštová, Elsa Benítez, Carolyn Murphy, and Yamila Diaz-Rahi, 2006; Beyoncé Knowles, 2007; Marisa Miller, 2008
Bottom: Bar Refaeli, 2009; Brooklyn Decker, 2010; Irina Shayk, 2011; Kate Upton, 2012; Kate Upton, 2013