Good Girls Revolt was unceremoniously cancelled on Amazon last week. Though the series may live again on another streaming service somewhere, resentment over the situation has grown into a back-and-forth between producers and Amazon execs that would honestly make a good plot point on the show.
The Hollywood Reporter interviewed creator Dana Calvo, who said that her understanding was Good Girls Revolt was doing great for Amazon. The announcement that they would not be picking up a second season was quite a shock:
"We were all so surprised because we were a hit," creator Dana Calvo tells THR, citing two metrics that Amazon execs told her they cared about: a high Rotten Tomatoes score (Good Girls has a 96 percent audience rating) and the ability to spur purchases on Amazon's retail arm: "Of the people driven from the entertainment sections to the commerce section, we were driving 55 percent, which was phenomenal."
John Sollecito, the VP at streaming monitor Symphony Advanced Media, said of the show, "It's really the only Amazon program that we've seen to date that has a really strong female 18-to-49 following."
However, Amazon executives disagree. Joe Lewis, who runs comedy and drama for the company:
"We had high hopes for Good Girls Revolt, and have tremendous respect for the creators, cast and Sony, but I can tell you that the Symphony numbers being reported are wrong and that the show wasn't performing at the levels we had hoped for—either in total viewership or completion rates."
G/O Media may get a commission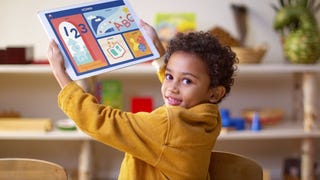 30-Day Free Trial
Homer Learn & Grow Program
Me-ow! Calvo told THR that she believes Amazon head Roy Price disliked Good Girls Revolt because, when she went in to pitch Season 2, he was unfamiliar with the characters' names and asked her to refer to them by the names of the actresses. She complained that Amazon supports a corporate-focused culture that diminishes creative work: "They run some people out," she said.
THR points to the exits of Man In the High Castle showrunner Frank Spotnitz and Sneaky Pete's David Shore as evidence of difficult working conditions. Amazon has also spent a lot of money on projects from Woody Allen, Matthew Weiner, and David O'Russell, which may demonstrate the voices they're most interested in supporting.