An letter sent from Girl Scouts of the USA on Monday to the Boy Scouts of America has revealed a brewing feud between the organizations that comes with so many pointed comments you might poke your eye out reading it.
BuzzFeed News obtained the letter, in which Girl Scouts President Kathy Hopinkah Hannan suggests that the Boy Scouts have been attempting to bolster it's declining membership by reaching out to an untapped market: girls. The letter calls the Boy Scouts attempts to bring in female membership "reckless" and the organization foolish for "thinking that running a program specifically tailored to boys can simply be translated to girls."
Millennials are, of course, also to blame:
"We were disappointed in the lack of transparency as we learned that you are surreptitiously testing the appeal of a girls' offering to millennial parents," Girl Scouts President Kathy Hopinkah Hannan wrote in her letter to Boy Scouts President Randall Stephenson. "Furthermore, it is inherently dishonest to claim to be a single gender organization while simultaneously endeavoring upon a co-ed model."
This isn't the first time the notion of including young women in the Boy Scouts has come up. In 2015, a group of girls who had participated in an ancillary Boy Scout program called Learning For Life petitioned to be full-fledged Boy Scouts, preferring the activities they'd enjoyed with the group to those they'd had with the Girl Scouts. The National Organization for Women has even called on the Boy Scouts to end discrimination against girls and include them in troops.
However, Boy Scouts as a group isn't noted for being a welcoming place for gender differences. In late 2016, they ejected an 8-year-old transgender boy from a New Jersey troop. Boy Scouts did officially state they would begin accepting transgender boys in January of 2017, following in the footsteps of the Girl Scouts who have had that policy for years, but it's coming pretty late.
G/O Media may get a commission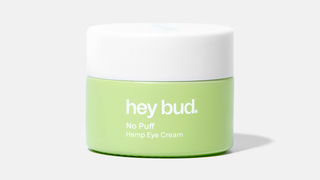 15% off
Hey Bud - No Puff Hemp Eye Cream
In her letter, Hannan suggests that the organization focus on racial diversity within its ranks as a way to bolster their numbers, mentioning the "90 percent of American boys currently not serving in Boy Scouts," words that bring to mind Donald Trump recently headlining a Boy Scouts jamboree:
"Rather than seeking to fundamentally transform BSA into a co-ed program, we believe strongly that Boy Scouts should instead take steps to ensure that they are expanding the scope of their programming to all boys, including those who BSA has historically underserved and underrepresented, such as African American and Latino boys," Hannan wrote.
The Boy Scouts have responded to the accusations that they're pilfering kids by saying it was an idea introduced by parents. BSA spokesperson Effie Delimarkos told BuzzFeed that the organization has been discussing the matter for some time, though no final decisions for programming changes have been made:
"After months of trying to engage leadership from the Girl Scouts organization about this matter, BSA leadership spoke with Girl Scout leadership earlier this month to identify potential areas of opportunities for alignment in the future."

"We are disheartened to see the Girl Scouts pull away from the possibility of cooperation to help address the needs of today's busy families," she said.
Both organizations are feeling the squeeze of declining membership, not just the Boy Scouts. The Washington Post reports that in the last decade or so, both groups have lost around a million members each. From the outside, combining membership seems like a great way to solve everyone's problems, including busy millenial parents, but there's some bad blood. Hannan writes that the Boy Scouts have been shit-talking her org:
I am also deeply concerned about reports of aggressive posturing by Boy Scout leaders towards Girl Scout leaders at recent "family meetings" outlining the proposed girls program. This includes everything from disparaging and untrue remarks about Girl Scout programming, to subtle implications about the weakness of Girl Scouts' long term market strength. Starting off any program when people are feeling bullied is not in keeping with the founding ideals of either Boy Scouts or Girl Scouts.
It sure isn't.